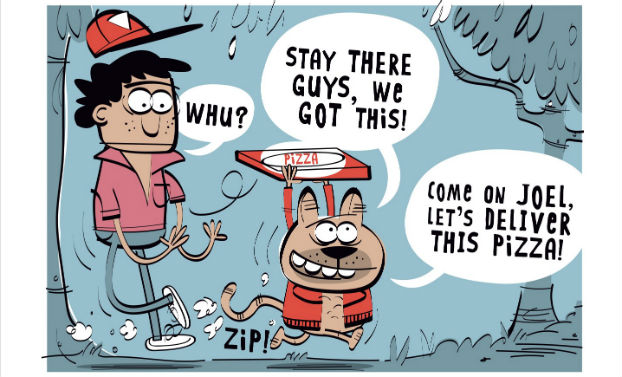 A contributor to such esteemed comics for kids as The Beano and Moose Kid Comics, Marc Jackson is also the man behind the Macc-Pow! comic festival. One of his most recent works, sponsored by the Lakes International Comic Art Festival – where Jackson is exhibiting this weekend – is Here Comes Cat Stevens!, a lively all-ages mini-adventure that combines slapstick humour, an anthropomorphised lead character, fast food and monstrous menace. All ingredients that make this offering tremendously good fun for younger and older readers alike.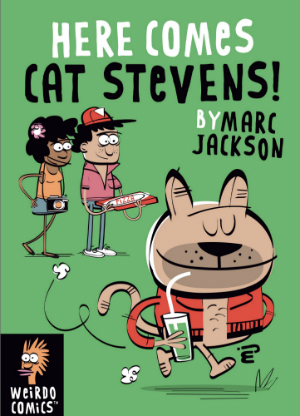 The titular Cat Stevens is our feline protagonist and shares a home with housemate Rita. When their chum Joel arrives in a flustered state they learn that his new job as a pizza delivery person involves a drop-off at the local woods where it's rumoured a monster with more interest in consuming those delivering the goods rather than the pizzas themselves lives. With the sartorially-challenged policeman Officer Draws in tow, the foursome must solve this supernatural mystery for themselves and ensure that Joel doesn't end up a creepy creature's between-meals snack…
Jackson's fast-paced tale is perhaps light on plot but it's full of frenetic, fast-paced fun, and lively comedic set pieces. Constructed in largely two-panelled pages, with the occasional full-page image to emphasise moments of dramatic import, it has a jaunty rhythm to it that ensures the audience are swept along in its amiable silliness. Jackson's visual characterisation is also highly effective, underlining Cat's "big kid" status, Joel's cluelessness and Rita's position as effectively the parent figure amongst this unlikely crew.
While the animated cartooning of Here Comes Cat Stevens! is the book's obvious immediate draw Jackson's craft is far more subtle in its delivery. His use of lettering in particular gives extra dimensions to the wacky world of Stevens and company. adding humorous emphasis throughout and boosting the comic's busy, energetic feel. That's complemented by the constantly shifting use of colour in backgrounds which gives a further sense of motion and movement to the proceedings.
This is one of those books that acts as the perfect starting point for a younger reader wanting to engage with the comics world. Those at the Lakes International Comic Art Festival this weekend should make a point of visiting Marc Jackson's table. Here Comes Cat Stevens! feels almost like a pilot episode for a potential full series, setting up the main character's world and supporting cast. We can only hope this isn't a one-off outing!
For more on the work of Marc Jackson visit his site here and follow him on Twitter here.
For regular updates on all things small press follow Andy Oliver on Twitter here.