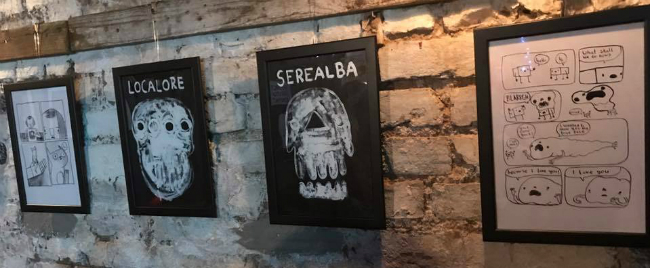 A few months back we reported on 'It's Going to Be Okay', an exhibition of the work of cartoonist Matt Boyce at Beer Rebellion in London's Gypsy Hill (above) at which attendees got to see not just work from the artist's existing catalogue but also had the opportunity to look forward at a new creation – Radioactive Future Mutant. The comic's quietly philosophical observer from a post-apocalyptic future made his print format festival debut at the South London Comic and Zine Fair a few short weeks back.
Boyce's comics have been featured at BF on a number of occasions in the past and often employ a deliberate childlike visual naivety to powerfully express emotionally resonant subject matter. I looked at his collection Everything here a couple of years back noting that "while much of the work here may seem unassuming to the eye Boyce has a sophisticated understanding of the communicative power of the form" and earlier this year described the print version of It's Going to Be Okay here as a reminder of "the uniquely empathetic qualities of comics." I would defy any reader to come away from either comic without feeling profoundly touched by something therein.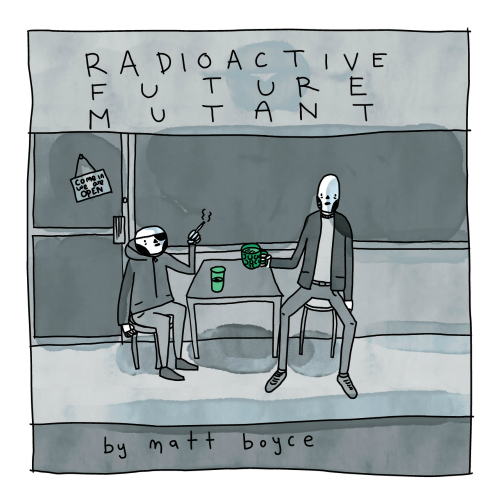 While it may only be 14 pages, Radioactive Future Mutant is the longest-form work I've read by Boyce, presented in an appealing larger square format that gives his art far more space to inhabit. This is a world after a terrible catastrophe destroyed most of civilisation, where its inhabitants are all horribly mutated, and where giant monstrous creatures prowl the streets pursued by cyborg bounty hunters. But fret not because there's still beer – even if it is radioactively tainted – so some small comforts remain…
In this shattered new pseudo-society our titular hero Radioactive Future Mutant spends most of his time reflecting on life in his local pub The Dog and Dosimeter with only the odd melancholic stroll through the devastated landscape to break up the monotony. He and his grotesque entourage spend their days ruminating on existential angst, the futility of being an outsider and the stupidity of humanity; all with a worldweary sense of exasperated resignation.
Radioactive Future Mutant, of course, is largely an allegory about finding one's place in the world – the flaming skeleton men and retro robot menaces simply colouring in a world where the characters' main pre-occupations are in discovering meaning from their daily routines. Here the spectacularly cataclysmic and the quietly mundane vie for both the protagonist's and the reader's attention with the latter a clear victor at every pass.
Boyce's art in these pages has that expressive clarity we've come to expect from his storytelling but his use of washed out grey tones also mirrors the lives of the cast in their dreary day-to-day movements – the occasional insertion of lurid greens reminding us of the toxic realities they live in. It's his panel-to-panel pacing, though, that is as exemplary as ever. Take a look at the example below as the fourth wall is broken in a moment of perfectly timed quiet accusation.
While this edition feels more like an introduction to the concept than a constructed narrative (and, indeed, it does come to a rather abrupt end just as we're settling into Radioactive Future Mutant's world) the casual contrast of the pedestrian and the terrifying is both a visual and a thematic treat. It's reassuring to know that even at the end of the world that next trip to the pub remains the most important part of the day…
For more on the work of Matt Boyce visit his site here. You can buy copies of Radioactive Future Mutant from his online store here priced £8.00 and follow Matt on Twitter here.
For regular updates on all things small press follow Andy Oliver on Twitter here.