ComixTribe announced today that its mini-series
SCAM
, written and drawn by Joe Mulvey, will conclude this fall with a
double-sized final issue
.
SCAM
was originally solicited as a five-issue mini-series, with issue #4 scheduled to release this month.  However, ComixTribe and Mulvey have decided to combine issues #4 and #5 into one giant-sized epic conclusion to the "
Ocean's 11
" meets "
X-men
" style series."Historically, the fourth issue of a five issue mini-series sells the worst. So, Joe and I decided, #$%! it, we won't do a fourth issue," admitted ComixTribe publisher Tyler James after several adult beverages. "Despite the first three issues of SCAM selling out at Diamond and getting re-ordered at the distributor level, we wanted better odds for a big
SCAM
finale."
"I only play winning hands," Mulvey was quoted, down three large at an Atlantic City poker table. "I'm going all in on this final issue of SCAM."
Despite the double-sized issue, the SCAM finale will be a standard $3.99 cover price, as a thank you to fans and retailers for patiently waiting for these final two issues. The finale will feature two variant covers: one featuring a flip cover for Issues #4 and #5, and another featuring a stunning wrap-around cover by Mulvey.
"Remember, we're the idiots that took out a 48-foot Vegas billboard to announce the launch of this series, and the guys who beat the hell out of some of the top retailers in the country in issue #3.  Of course we'd do something unorthodoxed for the finale," said Mulvey, now up a grand.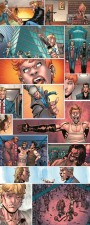 SNEAK PEEK AT THE SCAM FINALE! >>
BIG SCAM ANNOUNCEMENT AT BOSTON COMIC CON
While the first SCAM mini-series will conclude this fall, it's only the beginning for the franchise.

"We have a huge announcement planned for the
Boston Comic Con
(rescheduled for August 3-4, #BOSTONSTRONG, be there!) It's the most ambitious project ComixTribe has tackled to date…and it is
SCAM
related," said James."My lips are sealed," Mulvey added.  "All I'm going to say is that the crew is about to get a whole lot bigger!"
Sold-Out SCAM #1- #3 In-Stock at Shop.ComixTribe.com
Despite selling out at the distributor level, all three issues of
SCAM
are currently in stock at
the ComixTribe shop
.
SCAM Available on Comixology
SCAM #1
 is 50+ pages of content for less than a buck…and that's no con!