D C Thomson & Co Ltd has provided BF with info on their titles, coming to stores 23 May 2013.
Commando No 4603 – Scarecrow Squadron
The de Havilland Tiger Moth was a reliable, if rather old-fashioned, aircraft used as a basic trainer for RAF pilots. Pilots like Charlie Chard who was only recently qualified when he and his comrades found themselves in the thick of the action against the German Kriegsmarine and Luftwaffe.
He and his fellow fliers were known as "Scarecrow Squadron" — given the nickname because they were meant to chase away enemies flying over England's coast. A dicey job that, given that their planes were unarmed! Sitting in his open cockpit, Charlie wondered if any of them would survive…
Story: Norman Adams
Art: Keith Page
Cover: Keith Page
http://www.commandocomics.com/latest-issues/23rd-may-2013-collection?issue=4603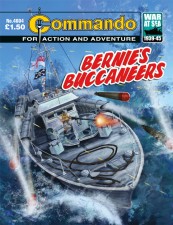 Commando No 4604 – Bernie's Buccaneers
With four 1400-horsepower Packard-built Merlin engines powering them forward at close to 40 knots, the crew of MTB 989 felt like the raiders of old when they fired a broadside of torpedoes at enemy shipping.
Privately they called themselves "Bernie's Buccaneers" after their fearless, swash-buckling skipper. They always said would have followed him into the jaws of death…and one day they did just that!
Story: Bill Styles
Art: Vila
Cover: Janek Matysiak
http://www.commandocomics.com/latest-issues/23rd-may-2013-collection?issue=4604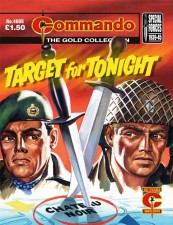 Commando No 4605 – Target For Tonight
When crack British Commandos were ordered to fight alongside ace American Rangers in a double strike against an important target, it sparked off the bitter, blistering feud between them that made the "other" war look like a petty quarrel.
Here is the story of this war within a war; of Mike Travers and Red Dooley, who were tough enough to lead and control the fightingest bunch of men that two great nations ever produced.
Introduction
The names of Eric Hebden and Ken Barr are well known to Commando fans — for their gripping stories and dynamic cover art respectively. Once again, they don't disappoint. This story of bitter, fist-fired rivalry is beautifully set up on the cover where the two main characters are pitched against one another…at daggers drawn figuratively and literally.
It's different with illustrator who provided the black-and-whites for the inside pages for Roca drew only one Commando book. 50 years on it's difficult to say why that would be but it certainly wasn't due to lack of quality. He imparts movement to the figures and uses a scatter of original compositions. Who knows what he might have made of subsequent commissions?
Calum Laird, Editor
Target For Tonight originally Commando No 57 (February 1963).
Story: Eric Hebden
Art: Roca
Cover: Ken Barr
http://www.commandocomics.com/latest-issues/23rd-may-2013-collection?issue=4605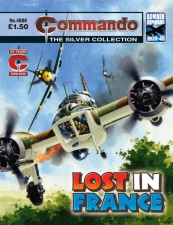 Commando No 4606 – Lost In France
Crash-landing a burning Blenheim bomber in occupied France would generally be reckoned pretty dangerous. And so it was, but compared to what fate still had in store for Harry Conway and his crew, that crash was a picnic!
Introduction
Veteran artist Ian Kennedy's stunning, dramatic depiction of a crash-landing Blenheim bomber would, quite rightly, make the reader imagine that they were in for a rollicking air story. It certainly starts off as one but, unusually, this tale takes an intriguing detour into espionage territory, becoming more of a spy caper — which suits Nebot's almost cartoony art. It's a good thing when a few neat twists and turns can challenge readers' expectations.
Scott Montgomery, Deputy Editor
Lost In France, originally Commando No 2162 (February 1988)
Story: Allan Chalmers
Art: Nebot
Cover: Ian Kennedy
http://www.commandocomics.com/latest-issues/23rd-may-2013-collection?issue=4606