Dynamite Entertainment has provided BF with a preview to Green Hornet: Legacy #37, coming to stores May 29, 2013.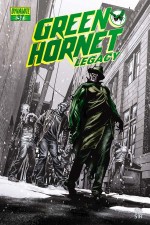 GREEN HORNET: LEGACY #37
Jai Nitz (w)
Jethro Morales (a)
Stephen Sadowski (c)
FC • 32 pages • $3.99 • Teen+
DYNAMITE'S MODERN-DAY GREEN HORNET SERIES RETURNS! NEW TITLE, SAME GREAT STORIES!
The worst blizzard in fifty years has Century City snowed in. Little food, no power, and deadly weather would be bad enough for the scared citizens, but an army of undead creatures stalking the streets makes things worse. Can the emerald insect save the city when he's a dead man himself? Can the Green Hornet rise again, or will he be dragged back into the grave? Undead action by Jai Nitz and Jethro Morales!