Oni Press has provided BF with a preview to The Sixth Gun #31, in stores next Wednesday, 5/22/2013.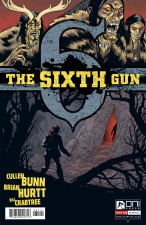 The Sixth Gun #31
Writers: Cullen Bunn
Artist: Brian Hurtt
Colorist: Bill Crabtree
Format: Standard comic book. Full color
Page Count: 32
Price: $3.99
Genre:  Western / Fantasy
Age Rating: All Ages
Diamond Code: MAR131253
Release Date: May 22nd, 2013
Description: Lost and unarmed, Becky Montcrief wanders the Winding Path… and she is not alone. Menacing skinwalkers pursue her, pursue her, hoping to kill the girl while she is at her most vulnerable, and the Hungry Ones lurk on the outskirts of the Path, awaiting anyone who might take a careless step. With the help of an unexpected ally, Becky is poised to learn the darkest secrets of the Sixth Gun.