Titan Comics has provided BF with a preview to the Eagle-Award-Winning, Thrud the Barbarian by Carl Critchlow, hitting stores on September 24, 2013.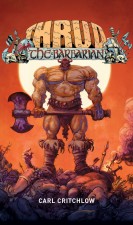 THRUD THE BARBARIAN
Writer/Artist: Carl Critchlow
$19.99 • T+ • 144pp • HC
Writer(s): Carl Critchlow
Artist Name(s): Carl Critchlow
Format: Hardcover Collection
Page Count: 144pp
Full Color, B&W, or partial color: FC
Retail Price: $19.99
Street Date: September 24, 2013
Thrud: big of muscle, tiny of head, which is fine for Thrud as you only need a big brain if you need to talk your way out of trouble. Instead, he lets his axe speak for him!
In the first collected volume of this hugely popular cult, er, hero, Thrud faces down the necromancer To-Me Ku-Pa (FWAP! THWOK!); protects his beer supplies from fierce Frost Giants (KRISH! KER-THUNK!); faces his arch-nemesis (THUNKTHUNKTHUNK!); assumes the stately role of the king he accidentally killed (GAK! POK!) and gets his pint spilled on a mission into the depths of a primeval jungle (ARRGGLE! SPLUTCH!)!
A hilarious, timeless parody of Conan The Barbarian and his musclebound ilk!
Thrud the Barbarian hits stores on September 24, 2013. The collection will also be available to read day and date on the iPad, iPhone, Web, Android and Kindle Fire, exclusively through the comiXology app and comiXology.com
Retailers can order Thrud the Barbarian from the June edition of Diamond PREVIEWS (order code: JUN131289)
To keep up-to-date with news from Titan Comics, visit: http://titan-comics.com