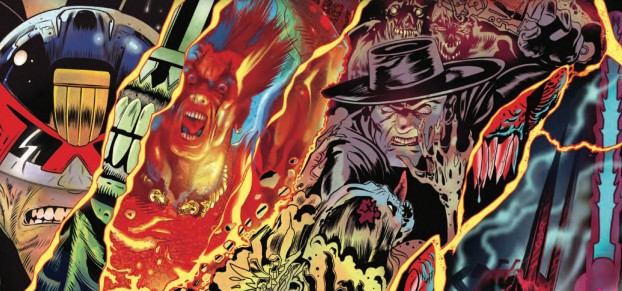 2000 AD has been a Great British institution for over forty years. This thrill-packed anthology, the home of numerous classic British comic strips – including Judge Dredd, Nemesis the Warlock and The Ballad of Halo Jones – has been wowing readers since 1977, its weekly output supplemented by many one-off specials, yearbooks and annuals. The latest of these, the recently released 2000 AD Sci-Fi Special, finds the team behind the comic in celebratory mood, as Editor Matt Smith reveals.
"With Rebellion marking 20 years as 2000 AD publisher come 1 July 2020, it seemed a good idea that we'd use this year's summer special to celebrate the fact. Rebellion is now the longest serving 2000 AD publisher in the title's history, soaring past the IPC and Egmont years. We thought we'd make it a bumper, 100-page issue and give it a real sense of a special occasion"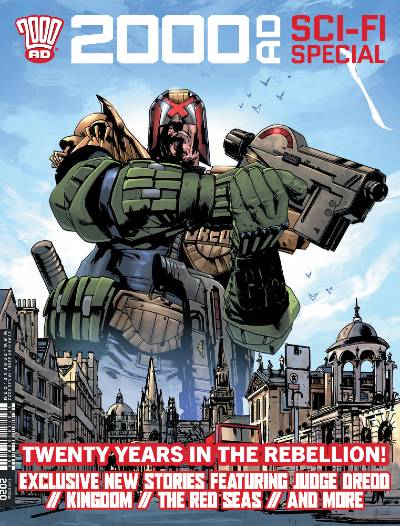 Rebellion has its fingers in many pies, including book publishing, comics, computer games, board games and the development of film and television projects. But why is their involvement with the self-styled Galaxy's Greatest Comic worthy of celebration? What difference has Rebellion's ownership of 2000 AD made to the comic going forward?
"It allowed 2000 AD to continue, and it allowed it to prosper," says writer Dan Abnett, who has two stories (Kingdom and a Sinister Dexter reprint) in the Sci-Fi Special. "It's been the custodian and guardian of a true British institution that's worth preserving and still has things to say and do. And I would single out Matt Smith. As (I believe the longest-serving) Tharg, he has done extraordinary things as editor. His responses are brief and minimal, but always right on the money. I've never questioned why he's asked me to tweak something, because his suggestions are always so perceptive. When, from time to time, Matt sends me a note, I never grumble: I face-palm that I didn't see it for myself, and then execute the tweaks eagerly. Because he is too often invisible behind the mask of Tharg, I don't believe Matt gets the credit or recognition he deserves. He's truly, quietly, brilliant at what he does."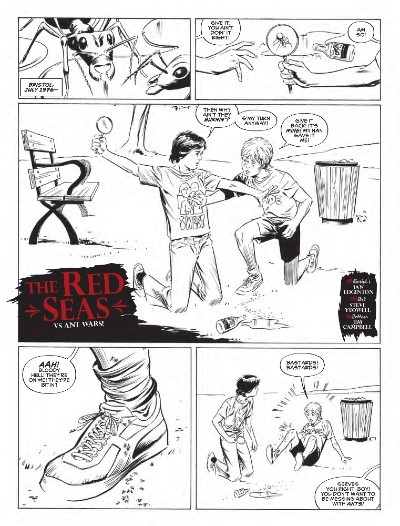 In the case of the new 2000 AD Sci-Fi Special, Smith's creative edict has been for his writers and artists to mix old and new. So, for example, Ian Edginton and Steve Yeowell have taken Red Seas, their fantastical pirate series, and collided it with Ant Wars, one of 2000 AD's earliest offerings, a 'creature feature' populated by viciously violent giant ants.
"I was trying to think of something special we could do with the new stories," explains Smith, "and came up with the idea of Rebellion-era characters (The Red Seas, Storm Warning, Kingdom, etc) facing off against 2000 AD characters that originated from before the millennium (Judge Dredd, Ant Wars). It's the sort of thing you can do in a special where you get to have a bit of fun and mix things up. I picked characters I thought fitted in each other's worlds."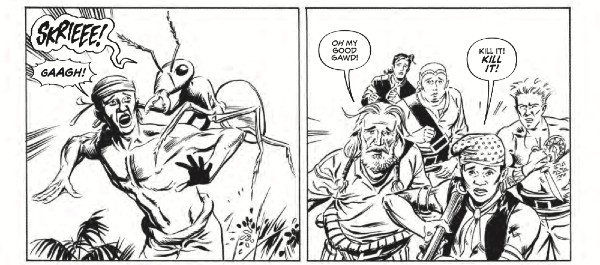 "Jumping back into the world of Red Seas was a blast!" reveals writer Ian Edginton, "I didn't realise quite how much I'd missed it. Crossing over with Ant Wars also seemed like such a natural fit, after all Jack and the boys had cracked heads with Kraken, Norse Gods and Harpies so giant ants fitted the bill perfectly.
"We made mention of the boys' previous exploits," he continues, "but trying to cover the backstory of Red Seas and Ant Wars wasn't possible given it's only a ten-page yarn this time. I think we set up enough for the story to make sense to readers new to Red Seas. Sometimes you just have to jump in at the deep end!"
Artist Steve Yeowell was similarly enthused about returning to the strip.
"Ian and I had been chatting nostalgically about Red Seas in a couple of phone conversations we'd had, so the special was a great chance not only to work with Ian again, but also to get back together with Jack and the boys! More technically, I enjoyed the opportunity the 1970s setting provided to take an approach to the story and art reminiscent of that used in the British classics I grew up with."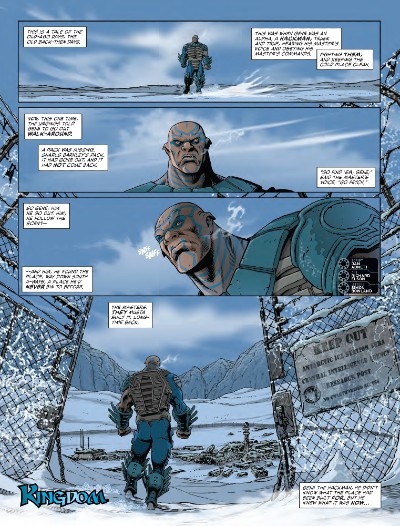 Dan Abnett and artist Richard Elson, meanwhile, have taken their strip, Kingdom (set in a future where the human race has genetically engineered dogs to use as soldiers in a war against insectoid critters of uncertain origin) and given a guest-starring role in it to Shako, another character from 2000 AD's early days. Shako cut a bloody swathe through the comic in an eponymously titled series that saw him become the only polar bear on the C.I.A.'s death-list! Having inadvertently swallowed a top-secret capsule in the opening episode, Shako then spent his time being chased by the C.I.A. (with even the K.G.B. eventually getting involved too) and dispatching almost everyone unfortunate enough to come across this white 'blizzard' of violence and death!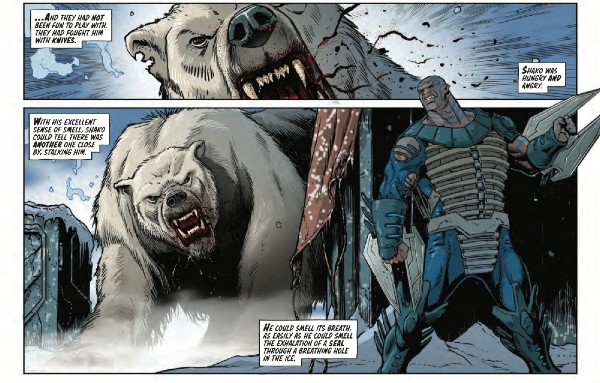 "Matt suggested combining Kingdom and Shako," Abnett reveals, "[and] I was very happy to do it – I could immediately see how they might mesh. I'm particularly fond of Shako – it's such an off-beat and curious idea for a series, very old school and very redolent of the early days. It occurred to me that what both strips had in common was a strong and distinctive narrative voice, and perhaps the best way to combine them was to use both narrative voices and mingle them together. As for how the cross-over happens, we play that very matter-of-fact. It just does. But the clues are all there in the background for sharp-eyed readers, just little visual hints that explain the 'time frame' difference and suggest there might be some shared continuity."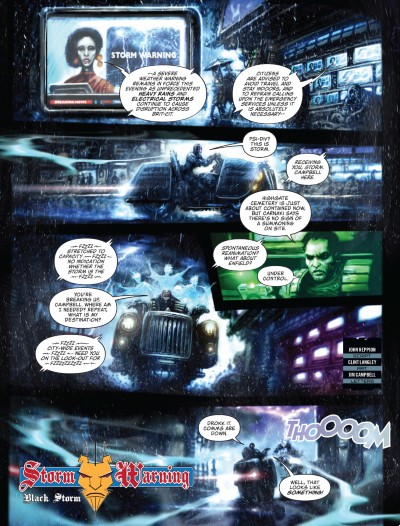 The original strip content in this special (which also contains new episodes of Storm Warning and Judge Dredd) is supplemented with reprints and features. The reprints (which include superstar writer Al Ewing's debut in 2000 AD, a Terror Tale from 2002 and a masterful Judge Dredd by the dream team of John Wagner and Carlos Ezquerra) have all been specially chosen by Matt Smith, who has written an introduction for each one explaining his choice. The features meanwhile are both focussed on Rebellion.
"I used to enjoy the features in the annuals and specials as a reader that offered a peek into the process behind the comic, and these are no different," says Matt Smith. "They add an extra dimension to the strip content. In this year's summer special we've got an interview with Rebellon CEO Jason Kingsley – who with his brother Chris was responsible for acquiring 2000 AD and the Judge Dredd Megazine twenty years ago – plus Karl Stock picks twenty standout strips from the last twenty years, from Cradlegrave to Trifecta. Of course, readers will have their own favourites, so it's a good opportunity to argue and evaluate what's been published in the Rebellion era."
The 2000 AD Sci-Fi Special is available from the 2000 AD Shop online as well as comic shops and newsagents now.
Interview by Matt Badham