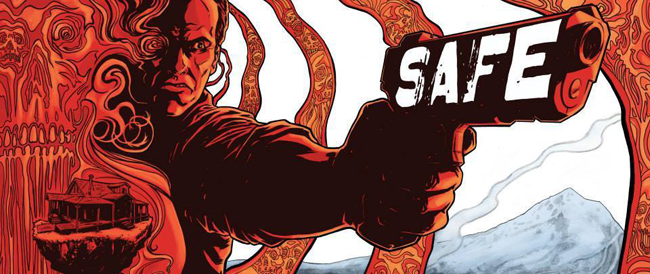 Justin Zimmerman makes cool things.
At least that's what it says on his website and the evidence is there to back that claim up. He's written the script for a film adaptation for a Stephen King story (approved by Mr. King) and worked on a number of socially oriented documentaries including one about the Columbine shootings and another he directed about the Titanic.
Oh yes, and he writes, produces and publishes independent comic book projects including The Killing Jar and the Other Worlds anthology. He's currently running a Kickstarter campaign for his latest comic project, SAFE, which he describes as a bold new take on the horror genre. I spoke with Justin about just what separates this project from those he's done in the past and from what we typically see in comics, and how he sees Kickstarter as a way for him to continue producing original and independent material.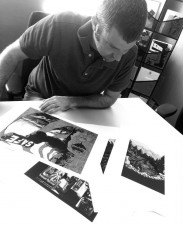 Your new comic project, SAFE, is your second zombie-themed horror comic, following your 200+ graphic novel The Killing Jar. What were your reasons for revisiting the genre and how are the projects different?
The Killing Jar was my take on survival horror, but the fun with the story was that it was actually more of a western than anything else. Almost 240-pages of ramped up insanity aside, the story was about a strong and independent young woman standing against her town with the help of some extremely varied and unsavory characters. That said, there was nary a zombie in The Killing Jar. The townspeople were driven mad by drug lust, and mob rule won the day.
In between TKJ and SAFE I put out the 180-page graphic novel collection Other Worlds, which features tons of genre stories. Huge monsters. Post-apocalyptic survival. American gothic horror. Surreal sadness. But no zombies.
And while SAFE is definitely a zombie tale, it's not a zombie tale in the way anyone thinks.
While I love zombie stories – especially the Romero trilogy – what's great about the best genre stories in general and zombie stories in particular is that they're about people. SAFE continues in that fine tradition, and it hopefully much smarter than one would expect.
This is actually going to be your fourth comic project funded by Kickstarter. Why do you think Kickstarter has been such a good fit for you and do you think it's sustainable?
I think Kickstarter is an amazing vehicle. It allows me to make my case to a building audience that I'm creating a product that is worthy of their time and support. It's a responsibility I don't take lightly. I personally oversee the creation of each aspect of my books, I ship my products personally and I've never been late on a project…EVER. I hope SAFE succeeds, and if it does, it's because people know my previous work more than anything else. Pretty cool. And SAFE in particular is such an evolution of my work that it wouldn't work at the professional level I want it post-produced and printed at without support. Spot-UV cover. New paper stock. Color. Etc.
Currently you're in the process of having the SAFE comic lettered, which means its almost done with a few weeks left still in the Kickstarter campaign. Did you plan on being this far along, and was that more for your sake or your backers'?
Mine. I'm not the kind of guy who uses Kickstarter as a means to support myself. 100% of my funds go to the book. The artists have already been paid. Principal production – pencils, inks, tones, colors – finished. There are a couple extra pieces that will be put together if the campaign succeeds but the bulk of everything is wrapped. I'll even be finished with the lettering in a week or so. What I'm trying to say is that SAFE will be finished regardless of where the campaign ends. Just not in the perfectly printed local form I'd like it to take. I'm 100% committed to finishing my work. The SAFE Kickstarter campaign is about getting my work to folks with perfection.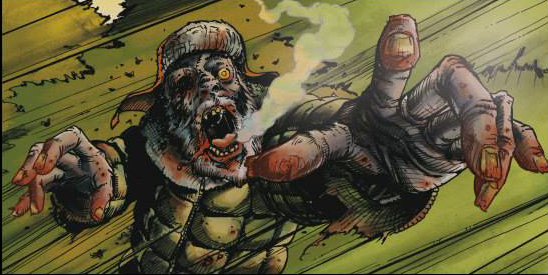 You mention in your campaign that SAFE is "a bold new take on the horror genre" and having read the entire story, I know that this is true. But to anyone who hasn't read it, it looks just like a straight-forward zombie comic. How challenging has it been to promote the comic without giving away the twist?
That's the rub. I can only hope that readers who are familiar with my work know me well enough by now to know that playing with genre is amongst my favorite pastimes, and that SAFE is no exception. And readers who aren't familiar with my work? I hope they can take it on faith that I'm smarter than I sound in interviews!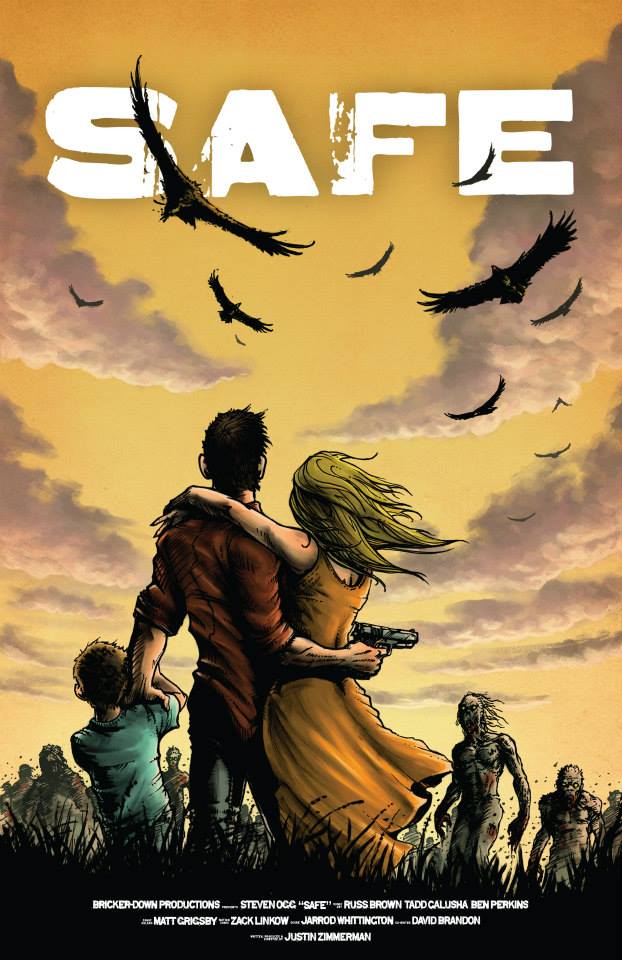 You put together a pretty amazing video trailer for SAFE, even casting actor Steve Ogg as the main character. What were your motivations for going all out on the trailer and is there any chance we're going to see any more of SAFE in film form?
Thank you. Steven's performance, Jarrod's score and Zack's VFX made that trailer into something I'm truly proud of. It hopefully showcases that the world of SAFE is definitely bigger than the sum of its parts. As you alluded above, the SAFE project is filled with twists and turns. The trailer goes one step further in that direction.
I'm reuniting with both Steven and Zack on a major film project this fall, and Jarrod is currently scoring a documentary for me. The SAFE motion comic trailer was a great and organic way to see each other in action.
Ultimately, we live in a cool time. We can create things together for the love of making them. We can then present them to the world in a myriad of different ways. I sure hope the Kickstarter succeeds, because I'm proud of the work and I want to get it to people in the most amazing way possible. But the work doesn't end. We're all just getting started.
To find out more about SAFE, you can visit his Kickstarter page where you can learn more about his campaign and watch the amazing motion comic trailer.