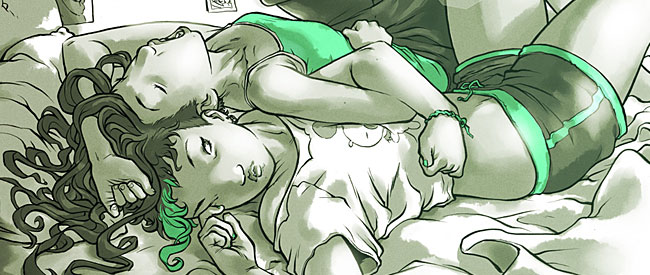 Life as a teenager or a twentysomething is full of $@&! and challenges. It can suck big time, we all know that. You've experienced it, I have, or maybe you're even going through it right now.
As a comics lover, I have one bit of advice: go read Wet Moon, it's the perfect graphic medicine. It'll show you that you're not alone, that it's ok to be you, no matter how different that is from the so-called norm.
Sophie Campbell's graphic novel series is filled with young people smack dab in the middle of a rough stretch in their lives, questioning their identity, their sexuality, their body and their friends and peers – times like these, it's hard to know who you can really trust. And then there's the full moon causing even more strange things.
This week, Volume One of Wet Moon was re-released from Oni Press, with covers by Annie Mok and featuring loads of backmatter giving a very good peak into Sophie Campbell's artistic process.
Wet Moon currently stands six volumes strong and has become a true cult favorite. According to Campbell, the fact that the series celebrates diversity is a big reason for why the story has resonated with readers as strongly as it's done since the first book's release in 2004.
"I think people appreciate the attention to detail, the varying body types for the characters, the slow slice-of-life pace, all the queer relationships, and the goth/punk aesthetic certainly connects with people, too," Campbell says.
"Some women seem to really identify with the characters, particularly Cleo and Mara and Myrtle, these sort of punky misfit characters who don't quite fit in. That type of personal connection can be huge. I hear from a lot of women who feel empowered by seeing fat characters presented with dignity and care and portrayed as attractive. Some people tend to laugh at that kind of thing, but it's seriously a real thing and important to a lot of people. But other times I hear from fans who connect with the series in ways I'm surprised by, though! Sometimes it will be things that never occurred to me but that are obvious in retrospect, which is really great.
"I'm honestly consistently surprised by how important Wet Moon is to its readers – I never thought it would reach as many people as it has."
Being different and trying to cope with it is something Sophie knows all about. As a proud transsexual, Sophie told Advocate.com that not being able to be who you truly are inside affects every aspect of your life, even the creative part. Possibly that part especially.
To coincide with the release of the new edition of Wet Moon, we asked Campbell about her artistic process and influences, and to share some her personal artwork favorites.
Artistic influences
"Calvin & Hobbes and the original Eastman & Laird Teenage Mutant Ninja Turtles comics were my biggest influences as a kid. When I started doing comics professionally I didn't have any specific inspirations, I was trying to do my own thing and get rid of the manga aspects in my work, I went through a big manga phase during college."
Nowadays I'm mostly inspired by music and watching real people.
Typical work day
"I get up around 9-10am then usually putter around for an hour or two while I check email and make the rounds online. Once I get started on work, I pretty much work straight through until bedtime around 2am, with lots of breaks throughout the day depending on how well I can focus. Sometimes I disconnect the internet because it's so distracting. It can get hard for me to separate work time from non-work time, it's a really blurry line between the two."
Materials used
"For traditional art I use a regular mechanical pencil and ink with Sumi ink and a brush and/or Micron pens. For digital work I use Paint Tool SAI and Photoshop with an Intuos 5 tablet."
Style
"My style has gotten more streamlined and softer over time, and of course I like to think it's improved on a technical level. I don't know how I'd characterize it, though. I don't have a particular name or classification for my style, maybe someone else could analyze it on that level, but personally I don't think much about it.
"As far as tweaking my style from project to project goes, there's no special process or anything. It's really all about gut instinct and whatever I feel like drawing at the time and whatever I feel is the best way to go. There's no preliminary work, no, I always jump right in and feel it out as I go along. It's all about what feels right and it's tough to describe beyond that, but oftentimes it's more obvious in that for a more serious or darker story I'll do more detailed artwork or make the linework rougher or looser, while for something lighter I'll do a simpler cleaner style.
"A good example of this is my Teenage Mutant Ninja Turtles: Northampton story, it has a main style but I changed it up for the various dream sequences and flashbacks that Leonardo has, which go from an inky nightmarish style to light pencil artwork."
For stories featuring Sophie Campbell's talents, hunt down Shadoweyes, Wet Moon, Jem & The Holograms, TMNT and Glory.