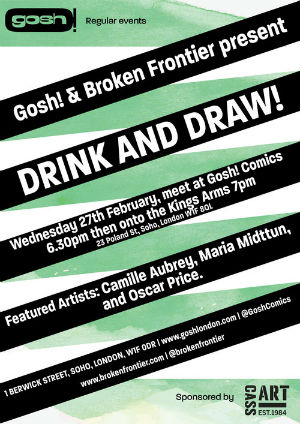 The second Gosh! Comics and Broken Frontier Drink and Draw of 2019 is nearly here! And we're continuing the year with a cracking line-up of small press artists on Wednesday February 27th. Indie talents join us for our regular monthly meet-up, sponsored by Cass Art.
You can find us upstairs in The King's Arms on Poland Street and, as ever, your co-hosts for the night are myself (Broken Frontier Editor-in-Chief Andy Oliver) and Gosh's very own Nora Goldberg. The fun begins at 6.30pm at Gosh! on Berwick Street before we head off for our sketching and drinking antics at 7pm. Don't forget you can join the official Facebook event here.
A quick intro to this month's artists…
Camille Aubry is an artist whose work I first discovered a couple of years back when I gave her feedback at the portfolio review ELCAF Springboard Meetings. I was particularly struck at the time with the versatility of her work and since then she has gone on to self-publish two autobio comics about parenting – Toddler Moments (reviewed here at BF) and Double Trouble. Camille has also been longlisted for the Laydeez do Comics Prize.
Norwegian artist Maria Midttun self-publishes zines and artist books. She graduated from the Arts University Bournemouth and is now a visiting tutor on the illustration course there. Her most recent comic was Lava Rock Zine, "a Risoprinted comic about part time jobs and lava rocks" (below).
Oscar Price is the London-based artist behind Cauldron Boy published by Black Mass. This compilation of short comics follows the adventures of a sentient cauldron with the sine also folding out into an A3 poster on the opposite side.
Join us on Wednesday February 27th, then, for another fun evening of drinking, drawing and comics camaraderie. We kick off at 6.30pm in Gosh with a chance to get hold of signed comics and books from all our featured creators before moving over to The King's Arms for 7. We look forward to seeing you then!
The Facebook event page for the night is here.