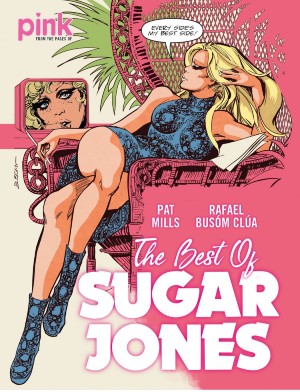 TREASURY OF BRITISH COMICS WEEK! Running from the early 1970s to 1980, Pink was a magazine for the British teen girls market, with its mix of pop features, fashion and make-up articles, problem pages and the like, all aimed at that particular demographic. It also ran a number of comic strips and serials including the (mis)adventures of one Sugar Jones, a media personality whose gloriously awful behaviour was memorably brought to readers by the creative partnership of writer Pat Mills and artist Rafael Busóm Clúa. A selection of those strips was recently compiled by Rebellion in their Treasury of British Comics series of reprint volumes, underlining that the excesses of celebrity are as timeless as they are hypnotically fascinating.
Collected under the title The Best of Sugar Jones, this edition reintroduces us to the titular Sugar, an apparent twenty-something television star with her own late-night show who is loved by an adoring public. The reality, however, is very different. Sugar is actually 40-ish, vain, arrogant, grasping and cruel, as her much put-upon assistant Susie Ford can attest to…
Throughout we watch as Sugar variously schemes and manipulates to get the roles she wants, to undermine her rivals, to marry into nobility and to become a calendar girl. All the while as Susie watches on in exasperation. In many ways, and given our empathy with Susie, Sugar is more antagonist than protagonist in her own series, constantly tripping herself up with her own machinations.
Many of Sugar's attempts to raise her profile and trample on others to get on in the entertainment world feature thinly disguised versions of UK TV stars of the 1970s, adding an extra layer of knowing amusement for readers of a certain vintage. Johnny Norris of the 'Animal Crackers' show paying homage to avuncular wildlife show presenter Johnny Morris, the Cream Dish Man replacing the James Bond-inspired Milk Tray Man of the iconic British '70s adverts, the Rolling Rocks' lead singer Rick Zagger, or Tom Baker lookalike "Dr. When" (whose sci-fi series Sugar is determined to get a co-starring role on).
Each of the complete-in-one three-pagers in The Best of Sugar Jones follows a fairly standard formula which in the strip's original method of delivery in a weekly magazine would have had a comforting familiarity. In this collected format it's far more fun to dip in and out of the book to avoid any narrative fatigue (again as with many Treasury books the original content was created for a far different method of delivery and for a weekly audience) but these shorts are expertly crafted, and seeing Sugar's scheming building up into the inevitable moment of just comeuppance is wonderfully satisfying time and time again.
Rafael Busóm Clúa's visuals are simply stunning; the beauty of his elaborate linework acting as ironic counterpoint to the ugliness of Sugar's world. There's a stylised realism to his pages with sequential storytelling punctuated by gorgeously spotlighted character poses. One of the delights of the Treasury series has been Rebellion's willingness to bring lesser-known properties back to print. The Best of Sugar Jones is an excellent example of a collection that will appeal to both 1970s nostalgists and newer audiences who will enjoy this biting commentary on the cult of celebrity.
Pat Mills (W), Rafael Busóm Clúa (A) • Rebellion/Treasury of British Comics, £.9.99
Also available from Gosh! Comics here
Review by Andy Oliver