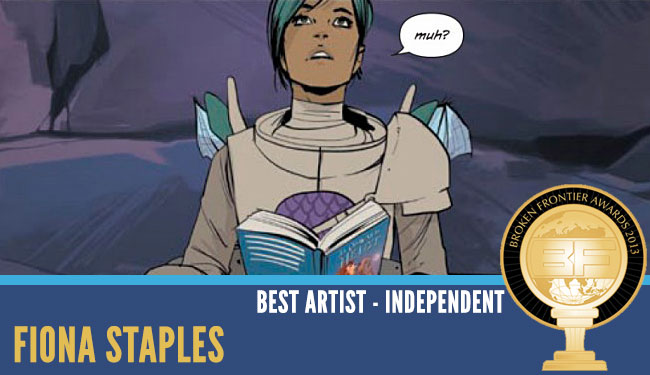 "We are small, but the universe is not."
One look at the cover of the first issue and it was clear that Saga was unique. Melding fantasy and sci-fi would have been challenging enough in a cover image, but the breast-feeding Alana established the unapologetically mature qualities that have defined the characters and the series that took home three well-deserved Eisner Awards last summer.
The creative team of writer Brian K. Vaughan and artist Fiona Staples have crafted a tale of star-crossed lovers, struggling to leave behind the war between their races and forge a new life with their daughter. Sounds simple enough, but the world into which baby Hazel is born contains layers of complex relationships and underlying perils, all brought to life through Staples' undisputed talents. She gives us subtle political underpinnings using just facial expressions in one panel and a club-wielding naked giant with incredibly proportioned genitalia in another.
Throughout the series, Hazel keeps it all real as she narrates from an unknown point in the future. Small touches like handwriting for her "dialogue" immerse the reader in this adventure. She is a child of blended race, and the unique presentation of her commentaries speaks to the seriousness of her parents' plight while offering a hope for the future.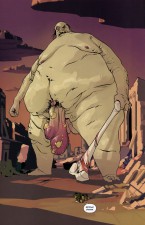 Pulling it off artistically through Vaughan's fascinating characters is accomplished largely in the aftermath of action. Staples plunges the reader into the action of battle with a sense of constant motion, and she pushes us through character development using introspection achieved by body language and a limitless library of facial expressions.
It goes for all characters in the story and ironically, it works wondrously well for Prince Robot IV too. He has a screen for a face, but it is a fountain of expression for him. From the controversial homoerotic oral sex images in issue #12 that caused quite a stir earlier in 2013 to the subtle changes of the screen from light to dark, the android Prince feels. His issue #17 revelation, "Because the opposite of war… is fucking," is a major turning point for the character, and using just two panels Staples subtly alters the angle of his head while changing the screen from grey to a colorful flower to accomplish it.
Not shying away from graphic portrayals of violence and sex is a hallmark for this adult-oriented comic. And while some might question the necessity of a full-page image of Hazel's parents conceiving her or the two different orgy scenes, Staples has never offered the imagery gratuitously.
Vaughan's response to Apple's banning of issue #12 summed up their determination to tell their story their way: "This is a drag, especially because our book has featured what I would consider much more graphic imagery in the past, but there you go. Fiona and I could always edit the images in question, but everything we put into the book is there to advance our story, not (just) to shock or titillate, so we're not changing shit."
And we're glad they didn't.
Fiona Staples' art is the perfect complement to Brian K. Vaughan's words, making Saga a first-rate collaboration and a benchmark in modern comics defining quality, medium-advancing storytelling.