Our first festival press release of 2021 has arrived with news of the Schomburg Center for Research in Black Culture's Black Comic Book Festival next week. Full details below including links for what looks like an excellent line-up of programming!
Schomburg Center for Research in Black Culture Hosts 9th Annual Black Comic Book Festival
The four-day virtual event will feature a tribute to actor Chadwick Boseman and host special guests Tim Fielder, John Jennings, and Regine L. Sawyer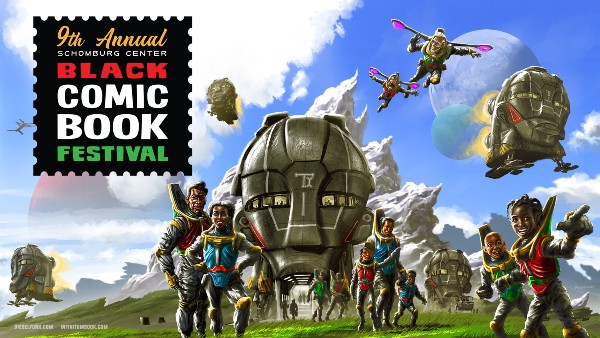 Art by Tim Fielder
January 8, 2021: The Schomburg Center for Research in Black Culture will host its ninth annual Black Comic Book Festival from Wednesday, January 13 to Saturday, January 16. The free, public, and virtual event will feature a cosplay competition and panel discussions with award-winning graphic novelists, cartoonists, and artists.
"This festival is right on time," said Brian Jones, the Schomburg Center's Associate Director of Education. "If ever there was a moment when we need Black fantasy, Black world-building and freedom dreaming, this is it."
The Black Comic Book Festival will kick-off at noon on Wednesday, January 13, with Illustrator and novelist Tim Fielder leading the "How to Draw a Black Superhero" workshop. Followed by a 2 PM seminar by Regine L. Sawyer, founder of Women in Comics NYC Collective International and author of Ice Witch and The Rippers, which teaches attendees how to transfer their storytelling skills for writing prose into expansive and thoughtful content for graphic novels.
The Schomburg Center will also honor the life of actor Chadwick Boseman. Before his success in films, including the Marvel Studios global box office hit Black Panther, the celebrated actor taught acting to students in the Schomburg Center's Junior Scholars program from 2002 to 2009. The program's alumni will discuss and remember their former teacher and his legacy on Saturday, January 16, at 11 AM. Boseman passed away last year following a four-year battle with colon cancer.
"Annually, we set out to present a festival that centers on Black creativity and champions imagination and innovation via comics," said Kadiatou Tubman, manager of the Schomburg Education Programs. "This year, we've extended the event to four days to host an array of dynamic comic creatives hailing from across the globe and our own backyard."
Other noteworthy events include "The Comic Book Spectrum: Comics & Advocacy," a panel discussion with Sawyer alongside comic artists and authors Vita Ayala, Alitha E. Martinez, Eric Battle, and David Walker about how to use comics as literacy and advocacy tools. Their conversation starts Friday, January 15, at 4 PM. Black Comic Book Festival co-founder John Jennings shares a sneak peek at upcoming spring 2021 titles to be released under the Megascope imprint. He will also hold a conversation, "The Comics Chitlin' Circuit: Cultivating a Sustainable Network for Black Cartoonists" with Ron Wimberly on Saturday, January 16 at 1:30 PM.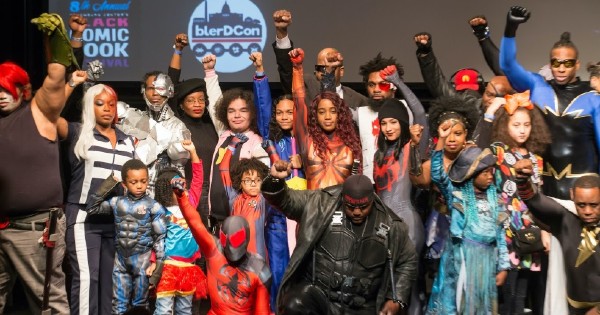 Cosplay enthusiasts of all calibers are also encouraged to pull out their best costumes and sign up for the virtual cosplay competition. Participants should submit a video in costume by January 11 to be considered for the contest. Instructions can be found here.
The Schomburg Center's Annual Black Comic Book Festival celebrates the rich tradition of Black comics. The festival also offers a marketplace for panelists and other vendors to showcase their creative work for purchase online via the Exhibitors Showcase.
Tickets for the Schomburg Center Black Comic Book Festival are free and available to the public through Eventbrite. Visit SchomCom.org for more information and the complete schedule.