News from the ever eclectic BHP Comics today with the announcement they will be publishing graphic novel series Boat this year. Full details follow.
Indie hit BOAT the graphic novel series joins BHP Comics.
BHP Comics is thrilled to announce that they will be publishing BOAT the graphic novel series, in Digital format, in the first instance.
BOAT centres around Charlie. After the water came and the cities fell. Everyone was alone. A near future Edinburgh is flooded with water, and Charlie is confined to his boat, searching for a home he may never find. Plagued by memories and nightmares from the past. The series explores his relationships as he tries to survive the horrors of this new world and hopefully find peace.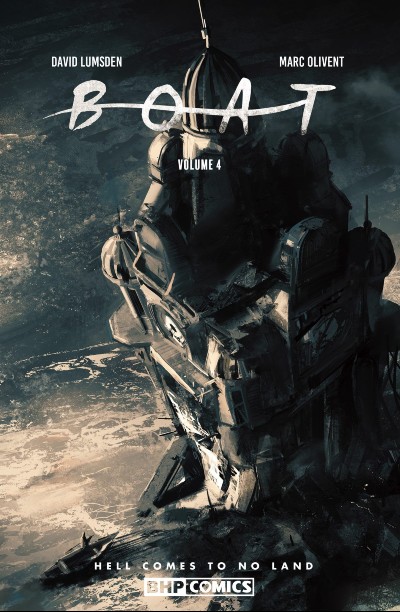 The series consists of 5 volumes, written by acclaimed Writer/Director David Lumsden; the series was based on Lumsden's original award-winning short film of the same name. The short film is widely available on Amazon Prime. With the first volume drawn by Mark Weallans on art duties taken over by Marc Olivent for the rest of the series, their art styles lend themselves to the dark watery world ahead.
David Lumsden, creator of BOAT, said," We are looking forward to seeing the exciting places that this collaboration with BHP will take us. Boat is set in a post-apocalyptic Scotland and with this partnership we are looking forward to a wider audience having access to our flooded world. It's great to be part of this excellent team that hosts an amazing line up of talent."
Boat is the first project to be brought in under the BHP digital-first approach. Over the course of the next 12 months, all of BHP's projects will be available on multiple digital platforms worldwide, including Comixology, Izneo, Nintendo Switch, GlobalComix, Webtoon and Amazon Kindle. Further to this, BHP will be exploring a new North American relationship for print comics, which will be launching in spring 2022.