Leslie Stein, full-time cartoonist, part-time bartender, famous meme (Google it) and all-round cool person based on the accounts of those who know her, has been playing music with friends for a little over two decades. That last little nugget of information is what gives her latest book, Brooklyn's Last Secret, its undeniable reek of authenticity on every page.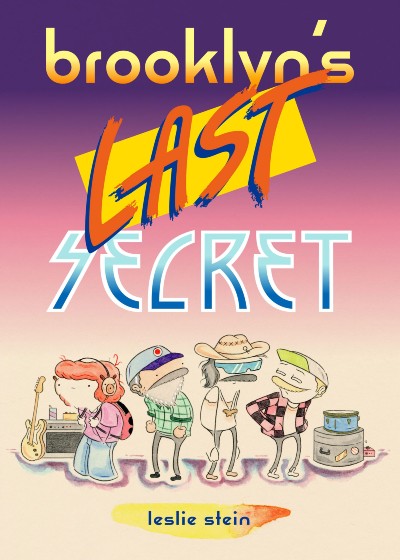 Described as her first full-length fiction, this is almost like an MTV mockumentary about a band named Major Threat that is struggling to make it in a business not exactly known for offering artists a fair playing field. Apparently, her idea for the tale was born out of Covid-induced boredom and Stein's wish for a realistic portrayal of a band on tour. As part of a group once called Prince Rupert's Drops, she knew exactly what that entailed, and the result is an often amusing, always entertaining glimpse of the grime and emotional baggage that often lies beneath the glamour of playing live.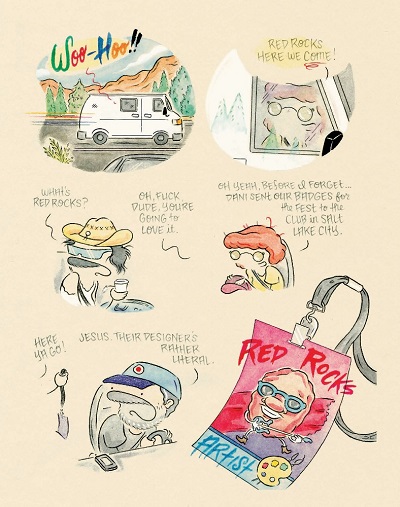 She plunges us straight into the drama that comes with planning a tour, in this instance what appears to be a final outing for musicians almost at the end of their rope. They're not famous, and aren't sure if they will be, but decide to give it one more shot because that's what rock 'n' roll is all about. One of the wondrous things about Stein's instantly recognisable panels is how she manages to cram in a lot of information with the lightest of touches. The band members may not have clearly defines facial features, for example, but still convey their emotions with ease. Even a seemingly simple panel featuring the dashboard of a tour bus becomes a beautiful snapshot of life on the road.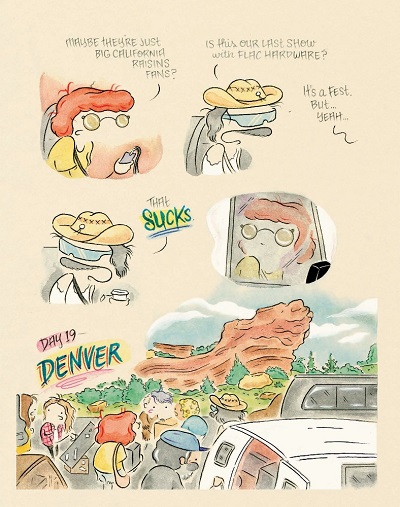 There is also—as Stein has explained in the past—an obvious amount of work that has gone into the use of colour. She has spoken of using it to create tones, acknowledging the possibility of an emotional reaction to words coming out in the lettering. The words themselves are used with economy. One double spread only has the band introduce themselves with 'Hello! We're Major Threat' eliciting a single 'Woo!!' from a lone enthusiast in the audience. The rest of that space is given over to things only people on stage notice, or choose to engage with, away from the prying eyes of those out front.
Music memoirs can be memorable for all kinds of reasons, but the ones that tend to stick combine a certain quality of writing with lived experiences. This is harder to do with a fictional band, but Stein ticks both those boxes.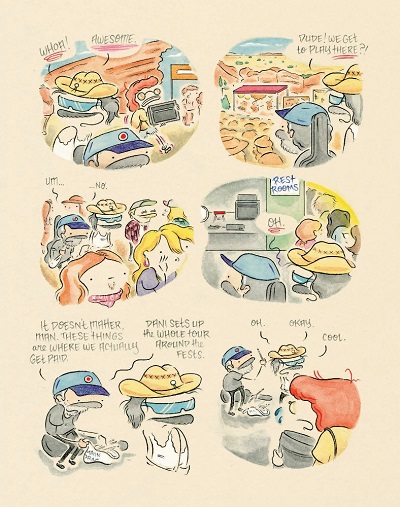 At times, Brooklyn's Last Secret almost feels like an act of voyeurism, when Stein gives us a glimpse of the insecurities these talented artists grapple with when the arc lights aren't on them. It also gives the book poignancy and prevents it from turning into an amusing memoir with no heart. We don't know what has gone into Major Threat becoming the band it currently is, nor are we privy to the lives of its bassist, drummer, and singer outside this bubble they share for a few weeks.
What we do see are people trying to be better versions of themselves, even as the everyday business of trying to make a living keeps getting in the way.
Leslie Stein (W/A) • Drawn & Quarterly, $29.95
Pre-order Brooklyn's Last Secret online here
Review by Lindsay Pereira