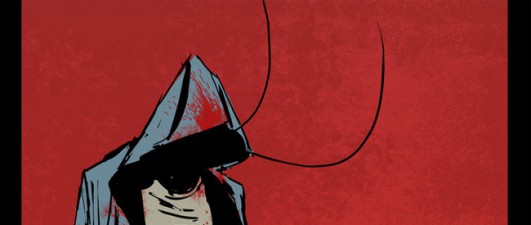 A cautionary tale with a delicious twist ending, Bugged will make your skin crawl.
Celebrating ten years on the indie scene, small press publisher Drumfish Productions debuts a new book this September, marking a departure from their usual mainstream superhero output, with Bugged by writer Rich Bernatovech and Argentinian artist Teyo. A twisted little tale that explores that most iconic of comic book idioms, "with great power, comes great responsibility", from a far darker perspective. Evoking themes of revenge, loss, and justice from the point of view of perennial loser Felix Herbert, Bugged calls to mind Joe Hill's Horns.
Chronicling Felix's harrowing journey from his beginnings as a Peter Parker-esque introvert through to his transformation into Fate's arbiter of justice, Bugged works on a number of different levels as it seeks to illuminate the shadowy corners of even the most unassuming of souls. Empowered by a talking roach named Bob, Felix discovers he can see the sins of the guilty and evil, an ability he understandably shuns at first, before plunging headlong down a slippery slope fueled by his own feelings of loss and impotency. Bernatovech builds his story brick by brick, steadily increasing the pace and tension until he reaches an almost frenetic sense of movement that oddly mirrors the staccato-like skittering of an insect racing across the pages. Although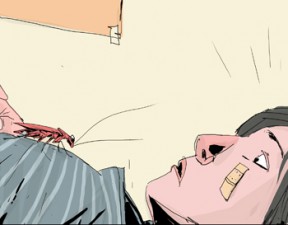 punctuated by scenes of brutal violence, the real sense of danger and conflict arises out of Felix's internal struggle. At the end of the day, Felix is a good kid and he knows it. The intoxicating sense of entitlement and power he feels is ultimately fleeting but does he come to realize this truth too late? You'll have to read to find out.
Teyo is an excellent artistic match for this quirky, dark tale. Definitely operating outside of the confines of traditional comic book art, Teyo's distinctive style utilizes feather-light, economic line work to lend Bugged a unique visual tone that only underscores both Felix's simplified view of the world and the disturbing, creepy feeling that something's crawling underneath your skin. With an ability to evoke emotion with a few swipes of the brush, Teyo's deceptively rough-around-the-edges art really sells Bernatovech's dark script on an emotional level without having to resort to garish spectacle.
Founded on a solid premise and ending with a wonderful, unexpected twist you'll never see coming in a million years, Bugged is a well-crafted if ultimately disturbing rumination that almost demands the reader identify with its protagonist and his conflict. Most of us, at one time or another, have been Felix. We understand his feelings of impotence and simmering rage. We've all fantasized about what it would be like to finally get even. More than that, we've all dreamt that  we'll one day actually make a difference. With Bugged, Bernatovech and Teyo give us all a visceral, bittersweet taste of what it might be like to actually realize those fantasies – and remind us that as cheesy and cliché as it sounds today, with great power, there indeed comes great responsibility. And that, my friends, is probably a good thing.
Rich Bernatovech (W), Teyo (A) • Drumfish Productions, $12.99, September 2013.