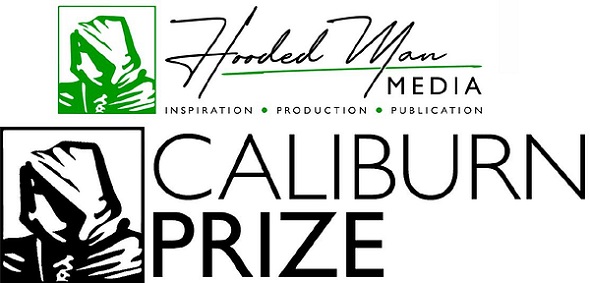 While we only heard about this via social media today, the Caliburn Prize is an initiative that will no doubt be of great interest to the many aspiring creators on the UK scene who make up our audience. With the deadline extended those of you who are already working on longer-form comics, or who have self-published first chapters of proposed graphic novels, may well be able to put something together in time. Read the full details in the press release below because this really is a great opportunity.
2023 CALIBURN PRIZE FUND EXTENDED BY ONE WEEK
Launching at the start of 2023, The Hooded Man Caliburn Prize for Comic Creation (The Caliburn Prize) is a new UK comic-based literary grant, recognising fresh and unpublished voices in the world of comic and graphic novel creation. Conceived and sponsored by New York Times #1 Bestseller comic writer Tony Lee, through his publisher Hooded Man Media, the Caliburn Prize is a £2,500 grant aimed at helping unpublished UK-based creators get a foot on the comics ladder.
'When I started in comics, it was a different world,' he explained. 'I was able to walk into a publisher with experience in other media under my belt, but many of today's creators don't have the same advantages I did, as the industry has massively changed over the last twenty years, and the doors I entered through are now boarded up. The prize fund is a way to help the next generation of comic creators find their own route into the room where it happens.'
Named after the legendary sword in the stone from Arthurian mythos, the Caliburn Prize was a contest running from the 9th February until the 31st May 2023, with the winner being announced at the 2023 London Film & Comic Con on July 8th. In addition to the prize money, the winning creator / team will also gain a free table and hotel at the 2024 London Film & Comic Con, thanks to organisers Showmasters Events, a year's membership of both the Comic Book Legal Defence Fund (CBLDF) and the Alliance of Independent Authors (ALLi), thanks to assistance from both organisations, and an hour-long zoom call with Oriana Leckert, Director of Publishing and Comics Outreach for Kickstarter. It is open to all unpublished UK-based comic creators, with an end goal of assisting them in completing their first finished book.
However, due to a lack of knowledge creating some last minute interest, the prize deadline has been delayed a week, and will now end at midnight on 7th June 2023.
To be considered, entrants must submit a project containing eight pages of finished comic, a finished cover with logo, a one-page synopsis of the story and a one-page biography list of all creators involved. After the close of submissions, the shortlisted candidates will move on to a judging panel of award-winning writers, artists, editors, publishers, and literary agents before a decision is made, and the winner will be announced at the London Film & Comic Con on July 8th, 2023.
'As a fan of Arthurian legends, the sword in the stone was this item that could change the life of anyone – if they managed to pull it – and it resonated with what I wanted to do here,' Tony continued. 'This is a prize that can change the trajectory of the winner, as they not only get the funds to help finish the book, but thanks to Showmasters Events they have a place they can reveal it, and with the Comic Book Legal Defence Fund, the Alliance of Independent Authors and Oriana Leckert, with her Kickstarter knowledge, they can progress the project to the next level.'
The Caliburn Prize was also created to honour the memory of Doreen Lee, who died of cancer in 2004.
'Mum was my biggest supporter when I started, and always looked for ways she could help me,' Tony finished. 'I got my first Marvel work shortly before she passed, and it was one of the greatest feelings in my life to show her the finished book, but the enthusiasm and advice she gave me back then is still felt and used now, all these years later.'
For more information on the Caliburn Prize, including submission guidelines, the list of judges and a Frequently Asked Questions section, visit www.caliburnprize.com.
For more information on Hooded Man Media, visit www.hoodedmanmedia.com.