While poorly publicised this year it seems the saga of the Caliburn Prize has finally had a happy ending. The winner has been announced as the much deserving Michael Lomon for The Palace of Tears. Michael talks more about the project here at BF.
2023 CALIBURN PRIZE ANNOUNCES THE INAUGURAL WINNER
In January 2023, New York Times #1 Bestseller Tony Lee, through his imprint Hooded Man Media, announced the Caliburn Prize, a £2,500 grant for unpublished UK comic creators, to be decided by the 1st of July 2023.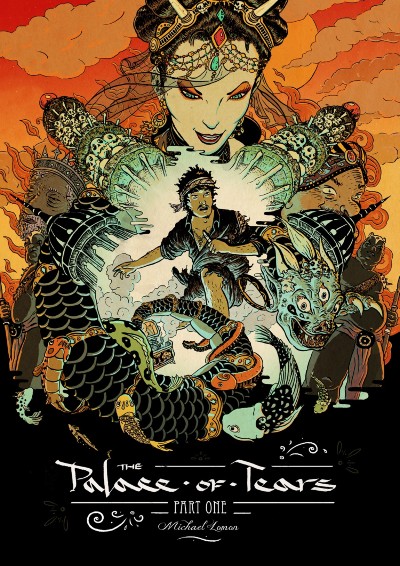 After extending the deadline by a week for latecomers, the Caliburn Prize Long-List judges had dozens of entries to read through, before passing a "top ten" of submissions to the Short List Judges to review.
After all this was done, there was a very tight contest with a list of incredible books and creators, but also one definite winner; "The Palace of Tears" by Michael Lomon.
Because of this, Michael will be receiving his £2,500 grant from Caliburn Prize founder Tony Lee at this years London Film and Comic Con.
"The quality of submissions was outstanding this year," Tony explained. "I'm genuinely not exaggerating when I say there was only a handful of points between all entries, and no obvious leader until the last two judges results came in."
As winner of the Caliburn Prize, Michael Lomon will receive a £2,500 grant to complete his project, a years's membership in both the Alliance of Independent Authors and the Writer's Guild of Great Britain, an hour-long zoom call with Oriana Leckert, Director of Publishing & Comics Outreach at Kickstarter, and a free Artists Alley table (and hotel) at the 2024 London Film and Comic Con.
The Caliburn Prize and Tony Lee would like to take this opportunity to thank all Long-List judges, and in particular our Short-List judges: Kieron Gillen, David Leach, Rachael Smith, Oriana Leckert, Rich Johnston, James Wills and Harry Markos for their sterling work.
The 2024 Caliburn Prize will begin taking submissions on the 1st January 2024 at www.caliburnprize.com