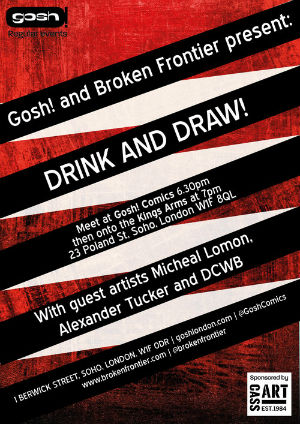 Our fourth Gosh! Comics and Broken Frontier Drink and Draw of 2018 is this week! And, as ever, we have a cracking line-up of guest artists with us on Wednesday April 25th. Creators Alexander Tucker, DCWB and Michael Lomon join us for our regular monthly meet-up, sponsored by Cass Art.
Please note that we're in our new venue again this time around. You can find us upstairs in The King's Arms on Poland Street and your co-hosts for the night are myself (Broken Frontier Editor-in-Chief Andy Oliver) and Gosh's very own Nora Goldberg.
The fun begins at 6.30pm at Gosh! on Berwick Street before we head off for our sketching and drinking antics at 7pm. Don't forget you can join the official Facebook event here.
A quick intro to this month's artists…
From music to comics, Alexander Tucker's practice embodies a sense of the enticingly experimental. His book World in the Forcefield was published by Breakdown Press (with a follow-up in the works) in 2016. Fragmentary and oblique, it's set in a world of capricious deities and questing siblings and mixes the classical, the spiritual and the pop cultural in presentation. I spoke of the "strangely captivating allure in the deific angst of Tucker's characters" here when I reviewed it at BF and described it as "splendidly mystifying" at the same time.
He's also the gent behind the Undimensioned small press imprint which has published both his own comic Entity Reunion and one by artist DCWB, our second guest this month. DCWB's R was reviewed here at Broken Frontier earlier this month. A dark future war tale, I said of it "there's a strange timelessness to events with sci-fi motifs sitting side by side with recognisable elements from contemporary and historical conflict. With a finger seemingly constantly hovering over the reset button, R is a quietly chilling take on an oft explored science fiction standard.
And our third guest this time around is Michael Lomon whose stylish visuals are an instant draw to the eye of any discerning comics connoisseur. Michael's comics include Oeuvre, centring on the blind detective Gabriel Blake and a murder mystery set in London's V&A Museum and the post-apocalyptic fantasy webcomic The Palace of Tears available online here.
Join us on Wednesday April 25th, then, for another fun evening of drinking, drawing and comics camaraderie. We kick off at 6.30pm in Gosh with a chance to get hold of signed comics and books from all our featured creators before moving over to The King's Arms for 7. We look forward to seeing you then!
The Facebook event page for the night is here.