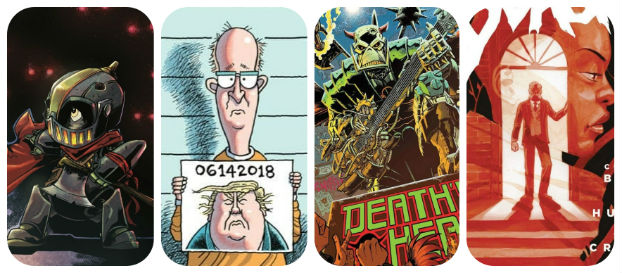 It's nearly Wednesday, and you know what that means: a fresh load of comics and graphic novels! With so many publications hitting your local comics store, comics event or digital storefront, the BF team are here to lead you through the woods with our weekly staff picks. Satisfaction guaranteed!
Comic of the Week
Enemy of the People: A Cartoonist's Journey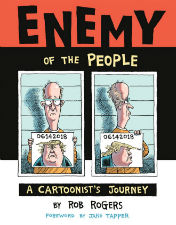 Being a two-time finalist for the Pulitzer Prize for Editorial Cartooning and working for the Pittsburgh Post-Gazette since 1993 didn't count for much for cartoonist Rob Rogers when he was fired from the paper last year for cartoons that were critical of Donald Trump.
This autobio offering, via IDW Publishing, traces Rogers' story up to his final days working on the paper. In his own words: "Trump's open embrace of the darkest, ugliest corners of human nature has emboldened racists, neo-Nazis, criminals, thugs, despots, misogynists, and liars to come out from under their rocks and display their shameful behavior publicly. That includes publishers and editors who years ago may have been too ashamed to express their hateful views on the editorial page."
This is a book that promises to be raw, honest, darkly witty and a sobering reflection of the times.
Rob Rogers (W/A) • IDW Publishing, $24.99
– Andy Oliver
Death's Head #1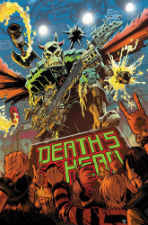 One of Marvel UK's most fondly remembered original creations, robotic "freelance peacekeeping agent" Death's Head was created by Simon Furman and Geoff Senior back in the '80s as an antagonist for the UK Transformers comic. In fact, in an interesting continuity sidenote, his early appearances don't just tie the Transformers characters in as a part of the wider Marvel Universe but also the worlds of Doctor Who…
With his penchant for ending sentences with "Yes?" and his unapologetic, eccentric and relentless approach to bounty hunting… sorry freelance peacekeeping… he attained cult status in the UK. In the '90s a radical redesign stripped the character of much of his original bleak charm but his first iteration has resurfaced in recent years and returns to shop shelves in a new miniseries this week. Tini Howard and Kei Zama bring Death's Head back in reduced circumstances in this first issue which includes an encounter with characters from the Young Avengers cast.
Tini Howard (W), Kei Zama (A) • Marvel Comics, $3.99
– Andy Oliver
Enola Holmes: Case Of The Left-Handed Lady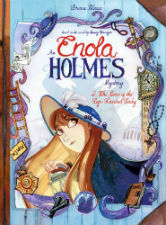 If you name your children Enola, Mycroft and Sherlock, you presumably condemn them to lives more interesting than your own. This is the famous English detective's younger sister, apparently, and the interesting premise allows Nancy Springer to create a much-loved character for young girls (as well as boys) to look up to.
This graphic adaptation  of the mystery series by Serena Blasco finds the young lady taking on another persona in a bid to escape being sent to boarding school. Spoiler alert: She manages to outwit her brother!
Nancy Springer & Serena Blasco (W), Serena Blasco (A) • IDW Publishing, $14.99
– Lindsay Pereira
Manor Black #1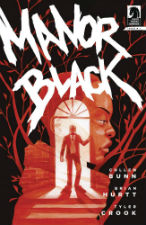 It's a converging comics reunion in the first issue of this new Dark Horse miniseries as Cullen Bunn teams up once again with his The Sixth Gun writing partner Brian Hurtt, and with artist Tyler Crook from their hugely acclaimed run on Harrow County.
This gothic fantasy revolves around a dynasty of sorcerers and the head of the family, the ageing Roman Black. Determined to pass his powers on to someone more representative of his legacy than his evil, degenerate children, Black selects a young mage to confront the malevolent forces threatening the family name. Cullen Bunn has carved out something of a niche for himself as one of the most dependable horror writers in serial comics and this new supernatural-themed collaboration should be well worth checking out this week.
Cullen Bunn & Brian Hurrt (W), Tyler Crook (A) • Dark Horse Comics, $3.99
– Andy Oliver
Canto #2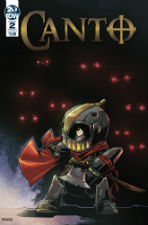 This book certainly seemed to capture people's attention when its first issue debuted last month and there's been a definite noticeable critical buzz growing around it ever since. Given the comic's distinctive visual appeal it's not hard to see why.
Set in a stark fantasy world Canto's people resemble metal suits of armour with clocks for hearts. On a mission to find a new heart to replace a friend's damaged one, Canto's journey and the perils he faces puts a new spin on the heroic quest tradition. If you can hunt down a copy of #1 (or simply grab a digital copy!) then this run is a top tip for those looking for the next hot serial comics title.
David M. Booher (W), Drew Zucker (A), Vittorio Astone (C) • IDW Publishing, $3.99
– Andy Oliver
Bad Gateway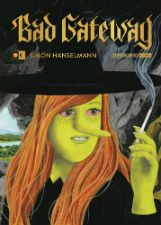 The fourth in Simon Hanselmann's Megg and Mogg graphic novels – parodying the Meg and Mog children's books of Helen Nicoll and Jan Pienkowski – features the ever intoxicated protagonists as their self-destructive pasts begins to catch up with them, in what we're promised will be a grimly psychological entry in the series.
Broken Frontier's Tom Murphy has said of previous volumes in the series: "In the way he mixes easy craft with sharp humour and unexpected depth, it's easy to see why Simon Hanselmann is very much a cartoonists' cartoonist. If you've never entered his world before, you're in for a (slightly bruising) treat." For those who have been following the characters since the very beginning Bad Gateway is the book that the previous volumes have all been building up to.
Simon Hanselmann (W/A) • Fantagraphics Books, $29.99
– Andy Oliver