One final upcoming book announcement to go into the weekend with and details of Cartoonists Against Racism. What looks to be a vitally important release in November from Dark Horse Comics and Yoe Books.
DARK HORSE AND YOE BOOKS PRESENT: "CARTOONISTS AGAINST RACISM: THE SECRET JEWISH WAR ON BIGOTRY"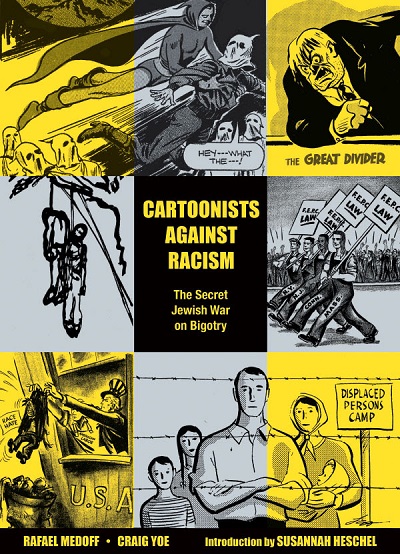 Fighting the good fight with pens and brushes
Cartoonists Against Racism tells the remarkable unknown story of how a Jewish organization enlisted some of America's most beloved cartoonists to undertake a nationwide campaign against bigotry in the 1940s and 1950s.
Cartoonists Against Racism uncovers the secret campaign to flood America's newspapers, classrooms, and union halls with anti-racist comics and cartoons. Meet the artists and the artwork that was their ammunition in the battle for America's soul.
Cartoonists Against Racism is authored by Holocaust scholar Dr. Rafael Medoff and award-winning comics and cartooning historian Craig Yoe. It also features a foreword by Prof. Susannah Heschel of Dartmouth, noted scholar and daughter of civil rights icon Rabbi Abraham Joshua Heschel.
The book showcases impactful anti-racism artwork from the era's preeminent cartoonists, including multiple Pulitzer Prize winners Bill Mauldin and Vaughn Shoemaker; New Yorker cartoonists Carl Rose, Mischa Richter, and Frank Hanley; famed antiwar cartoonist Robert Osborn; Dave Berg of Mad magazine; renowned sports cartoonist Willard Mullin; noted labor cartoonist Bernard Seaman; comics artist Mac Raboy (Flash Gordon, Captain Marvel Jr.); and Eric Godal, who escaped from Nazi Germany and became a leading cartoonist in the American press.