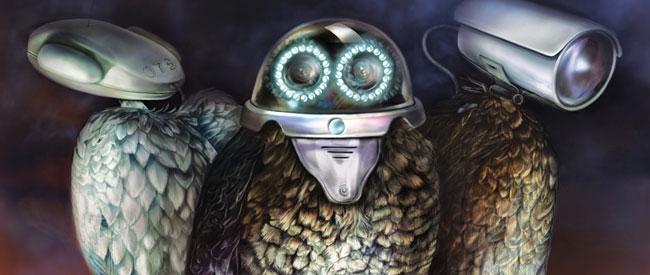 Inside Look is Broken Frontier's director's commentary-like feature in which creators take you behind the scenes of one of their story. In this edition, Gianluca Bonomo talks about creating the world of CCTVYLLE and putting together the zero issue of the series.
You can read our review of CCTVYLLE #0 here.
By Gianluca Bonomo
CCTVYLLE explores an inconvenient possibility, it reveals an extreme vision of the future of surveillance systems in a society totally controlled by the government.
The comics are part of a larger multi disciplinary project that include fine art, photography and animation work. The narrative of the comics is presented in the form of episodes/numbered issues. As the stories unfold the reader discover the anguish and paranoia that some of the main characters live with. The city (CCTVYLLE or London) is dominated by grotesque creatures, hybrids with the body and feathers of birds of various species and the head replaced by CCTV cameras of all types.
The idea started with a dream that I had a few years back, in which I saw a tree full of these hybrids. The inspiration also came from the observation of the overwhelming number of cctv cameras and street wardens that dominate the city of London.
Page 2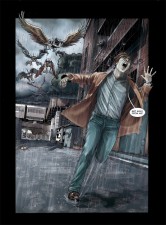 Page 2 highlights a dramatic moment, Damien is being chased by a number of smart flying hybrids. The perspective, the action and the drama in this page are in contrast with the cover page where the static and solemn body posture of three grotesque hybrids deliberately echo certain fascist iconography.
This page shows clearly to the reader that there's a state of emergency and that things need to be dealt with immediately. For the first time we see the hybrids in action. We can feel their obsessive presence within the urban scenarios of CCTVYLLE.
Page 7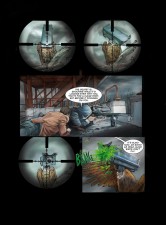 This is a crucial scene. We see that the young people we are just starting to know are reacting against the invasion of hybrids by disabling their vision. Here the hybrids are being watched and targeted rather than the other way round. We also learn a bit more about Sean's leadership and experience whilst Damien avidly learns from him. The paint ball hitting the lens highlights both a dramatic and humorous moment. The guys are not destroying the "cctvirds" but sending a message by making their lenses practically useless.
Page 8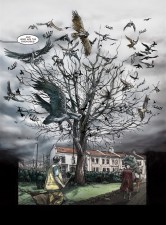 An explosive scene here highlighting the total mayhem occurring after the shot is fired. The hybrids react like a real animal would, showing their disorientation and fragility. The weakest point, their eye, has been hit. The hybrid that has been hit causes a chain reaction, the scene reveals that once you have made them blind they may show fear and try to fly away. Interestingly people on the ground don't seem too bothered by what is happening, as if they were quite used to it.
Page 14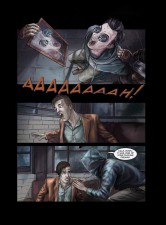 Very important and dramatic scene. We see Sean for the very first time without his hood on. We see something rather disturbing on his face, where are his eyes now replaced by lenses? Is what we see real? Is it maybe something that might or will happen? Or does this scene represent a fear of what to come, something that might happen to anyone, especially to rebellious people who fight against the established system? Follow the story to find out.
Page 17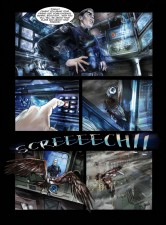 We meet for the first time a new character, commander Reese Creek, a tough man who has total control over CCTVYLLE. This character may appear only briefly in issue 00 but his major role will become apparent in the following issues. He's the boss of "cctvirds", controllers and commander of an actual army of special force soldiers who capture rebels after being cornered by the flying hybrids.
Page 18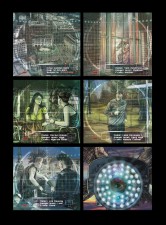 This page reveals the scary level of paranoia dominating CCTVYLLE and its inhabitants. No dialogues needed here, images and the high-tech graphics displaying personal details of the common people being watched, says it all.
Everyone is known to the authorities and is being constantly checked, no matter where people are or what they are doing. Even in their own home while in bed with their partner or at the bar chatting with a friend. We are all suspects. Everyone and everything is under control. How far can such situation can go? Will people react to it?
With hybrids following you wherever you go such a situation becomes seriously difficult, making people wish these cameras were still primitive devices firmly mounted on a pole.
***
Until now, we have been accustomed to static surveillance devices like cctv cameras mounted on poles and building ledges. The difference between static and smart and self-moving CCTV systems is huge, especially if the device is a hybrid of interconnected electronic and biological parts.
In the first issue we already see that there is very little one can do to escape these hybrids and very few places where to hide for a moment. This is a rather worrying but possible scenario. Issue 00 is a taster of a story that exposes unprecedented levels of paranoia and oppression that mass control can exercise on people.
CCTVYLLE reveals that this can be achieved with some remarkable technological advancement that may seem science fiction now but not for long. CCTVYLLE is for people interested in many genres including sci-fi, thriller, horror and drama but also to anyone concerned with how far the surveillance on us can go.
The story is full of fascinating characters, action and unexpected turns of events, that's something the reader should prepare for.
Find out more about CCTVYLLE at www.cctvylle.com.