Over the weekend the sad news that Chris Reynolds, one those great mainstays of UK indie comics who helped build the foundations of the scene as we know it today, had passed away aged just 62. Part of that wave of 1980s small pressers whose importance has, perhaps, been forgotten and neglected over the years, his work had returned to the spotlight in recent times with the New York Review Comics edition of The New World: Tales from Mauretania and his contributions to Douglas Noble's lauded A Pocket Chiller anthology series.
In 2018 our very own Tom Murphy wrote as eloquently as ever about Reynolds' comics to mark the NYRC reprint, talking both about the work in question and its background: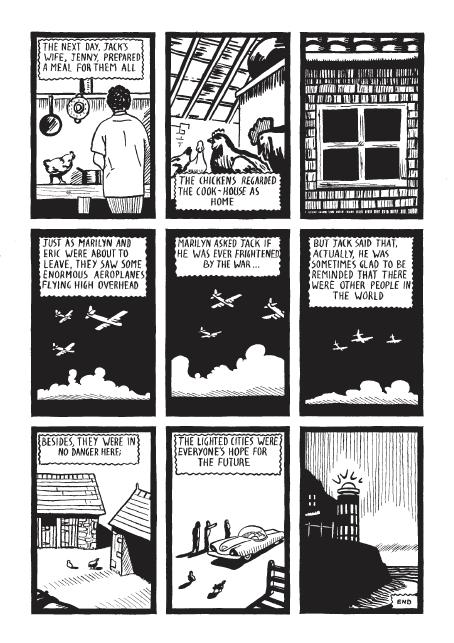 During the late 1980s and early 1990s [Reynolds'] utterly distinctive Mauretania Comics was a vital presence in the UK small press boom of the time. He was also part of the graphic novel vanguard, with Penguin publishing his book-length Mauretania (collected in this new volume) in 1990.
However, as that era's collection of talent went their separate ways, Chris Reynolds and Mauretania Comics largely dropped out of sight. And as you luxuriate in the contents of The New World, it's slightly chilling to think that without the intervention of a high-profile champion (Seth wrote a lengthy appreciation of Reynolds for The Comics Journal back in 2005) we might not be talking about the artist and his work today.
Indeed, Canadian cartoonist Seth had described Reynolds as "the most underrated cartoonist of the last 20 years" in that piece. Tom went on to say about The New World:
It was in [Paul Gravett and Peter Stanbury's seminal anthology series] Escape that I first came across the work of Chris Reynolds, in an instantly arresting two-pager called 'The Lighted Cities'. It epitomises much of what we'd expect from a Mauretania comic: the bold, high-contrast graphic style, a sense of timelessness, an air of mystery, a heavy emphasis on place and a seemingly artless narration that teases as much as it reveals.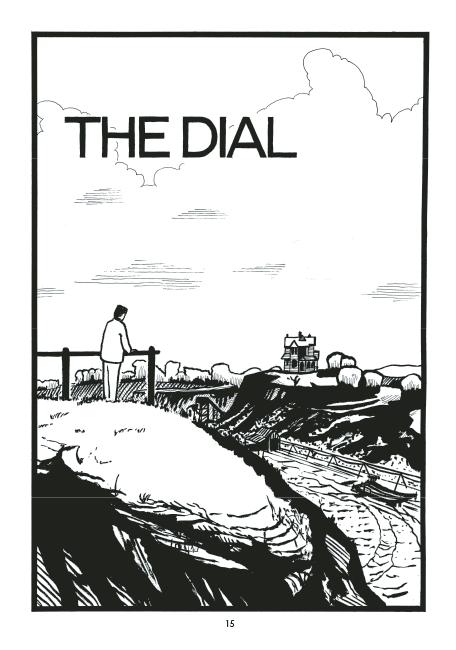 As a film-maker as well as a comics auteur, Reynolds shows a gift for imagery and composition, as well as editing and juxtaposition. There's a lovely flow to his visual sequences. Particularly in shorter pieces like 'Our Town', his images are often like a series of beautifully compact little still lives, capturing within their thick black borders a sense of frozen time.
You can read that full review here.
Back in 2017, UK cartoonist Robert Brown (Killjoy, For the Many Not the Few) discussed Reynolds' practice as part of our 'Covers Album' series saying:
Seth's major appreciation in the Comics Journal #265 and the high regard of those that know his work notwithstanding, I still feel that Chris Reynolds' Mauretania comics are dishearteningly underrated. His work in Mauretania Comics and its associated publications (especially the 40-pager The Dial, my favourite comic book) stands as one of the finest corpuses of any artist in the field. I have chosen the front design of his 1990 graphic novel Mauretania as an example of his subtle skills as a cover artist.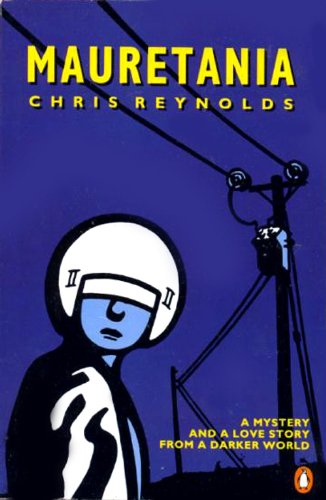 As with the pages of his comics, Reynolds' cover is a masterclass in the interplay of spotted blacks and negative space; before one even bothers the spine of the book, he begins to defamiliarise the things of our world, like the crucial telegraph poles, mostly silhouetted, evoking the strangeness of the quotidian, and the mundanity of the extraordinary. In addition — for the interior pages of his Mauretania comics of the 1980s and '90s were always black & white — his choice of colours is striking in its foreboding chilliness and spareness of palette.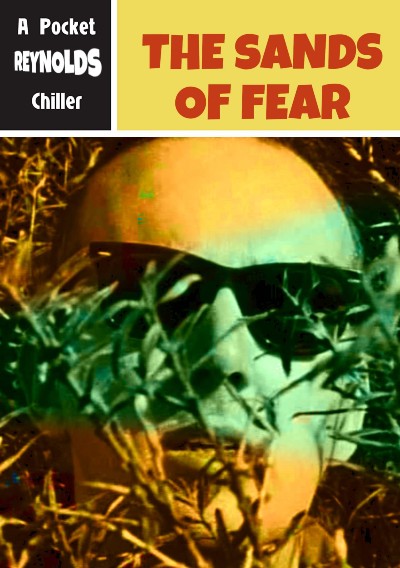 On Saturday, Douglas Noble posted a tribute to Reynolds on Twitter revealing that "For me, working with Chris on the 6 issues of A Pocket Chiller that he created over the last couple of years, has been among the most rewarding things in comics for me."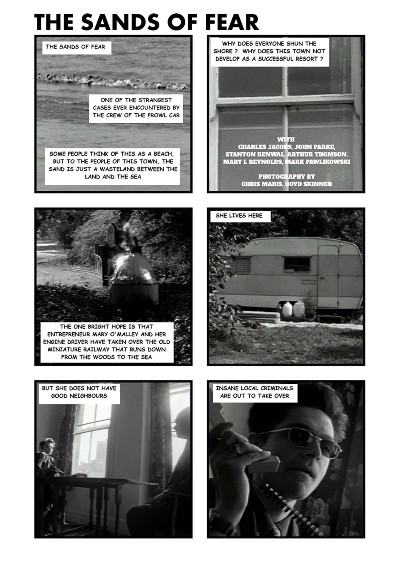 On my own never-ending "for review" list was a self-published comic that Chris Reynolds had submitted to Broken Frontier in December for coverage. I had been greatly enjoying his photo-comic issues of A Pocket Chiller and had reviewed a couple of them in the last year or two, including The Sands of Fear concerning the intrigue surrounding a miniature railway track in a sleepy seaside town:
In short it's a gloriously silly piece of camp nonsense made all the funnier for the fact that it's all played so straight (right down to the actors posing for each panel who could quite easily have lapsed into over-the-top, gurning ostentation). Given that this is a short 16-page comic for a smaller (but much acclaimed) imprint the amount of effort and organisation involved in The Sands of Fear is remarkable.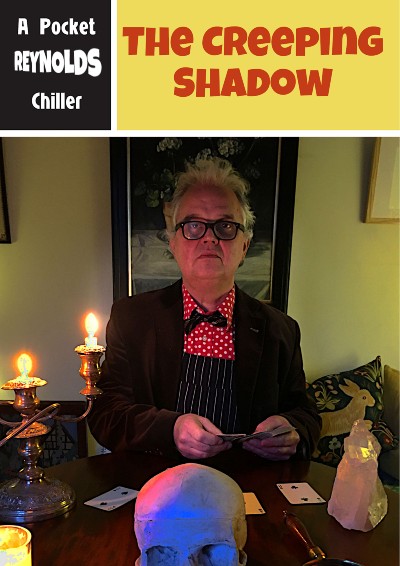 And on supernatural murder-mystery The Creeping Shadow I said:
It goes without saying that the narrative process for a photo-comic has its own unique idiosyncrasies; the obvious challenges of working within expressive confines balanced with the atmospheric opportunities that the (near) pure realism can offer. Largely using just one photo-actor (George Popescu) Reynolds turns that limitation into an advantage; that sole point of focus giving the comic a charged sense of claustrophobia and eeriness. And while the supernatural "effects" are economical in their use that also works in juxtaposition with the mundanity of the story's setting. Sunderland's silhouette/profile is especially memorable giving the impression of a 1960s/'70s eccentric British cult television character.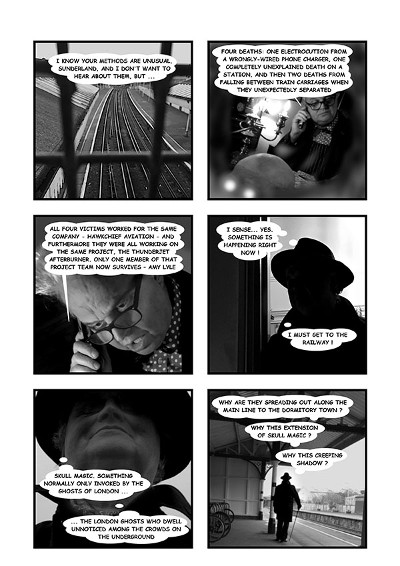 Our sincere condolences to Chris's family and friends. As ever, this news is an important reminder to let the people whose work you admire know what it means to you while they're still with us. Do check out some of the amazing legacy of work that Chris has left us. The New World: Tales from Mauretania is still widely available while the A Pocket Chiller books can be bought online here.