After making its debut last summer CoCo Comic Con is back for a second day of UK indie comics goodness this year. On June 24th attendees can once again enjoy free entry to the event at the Storey Building in Lancaster. Obviously we're going to point to the fact that Broken Frontier 'Six to Watch' artists Anna Readman and J Webster Sharp are tabling but exhibitors range from the likes of Alex Paknadel, currently putting his own spin on elements of the Spider-Man mythos in Carnage and Red Goblin, to mainstays of Brit self-publishing.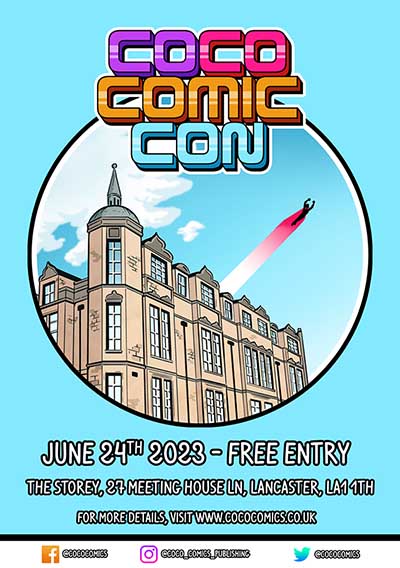 Other exhibitors at CoCo include the CoCo Comics team, Matt and Zeke Simmons, Adam Falp, Andy Diggle, A.S. Simmons, Conor Fenna-Toora, Dave Cook, First Age Comics, Hesitant Doodle, H. L. Roberts, James Lawrence, Jake Machen, Kawaii Oh My!!, Koguchi Press, Kristan, Kristyna Baczynski, Mat Greaves, MD Penman, Nick Gonzo, Peter Morey, Rob Luckett, Sola Simpson, Steve Gregson, Teeside University Comics Society and Tom Ward.
That's a great line-up with appeal for fans of many different types of comics publishing. It's also important to note that new events on the calendar like this are vital for the small press scene's regeneration after the many shows we lost during the pandemic.
More on the CoCo Comic Con site here including directions, times and further creator details.