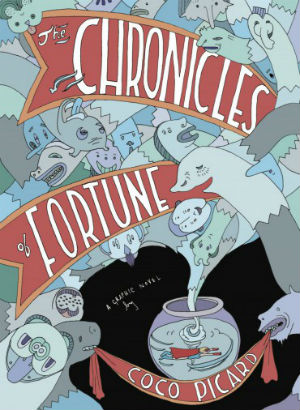 Much of the work of a cartoonist is simply that, cartooning. They exaggerate and amplify in the hopes of capturing that which is invisible or hard to define. Told primarily through simple but precisely rendered single page images, Coco Picard's The Chronicles of Fortune mixes magical realism with the grounded mundanity of everyday life, creating a world in which the ability to persist in the face of life's inevitable slow tide of loss and defeat becomes a super heroic feat.
Over the course of eighteen lightly connected vignettes we follow protagonist Edith-May and her superhero alter ego Fortuna as she tries to navigate the challenges of her humble life. Though teased in the first chapter, Edith-May will never use Fortuna's super powers to combat global crises. In fact she rarely ever dawns her superhero costume outsides of comfort of her own apartment. Rather than having Edith-May question the responsibility that comes with great power, her great power becomes a means of coping with crushing ennui. For even though Fortuna has the power to vanquish Death once and for all, it will take her the entirety of the book before she is ready to face that opponent.
Ironically though, Edith-May will grapple with several smaller deaths through out the course of the book. The death of her mother and her inability to reconcile with it functioning as the inciting incident that splits her spirit in two giving birth to Fortuna. When recalling her mother's funeral we see Edith-May awkwardly contend with her mother's card-carrying New Age healer friends and her own nosy relatives. Adding further insult to injury are the overzealous morticians who try to upsell her on her mother's coffin.
In another chapter Edith-May goes to San Francisco for her grandfather's funeral only to find it has been canceled and that she will be unable to stay with her distressed Aunt. Ashamed to tell her family that she can't afford a hotel, she secretly spends the night on Alcatraz. Beside the light of a votive candle, the ghost of a young girl who died tragically on the island during its occupation in the early '70s converses with Edith-May about the afterlife. The two end their encounter in friendship, though she emerged from the darkness the ghost girl is the first entity we Fortuna completely at ease with.
Despite the grounded stakes of the book, the majority of social interactions Edith-May has in The Chronicles of Fortune are with fantastical magical realist creatures. We see her solitary apartment starts to fill up when a group of older Bohemian painters leave a sentient mountain to grow in her spare room. Later on she will discover that rain coming through her celling is being caused by talking crocodile crying on her roof. She takes in both these strange arrivals as her new roommates along with a small horde of moths who sneak in stashed inside a rented VHS tape. From this kingdom of moth arises the unicorn horned Uniqo, who when swallowed by a goldfish will be freed from a watery grave by the specter of Death as a means of prompting Edith-May into their foreshadowed showdown. Fortuna is momentarily victorious when she stuffs Death inside an over, but unwilling to bear the responsibility of taking its place in the cosmology she releases the spirit and cries in its arms.
It is a strong choice on Picard's part that, save the heightened action of the final confrontation, none of the conflict comes from the intrusion of the supernatural forces into Edith-May's life. It is the smaller yet no less challenging indignities of everyday life that she must battle with instead.  A stove leaking gas results in her burning off much of her hair, while working as a customer service representative for a Christmas light manufacturer becomes a harrowing plunge into fractured psyches of the customers who call in to complain.
To pay the rent she dresses up as her dead mother and cashes her old traveller's checks at the bank. Even worse is her ill-chosen depression era farmer costume for a 1940s-themed bachelorette party. Her inability to fit in with the drunken revelry further compounded by the arrival of a burlesque instructor trying to teach the asexual Edith-May how to dance for her husband or significant other. It is a telling moment that when she gets overwhelmed by the moth infestation, she puts on her superhero costume and becomes Fortuna just to feel brave enough to do something about it.
Much of the charm of The Chronicles of Fortune is the way in which Picard depicts these small moments in Edith-May's life.  The sparse scribbly line work at times recalls both Shel Silverstein and Jules Feiffer. Though the details of the scenes are often heavily abstracted or not present at all, the full-fledged commitment to this almost picture book aesthetic gives the work a unique voice. Having the majority of the book consist only one image per pages allows those images to breathe and be contemplated individually. What is amazing is that this works both for Picard's more elaborate and intricately hatched drawings but also her many of her simpler compositions containing only a figure and a handful of text.
Some of the most striking moments in the book occur when these loosely defined images are combined with the floating text of the third person narration to create moments of visual poetry. It also shows a profound level of confidence on Picard's part to then further push the audience to dwell on her drawing through the relaxed pacing of her storytelling that might only slightly changing the image over several pages. Yet it is these artistic choices enacted over the 400-some pages that create a work that is vastly larger than the sum of its parts.
The Chronicles of Fortune is deeply affecting in minimalism. Just as Edith-May choses a small life surrounded by a menagerie of friends over super-heroics so to does Picard favor subtly and simplicity over bombast. By humbling earth's greatest hero the book allows us to consider how heavy the weight of the world can be. In leaving so much undefined and up to the imagination, Picard allows the reader to interweave Edith-May's struggle with their own. While the way in which the book slowly but steadily build towards its climax and quiet denouement shows just how much clarity of vision Picard has a storyteller. She is an artist who fully grasps that sometimes it takes magical realism to full express the magic and loss of real life.
Coco Picard (W/A) • Radiator Comics, $20.00
Review by Robin Enrico