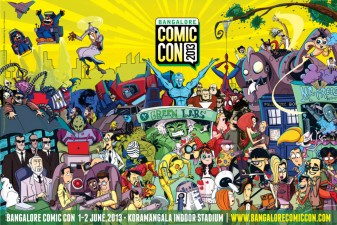 Comic Con India is happily expanding by creating yet another annual property called 'Bangalore Comic Con'. Bangalore Comic Con 2013, to be held over the weekend of June 1-2, 2013 between 11 am to 7 pm at Koramangala Stadium, National Games Village, will mark the beginning of an annual Comics Convention for Bangalore.
The Technology capital of India saw a turnout of over 30,000 and sales worth over 45 Lakhs at Comic Con Express Bengaluru (CCEB), the travelling version of Comic Con India in Sept '12 in 2 days.
Jatin Varma, Founder, Comic Con India, shared, "With the tremendous response at Comic Con Express Bangalore last September, we felt that a permanent event was required for the city. Therefore, it gives us great pleasure in announcing 'Bangalore Comic Con 2013'. With this first annual edition we wish to bring in more content and entertainment for Bangaloreans! We have for the first time brought in International exhibitors for a convention other than Delhi. We have a lot more on offer for fans and we hope to expand and build upon this in the coming years and provide Bangalore, its biggest pop-culture event of the year."
Comic Con India is planning an array of activities for Bangalore Comic Con 2013 (BCC). They range from participation from International artists & publishers, workshops & interactive sessions every hour at the dedicated stage area to exclusive launches of Comics titles, more book signings, display and sale of a wide range of comics & merchandise, special corners for creating comics and cartoons, Contests, and lots more.
It aims to promote and bring together local, national and international talent in India to generate more interest among fans.
Some of the leading participants in the Bangalore's Comic con are: Amar Chitra Katha, Campfire graphic novels, Pop culture publishing, DC Comics (Random House India), Marvel Comics (Hachette India), Lion Comics (Tamil), HarperCollins India, Scholastic India, Bangalore's very own – Manta Ray Comics. There will be some of best and most awesome International and Indian Merchandise at the convention, especially for Bangalore.
Cosplay (Costume contest), one of the major attractions at Comic Con India, will be more exciting than ever! Comic Con India will continue to give assured prizes to everyone in costume, but now there are 5 categories that have been created to increase your chances of winning gifts. Each day, one winner will be chosen from each of five categories –
1. Comic book/Graphic novel
2. Animated Series/ Movie
3. Manga/Anime
4. Sci-Fi/ Fantasy
5. Gaming
Both days, One lucky winner out of the chosen 5 will get the awesome chance to WIN a GOLDEN TICKET to Goa!!
There is going to be a special session with Jerome Saincantin from Cinebook UK; a special session with columnist Jerry Pinto, author of Comic Con India's Best Cover Award winning 'When Crows Are White' by Scholastic; a special session on Self-Publishing in the Indian Comics Industry; Amar Chitra Katha (ACK) Mega Quiz for fans; and lots more.
ACK Media, the house of Amar Chitra Katha and Tinkle Magazine, the most respected names in Indian comics, and Comic Con India, India's only convention for graphic storytelling and comics are proud to take their initiative Comics for a Cause a step ahead with a special sale of original comic artwork and covers at Bangalore Comic Con 2013 with all proceeds going towards Project Nanhi Kali.
Also, there are going to be some exciting giveaways which include exclusive Myntra Bangalore Comic Con 2013 Limited Edition Swag Bags, made only for the event to be given to the chosen few! (First Come First Serve, will be giving out only a few thousand)
Now, after years, the comics' community in India has a platform where they can meet and interact. Comic Con India is a unique event celebrating the illustrated medium, which brings together the whole comics industry and related fields such as Merchandise, Toys, Games, Films and Animation, along with fans of this culture from all age groups.
Costume Play – Kids and Adults can come dressed as their favorite comic character – Chance  to win a golden ticket to Goa on both days!
Book Launches – Over 10 New Titles to be launched!
International Participation from  – Cinebook (UK), Darkhorse Comics (USA), Diamond Select Toys (USA), Robot & Spark (UAE) and Renovada Merch (UAE)
Workshops – with creators, artists & writers of popular comics & graphic novels
Meet & Greet and Get pics clicked with – Geronimo Stilton, Spongebob, Ninja Hatori, Suppandi, Shikari Shambhu
Merchandise from all over the World –Tons & Tons Of Merch! Pick Up Some Awesome Anime & Manga Merch, T-shirts, Mugs, Toys, Posters, Cushions, etc, the list is never ending!!
Catch The Amazing Work Of The Great Mario de Miranda At The Mario Gallery!
Contests & Lots More!!