It can be difficult to put your finger on what exactly an artist is trying to do with their work early in the early stages of their career. Kelly Fernandez's minicomic output to this point has been an eclectic mix of anthropomorphic animals, hipster versions of classic movie monsters, witchcraft, and historical non-fiction. In her latest minicomic, the Cupcake Award winning Cuidando, she pivots towards autobiography and produces thought-provoking work that touches on both race and class while maintaining the crisp clear cartooning she has exhibited previously.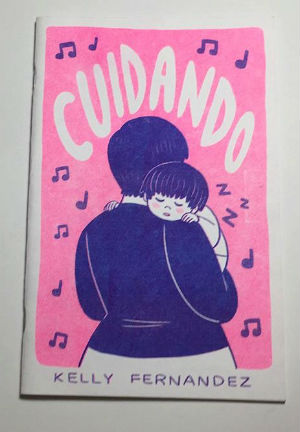 Cuidando has Fernandez examining how the work of childcare has had an impact on both her life and the lives of members of her family. She recounts how both her grandmothers and her mother have served as babysitters for as long as she can remember. Fernandez views said role as one thrust upon her mother and comes to resent her for both conforming to it and, by extension, bringing an unwelcome stream of small children into her space.  When she finally confronts her mother about this, she confirms her daughter's suspicions and expresses her own frustrations at being roped into domestic work. This prompts Fernandez to remember being constantly told as a child that she needed to do well at school in order to go to college and get a good job and avoid her mother's fate. Further highlighting her discomfort with the work of childcare is her fear that, as Latina women, both she and her mother are conforming to stereotypes by doing domestic labor.
Compounding Fernandez's complicated personal feelings about nanny work are the obstacles she faces in the working world that will eventually drive her toward it. When interviewing for an internship in graphic design she runs up against her interviewer assuming that her paid work is as a nanny even though it is at a library. Fernandez then has to bury how upset this micro-aggression makes her feel and take the internship anyway for the sake of her career. In a revealing scene Fernandez choses not to go out with her go graphic design co-workers for lunch, and instead more frugally eats the one she brought from home. To which, her superiors scold her for wasting time while eating her lunch. Even after realizing their error they begin talking amongst themselves about their weekend in the Hamptons, further reinforcing the class divide.
Demoralized by the unwelcoming culture at her internship, Kelly is surprised to receive the offer of an out of state job as a nanny for her former professor. Despite her personal reservations she takes the opportunity, seeing it as a chance to get unstuck from her post-college slump and to focus on her artwork. Even though she quickly finds herself in over her head, and self-conscious about the career progress her old classmates are making in creative fields, she learns to have pride in both her and her family's role as a nannies, closing the comic with an acknowledgment of her former ignorance regarding the importance of domestic labor and citing it as a source of inspiration and empowerment for her.
While Cuidando only lightly delves into complex issues at play from Fernandez's point of view (feeling like a test run for a much longer treatise), it is a fine showcase for her abilities as a cartoonist. Her linework is consistently crisp and clear, accentuated by deep areas of black and precise cross-hatching. Her lettering is also precise and a perfect match for her visual aesthetic. Within her simplified style the level of detail present in some of her backgrounds is astonishing. She perfectly nails the details of complex locations such as a New York City airport, and the coast of Maine. Smaller domestic details like the artwork decorating various homes and offices are equally well-crafted.
Fernandez wisely never skimps on drawing all the people appropriate for a scene. Houses are consistently filled with children of all ages and one of the strongest panels in the piece is a crowd shot of airport security line. While her character designs are on the simpler side they are all vibrant and full of motion.  The performances she gives her characters (including the animals) are strong and clear, using some of the visual iconography of eastern comics, but never relying on those tropes as shorthand. It is not surprising then that given her cartooning skills Fernandez has signed with Scholastic imprint Graphix to produce a graphic novel after winning the "Get Published by Graphix" contest in 2016.
While she may currently be working on a longer piece for a larger publisher, all of Fernandez's early self-published work is worth tracking down. In a very short time she has honed both her voice and her storytelling craft to commendable levels. Cuidando is an artistic high point for her at this moment, but it will be interesting to see how Fernandez grows as an artist when she focuses her talents in the formation of that longer work.
Kelly Fernandez (W/A) • Self-Published
Review by Robin Enrico