A recent Ignatz nominee in the Best Artist category, Darlin' and Her Other Names Part 1: Marta is described as a werewolf-western-horror-romance comic. If that blending of genres doesn't immediately capture your attention then you may instead be enticed by the track record of the artist behind this project, Olivia Stephens (Artie and the Wolf Moon).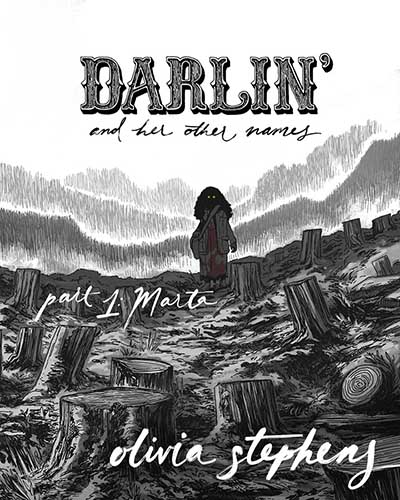 Set in 1881, around Kansas and Colorado this first chapter centres on two characters with pasts implied to be full of tragedy and/or violence. Marta is a werewolf, now at one with her dual nature but someone whose human past is marred by the awful fate that befell her family. Edgar, meanwhile, is desperately trying to escape a group of relentless pursuers. When the pair encounter each other in the wilderness their lives are intertwined and revenge becomes a mutual enterprise…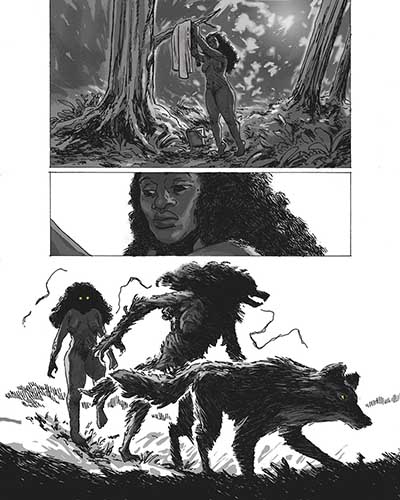 Darlin' and Her Other Names is black and white storytelling with limited and focussed use of colour that intimately understands the expressive qualities inherent in that form of visual approach; of how the applied use of light, shadow and greyscale texture can bring an organic feel to the natural world that, perhaps ironically, vibrant hues cannot match in the same way. When colour is used its infrequent appearance brings key thematic motifs to the forefront. The feral nature of Marta's existence as embodied in her yellow eyes, for example, or the brutality of the environment the characters exist within being emphasized in the rich red blood that becomes a recurring element.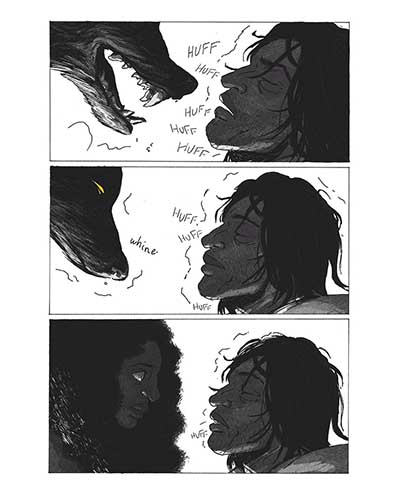 That latter device becomes especially powerful in a later scene of mysticism and transformation, as Stephens dexterously uses the visual language of the page to bring us scenes of sensory overload that we feel rather than read. Indeed this is the triumph at the heart of Darlin' and Her Other Names. The reader is left feeling that they too are interacting with a harsh yet majestic natural world, rather than simply observing characters within it. Stephens knows how to manipulate pacing and panel layouts to the acutest degree to emphasise motion and the unforgiving nature of this violent environment, bringing us far closer to the characters through this direct link into their experiences. Showing not telling at its finest.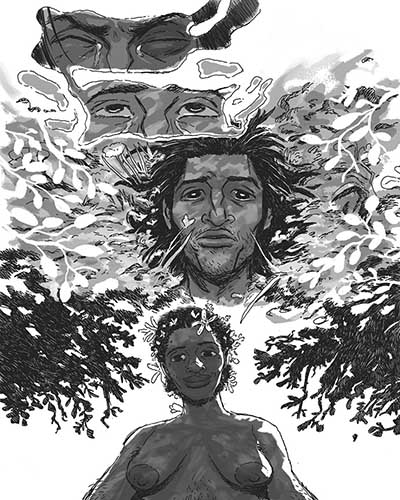 Where Darlin' and Her Other Names goes from here remains to be seen but this first instalment is a gripping and atmospherically charged opener that has a sense of ominous foreboding from start to finish. Without a doubt, one of the finest genre comics openers I have read so far in 2023.
Olivia Stephens (W/A) • Self-published
Buy online in digital format here
Review by Andy Oliver