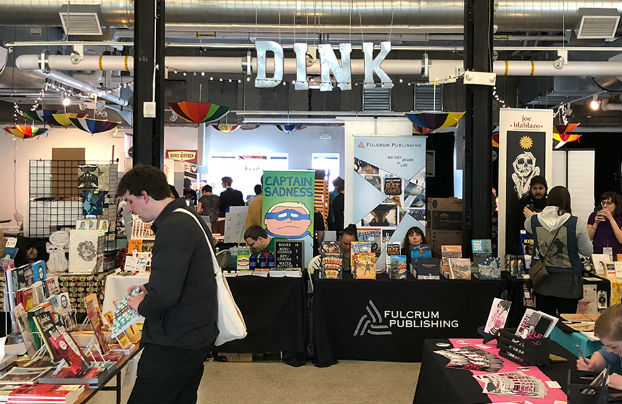 DiNK captures the spirit of indie comics with a well organized, community-based show featuring a variety of guests and filled with plenty of fun activities for fans of all ages.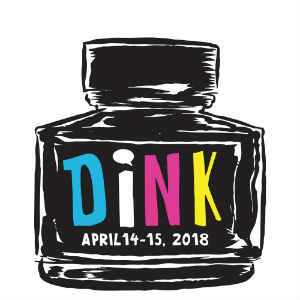 After hearing so many good things about it during its first two years, I decided to experience DiNK (Denver Independent Comics & Art Expo) for myself and made my way out to Colorado for their third annual show which was held on April 14-15th, 2018.
Officially, I was there as an exhibitor with a booth for my publishing company, A Wave Blue World. I took my daughter, Maddy, along and met up with good friend and fellow creator, Justin Zimmerman. We were there to sell some books, have some fun, and see what DiNK was all about!
The festivities actually began on Friday evening with a special screening of the movie I Kill Giants, based on the graphic novel by Joe Kelly and Ken Niimura. Bunny ears were handed out beforehand and the audience responded by wearing them throughout the entire screening, something remarked upon by Joe Kelly during his Q&A afterwards. He even joined in on the fun by donning a pair himself. You can read more about it on Nerd Alert News.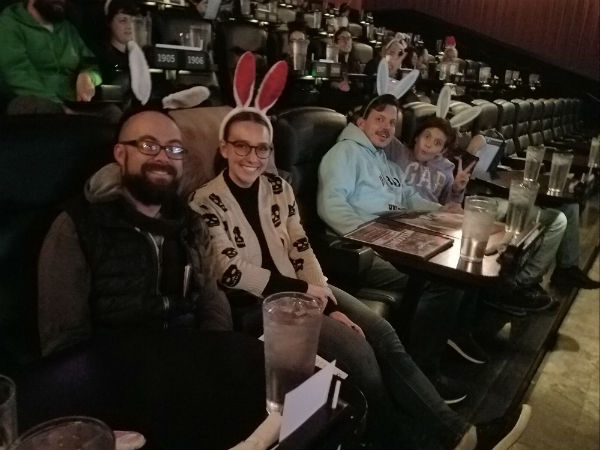 (photo by Colleen Bement, courtesy of Nerd Alert News)
The next morning, it was time to head to the McNichols Civic Center Building for the start of the fest. I'm a big fan of when comic shows are held in really beautiful spaces; it does so much to create a positive atmosphere. McNichols is an impressive looking building with classic Corinthian columns situated in Civic Center Park.  Inside, there was plenty of natural light coming through the tall windows that stretched up to the industrial-style ceilings.
The guest list had some pretty big names like Charles Forsman, James O'Barr, Gerhard, Jeff Lemire and Matt Kindt. I made sure to visit Jim Mahfood, whose art I love. And of course, we had to stop by to see the "Men of Action" Joe Kelly and Steven T. Seagle.
My daughter was excited to see two of her favorite creators; Amy Reeder, co-creator of Rocket Girl and Jeffrey Brown, who does the very cute Star Wars books including Vader's Little Princess.
Maddy has seen Amy at a number of shows so they know each other pretty well. I took photos of them but they were making some pretty weird faces, and I'm not sure Amy knew I was planning on posting these on Broken Frontier, so I'll leave them out. But there's a nice photo of Maddy with Jeffrey Brown above.
The celebrity guest was a last minute addition, John Leguizamo. He was promoting his new graphic novel, Ghetto Klown. As I mentioned before, I wasn't officially there as press so I couldn't take a photo of him without paying the $25 fee. So here's a shot of his booth when he wasn't there!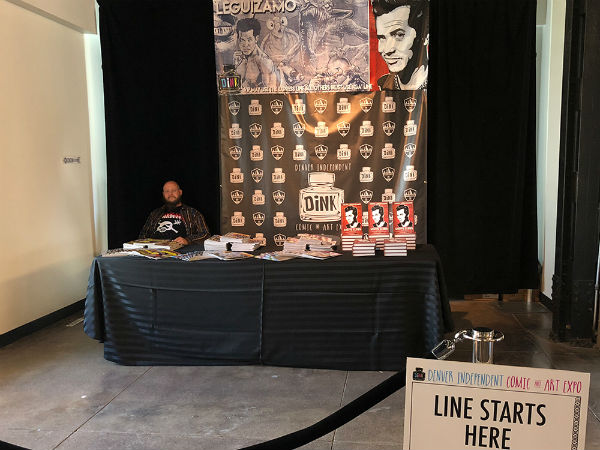 Saturday night featured two additional events. The first was an art auction benefitting the under-served youth program, Camp Comic Book. Here are some of the pieces that stood out to me: a full color cover by Jeffrey Brown, an inked Crow drawing by James O'Barr, a Tank Girl page by Jim Mahfood and a painted Spider-Man by Jeff Lemire.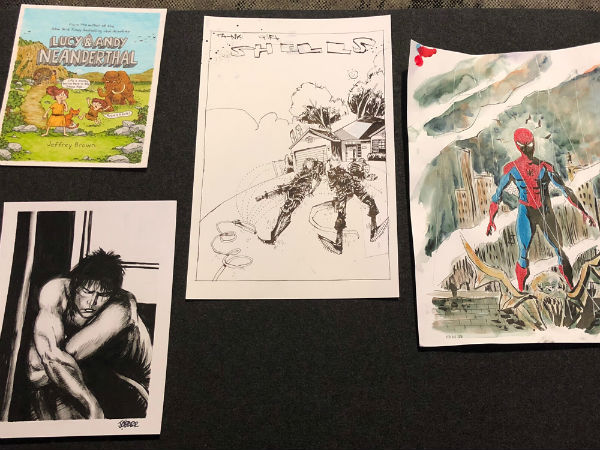 This was immediately followed by the DiNKY awards honoring some of the best projects and creators of 2016. I was pretty happy that my book, Loved & Lost, got nominated for best anthology. We didn't win but can't argue with the book that did: Bottoms Up! True Tales of Hitting Rock-Bottom edited by J.T. Yost from Birdcage Bottom Books. I couldn't find the list of winners anywhere online, but here are all the nominees.
On Sunday, the fest was pretty slow as the weather outside was absolutely beautiful. I can't argue with people wanting to be outside in the sun, especially with food trucks and live bands performances. However, it meant that the fairly brisk sales on Saturday didn't repeat for the second day. This means I'll have to think seriously about whether or not to go back next year. I'm at the point where doing a show has to at least make some financial sense. But if I were going purely for the fun, I'd be there in a heartbeat.