Celebrating Pride Month! Takeshima's Whisper Me a Love Song, at first glance, appears to be an average high school girl love story that, while being lighthearted and comedic in tone, depicts nothing new compared to contemporary stories of its genre. Japanese comics that depict high school girl love usually do so with the intent to attract audiences with the concept of a double female relationship, but end up superficially fleshing out the characters and opting to show cute interactions between the female leads instead. Whisper Me a Love Song, while showcasing those cute interactions, takes the time to develop the characters so you can understand the foundation of their love for each other.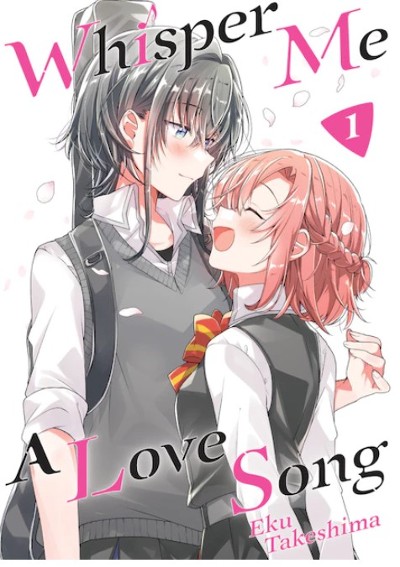 While this leads to a slower paced story, it also makes it a more relatable one to people in queer relationships, due to its realistic timing. The reactions of the female lead characters to certain social situations are authentic, and that puts it above most other Japanese comic strips it competes against, which usually opt to bend the realism of the situation via a rushed accepted love confession between the female leads for the purpose of being able to create quicker gags down the road. The interactions between the two main female characters, as they develop their relationship, are the main driving force behind the story.
Whisper Me a Love Song is mainly from the perspective of the character Himari Kino during the initial chapters when she is first discovering the concept of romantic love. But it slowly spreads its attention towards the lives of its ensemble cast. The initial chapters have Himari Kino feeling "something" towards Yori Asanagi, her upperclassman and singer/guitar player of the band SS Girls. But Himari is unable to quantify what exactly that feeling is. Is it love, or merely admiration for Yori's spectacular singing and guitar playing talent? Her discovery of the answer to this question is a well-paced, logical, and realistic one, which is a highly attractive point of this manga.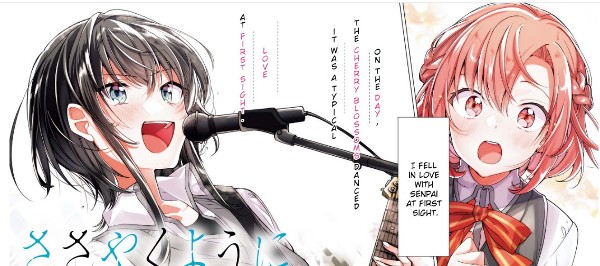 The cast also includes Himari's best friend Miki, who acts as a supportive friend in regards to Himari's developing relationship with Yori. There is also Mizuguchi, a close friend of Yori's who harbors a secret crush on her and acts as a reminder to the audience that love is sometimes unrequited. Other main characters include Momoka Satomiya, the president of the cooking club. She is the upperclassman Himari goes to for relationship advice, whether it be to weather a conflict, or to improve her and Yori's relationship. Finally, the members of the SS Girls band slowly start to be revealed. They initially start as a way to show off Yori Asanagi's own side of the story, but eventually develop their own personalities and have their characters built upon.
The initial story begins with Himari on her first day of high school as a freshman. At the freshman welcoming party, midway through, the band SS Girls is slated to play a performance. At the behest of her best friend, Miki, Himari looks at the SS Girls band for Miki's older sister playing the bass. She tries to take in the performance, only to be instantly swayed, and smitten by, SS Girls' guitar player and lead singer, Yori Asanagi. Himari confesses her love, only to shortly after receive a love reply from Yori, who is smitten with Himari's cuteness. The pink haired freshman immediately clears up that she is interested in Yori's singing abilities, leading to Yori admitting that she likes Himari in a romantic sense. Realizing that she does not fully understand what romantic love is, Himari reasonably asks for the time to discover if she loves Yori in the same way Yori loves her. This starts off the manga, and a high school girls' relationship story that readers will want to invest their time into.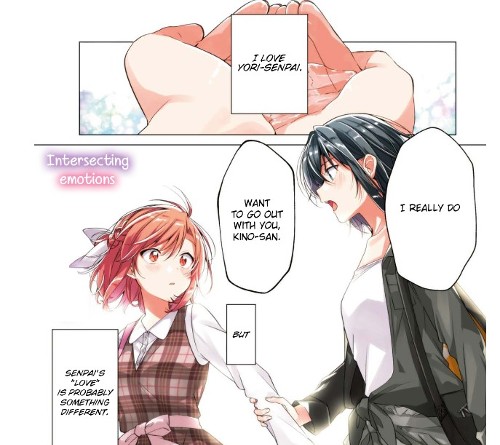 As the story progresses, it still retains a strong focus on the relationship between Himari and Yori, but gradually begins to include interaction with the wider cast, including the band SS Girls. There are quite a few obligatory comedic and slice-of-life moments that are a main selling point of the category of Japanese comic strips that Whisper Me a Love Song is a part of. On the other hand, these ensemble cast members, especially the SS Girls and the Cooking Club president, treat the relationship between Himari and Yori as perfectly natural, handling the topic of queer relationships without heteronormative prejudice. Himari seeks advice on what the concept of love is, but never once do any of the characters imply that her love, or Yori's love, is something that is out of the ordinary. She is never steered into rejecting the love Yori harbors on the basis of societal discrimination. Instead, she is advised to follow her heart. This acceptance, in addition to the natural pacing in discovering the concept of love, creates a chemical reaction that makes Whispering You a Love Song a truly exceptional queer love story. It feels real, and it certainly feels right.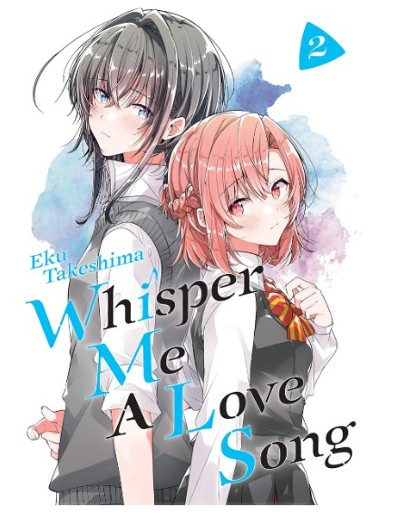 While the relationship between our two main girls is eventually cemented, making them an official couple, there are potential conflicts brewing under the surface. As of Volume 4, the latest translated chapter by Kodansha comics, the question still lingers as to whether Mizuguchi will be able to confess her own secret romantic love for Yori, even if it no longer has any meaning in the face of Himari and Yori's current relationship. A new girl in the story, from SS Girls' past comes into play, allowing us insight into a new relationship between her and Mizuguchi. Will Himari and Yori progress their relationship towards physical intimacy, or will this story emphasize the hurdles of a new relationship more? All of these questions make it worth the wait for the next English translated volume of Whisper Me a Love Song, slated to come out in July 2022.
The tempo of this story, regarding its comedy portions that are not tied into developing the relationship itself, is the same as its contemporary Japanese comic competitors. There are several funny moments dropped throughout each chapter which act as a filler before inevitably returning to focus on the relationship more. The drawings involving the characters are exaggerated at times to add a sense of "fluffiness" and "warmth" to the comic. For example, Himari, for her loyal, optimistic, happy, and innocent nature, is frequently portrayed with dog ears to convey the fact that she is happy to hang around her friends and loved ones, and does not have a malicious bone in her body. Blushing faces are drawn with excessive red at times to convey the emotions of embarrassment more markedly.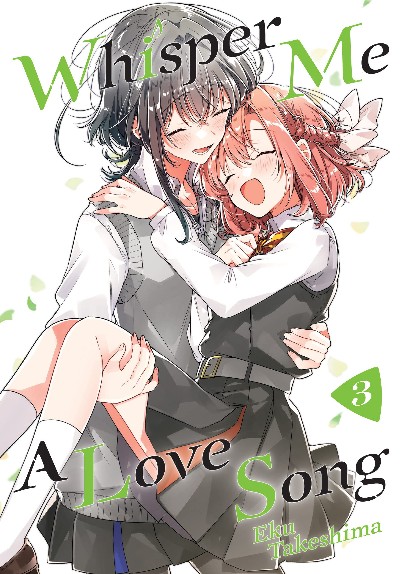 Meanwhile, the narrative structure surrounding the relationship development between Himari and Yori is an excellent feature of this comic. It makes the readers feel poignant emotion, rather then just viewing this comic as a contrived, trite form of entertainment seen in the tiring and formulaic layouts of some other high school love story comics. Himari asks legitimate questions to her loved ones around her for advice when she does not understand the concept of love, and takes her time to see if she truly loves Yori in the romantic way Yori loves her before reciprocating. She is not rushed, nor is she too slow, in her actions. She is decisive in her quest to understand her love, and when she does inevitably discover she loves Yori, she confesses without a hint of hesitation. This level of emotional maturity will speak volumes to any reader.
Whisper Me a Love Song is a manga series that hooks you with its realism, its sincerity, its warmth, its humor, and its unconditional acceptance of queer love. It is definitely a series worth reading if you are looking for LGBTQ+ manga this Pride Month. The price is also reasonable, too.
Eku Takeshima (W/A) • Kodansha Comics, $16.82
Review by Anson Leung