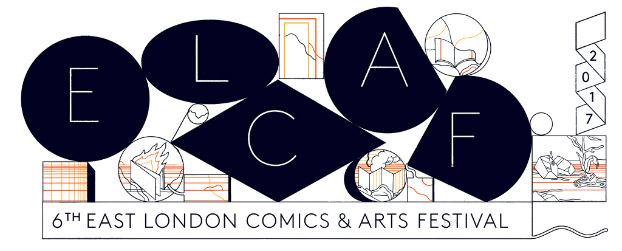 This year's East London Comics & Arts Festival (ELCAF) saw our highest level of Broken Frontier participation in the event to date. Last week we ran a very popular ELCAF Week of reviews, interviews and features on the site which you can revisit here. We were also involved in the Springboard Meetings pre-festival and were invited to put together our very own ELCAF Broken Frontier panel on 'Comics and the Micropublishing Revolution' which proved so popular that many festival-goers couldn't get in!
Added to that we had no less than four of our BF team (Jenny Robins, EdieOP, Ally Russell and Andy Oliver – all pictured below) attending Nobrow's ELCAF and representing the site over the weekend. Today this comicky quartet look back on their own personal highlights of ELCAF 2017 and reflect on another excellent year's celebration of comics culture in East London…
Andy Oliver writes…
With a fantastic pre-festival season of events and exhibitions this year's ELCAF was one of the most engaging and diverse to date. Broken Frontier's involvement in festival programming began the week before the main event when I had the pleasure of being one of the group of publishers, artists, designers, editors, commentators and other industry names to talk to aspiring new creators at the Springboard Meetings at Foyles. Every artist who booked a slot with me has been offered review coverage on the site over this summer as a follow-up to this excellent ELCAF initiative so you can look forward to hearing more about them in the coming months!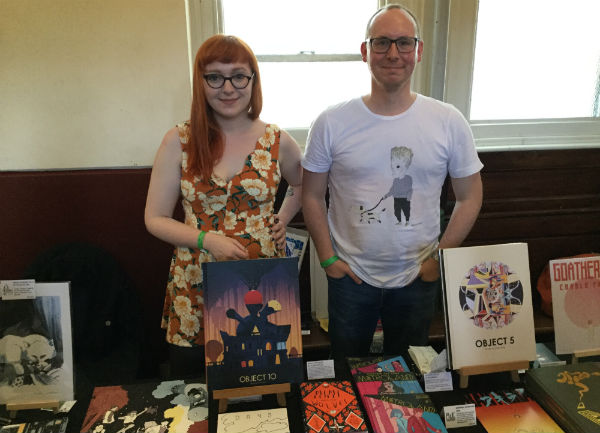 Ellice Weaver and Dave White at the Avery Hill table
As ever, ELCAF was a wonderful and colourful crossover between the worlds of comics, illustration and graphic design. A number of Broken Frontier's 'Six Small Press Creators to Watch' from all three years of the programme were exhibiting over the weekend (including Emma Raby, Alice Urbino with Comic Book Slumber Party, Ellice Weaver with Avery Hill, Peony Gent, Josh Hicks and Kim Clements) and ELCAF fulfilled its annual promise of being a heady mix of homegrown and international talent. Alongside Safari Festival it remains the festival that most reflects our coverage here at BF.
Peony Gent and Josh Hicks from our 2017 'Six to Watch'
The highlight of the weekend for me was chairing our full capacity Broken Frontier 'Comics and the Micropublishing Revolution' panel on the Saturday. With a line-up including comics phenomenon Tillie Walden, Dave White of Avery Hill Publishing, Sanita Muižniece from kuš! Comics and 'Six to Watch' self-publisher Peony Gent we had a top mix of perspectives on the topic, and I was unaware until afterwards that the panel was so popular that many people couldn't get in.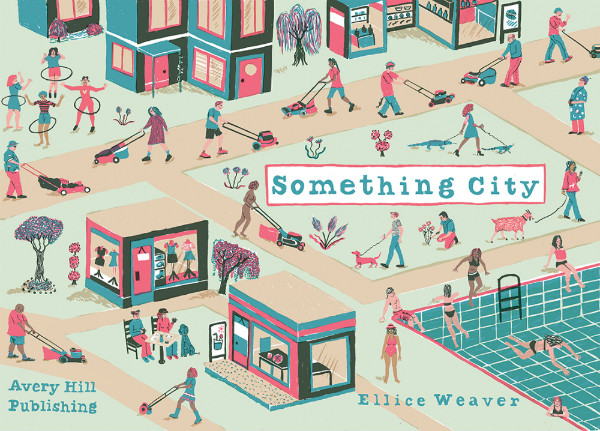 If I had to pick just three festival debut comics I would say that our Broken Frontier choice as 'Comic of the Festival' Something City by Ellice Weaver (above), Josh Hicks's Human Garbage from Good Comics and Time May Change Me by Jayde Perkin were some choice acquisitions. An outstanding weekend once again from the ELCAF team. Congratulations to all involved!
Ally Russell writes…
My very first ELCAF was a truly inspiring experience. I managed to pick up a number of books that I'd been meaning to buy forever, and it always feels good paying for comics directly into the hands of their creators. Most importantly, though, the weekend allowed me and fellow comics creators and fans to interact with some of the industry's best and brightest names. From informal conversations shared at the exhibitors' tables, to workshops, talks, panel discussions and Q&As, the festival was like nothing I've ever attended.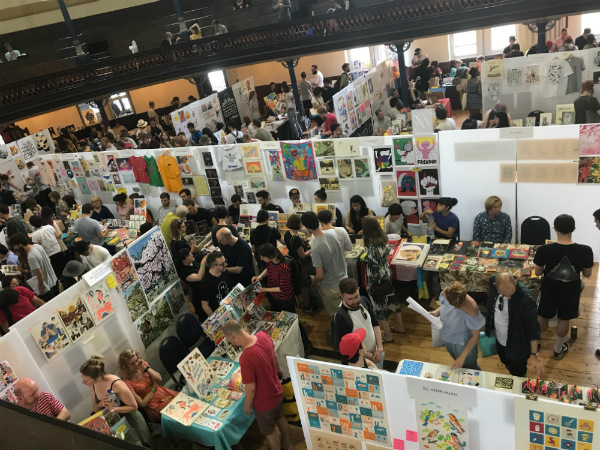 Particular highlights for me were learning about Antoine Cossé's artistic inspirations and processes, meeting the colourful characters behind OIC Singapore (Michael Ng AKA Mindflyer was working wonders on the overheated crowd with his paper fan), and of course witnessing the Broken Frontier panel on comics and the micropublishing revolution! My most outstanding purchase from the festival would have to be Nathan Cowdry's self-published Faraway Beach, which is both adorable and very strange…
Roll on ELCAF 2018!
EdieOP writes…
A very sunny ELCAF
On a toasty June day, I had a rather fantastic time visiting ELCAF! It was my second time attending and I couldn't believe what I had been missing. As a food-orientated lover of comics it was refreshing to see a variety of food vendors at the event which added a summer festival vibe to it. As well as various activities such as Toy Hack (which I has inspired me to buy a vice, a glue gun and set up my Frankenstein workshop at StudiOP) inside was a treasure trove of comics.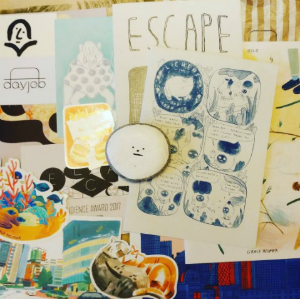 I absolutely love illustrative work and was completely spoilt for choice. A couple of things I picked up were Oslo by Day Job's Grace Helmer, Escape by Henry Miller and Lichens in the Toad Ace by LALALA POMPOM's Isaac Lenkiewicz. I also bought a rock with a face from Stanley Miller!
As well as a bustling and well stocked comic market, ELCAF boasted brilliant talks and workshops. I attended the Antoine Cossé talk which gave an interesting and valuable insight to his creative process and inspirations and I bumped into some friends and their little girl who had thoroughly enjoyed 'The Puppet Jungle' workshop by illustration collection Brolly Lolly – I was very jealous from the photos that I hadn't had the chance to attend! Obviously it goes without saying I attended the unmissable Broken Frontier talk on 'Comics and the Micropublishing Revolution' which was inspiring and informative!
Jenny Robins writes…
Despite the very hot weather making many of the assembled creators, vendors and enthusiasts visibly melt and verbally complain, the lovely high ceilinged space remained unsmelly and buzzing with the joy of looking at pretty things and chatting with like-minded souls.
You probably know how these things go, I had x amount of cash and a determination not to go beyond it. I went beyond it twice. Hooray for the multitude of tiny card readers and payment apps. And still my haul feels small. I got a few things that were on my to buy list anyway and I figured it was nice to buy them from real people: The Can Opener's Daughter by Rob Davis and the new Dirty Rotten Comics. I fell in love with a few things, two about swim teams for some reason; Squid Happens by Isabel Roxas (interpretive synchronised swimming and ballsy crayony girl childs) and The Worst by Molly Mendoza (heartbreakingly beautiful but limited print run sorry, went out in ShortBox in February and I got one of the last ones). Also John Cei Douglas' new (I think) Badger vs Tiger.
The Round Chapel venue and BF 'Six to Watch' artist Kim Clements
I was delighted to be able to commission a personalised Webcomic Name "oh no" comic from Alex Norris on the spot. My very uncomicsy husband was even more delighted. None of my comicsy friends understood. Crossover art I guess. I almost missed getting in to the Broken Frontier Panel because it was very popular and they wouldn't let people stand at the back because health and safety. There was only a seat right opposite Andy in the front row but I'm sure he just thought I was being mad keen and supportive.
Sanita, Peony, Tillie and David brought varied international perspectives to fundamental truths about the best things coming out of the messy spaces where we get to experiment and come at things from different directions, but with support from people with enough experience and connections to make books happen. The micropublishing revolution under discussion has been built on quick turnarounds and a lack of boundaries but no shortage of love and commitment. I had a dirty garage sandwich before we went to the pub. It was moist and bland.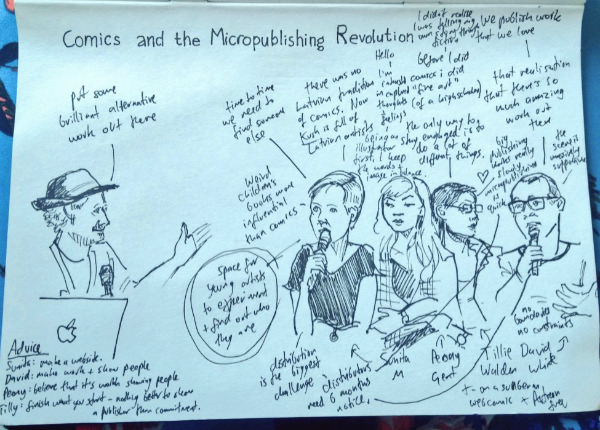 Jenny captures the Broken Frontier panel in this sketch
You can follow ELCAF on Twitter here.