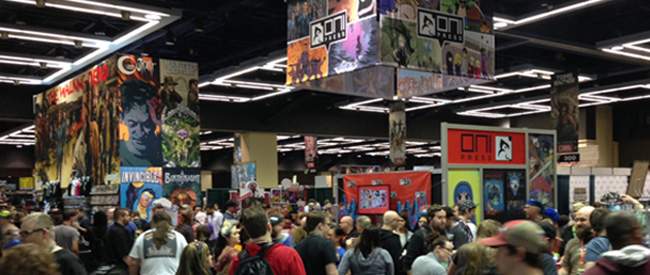 On the eve of its official hand-off to new ownership, Emerald City Comic Con set a new attendance record (over 80,000 people), proved that a major convention could maintain a "comics first" focus, and thoroughly justified Reed Pop's decision to acquire the show, to go along with New York Comic Con (NYCC) and Chicago Comic Con (C2E2).
One of my favorite aspects of the show is just how friendly and personal it is, despite its growing size. The ECCC staff and volunteers continue to be extraordinarily helpful,  working hard to keep the show running smoothly from set-up to close. They're always willing to go the extra mile to ensure that everyone in attendance has a positive experience.
There are a number of extra resources available as well, including a a cosplay repair station, a family room, and even a quiet room for those needing a mental health break. Just outside the building, they stepped up the convention food and beverage game by having a Food Truck Alley and a Beer Garden that partnered with a local brewery to offer a new beer for the show called (ahem) Big Bot Pale Ale.
Inside the show itself there was too much going on to cover everything. I'm not that into celebrity guests, taking pictures of cosplayers or even attending panels. When I'm not behind my own booth, I really just like to go swing by the other publishers' booths or visit creators I admire to see what new comics they're working on. The show is so big that everyone's experience will be different, but here's a photo tour of my highlights: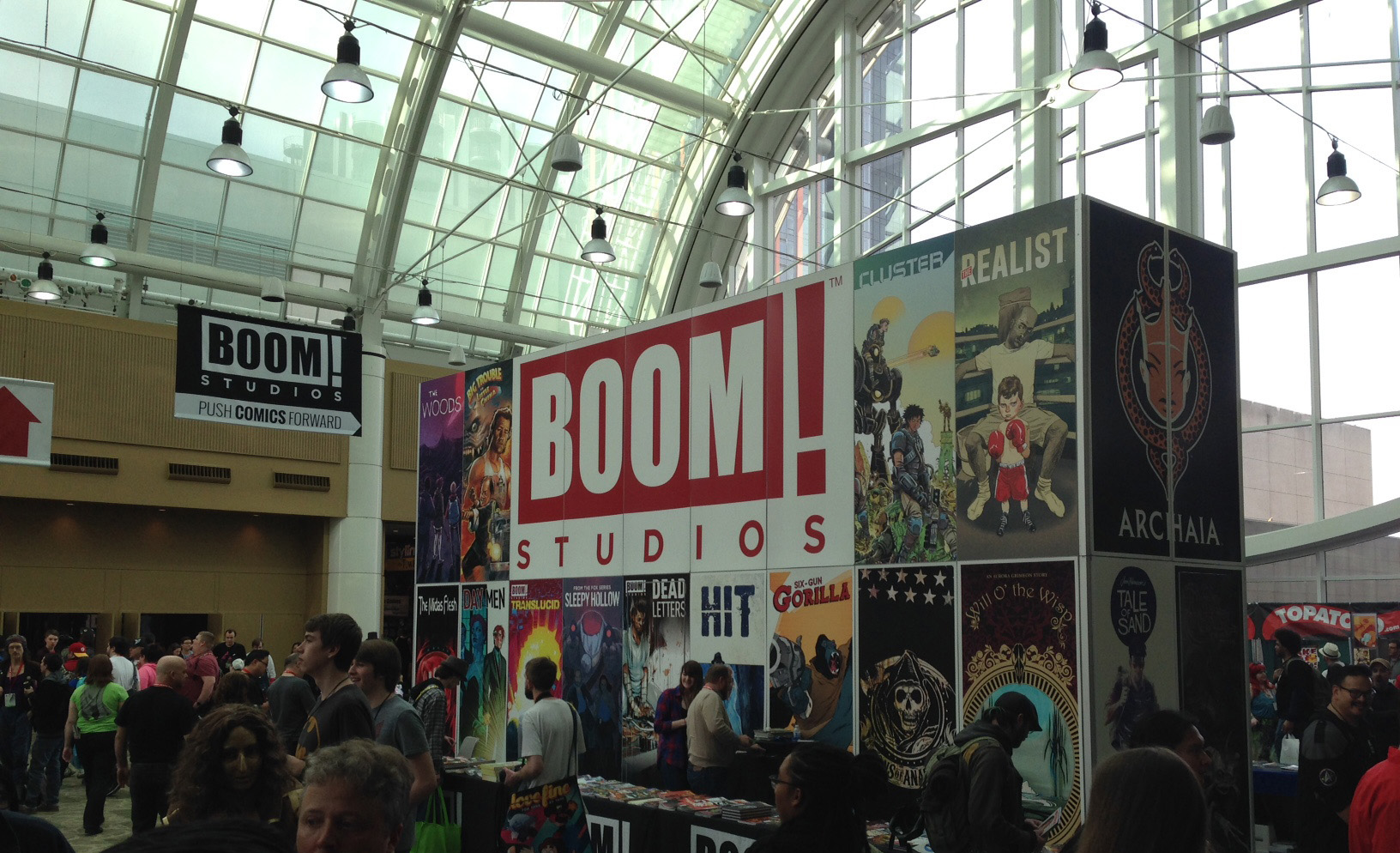 The show continues to make use of the Convention Center Sky Bridge, even putting the Boom! Studios booth in the center or it. This really opens up the show floor and adds a lot of natural light.
***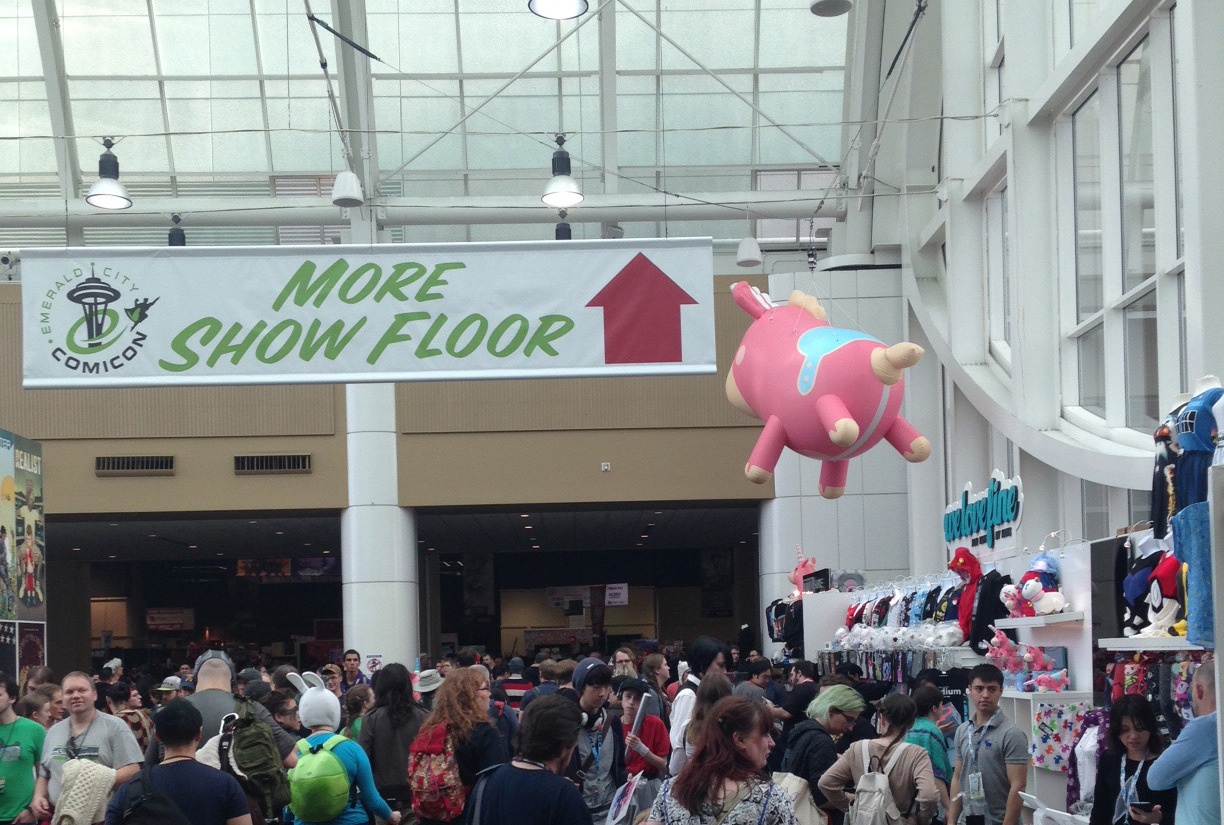 It also made for some interesting exhibits.
***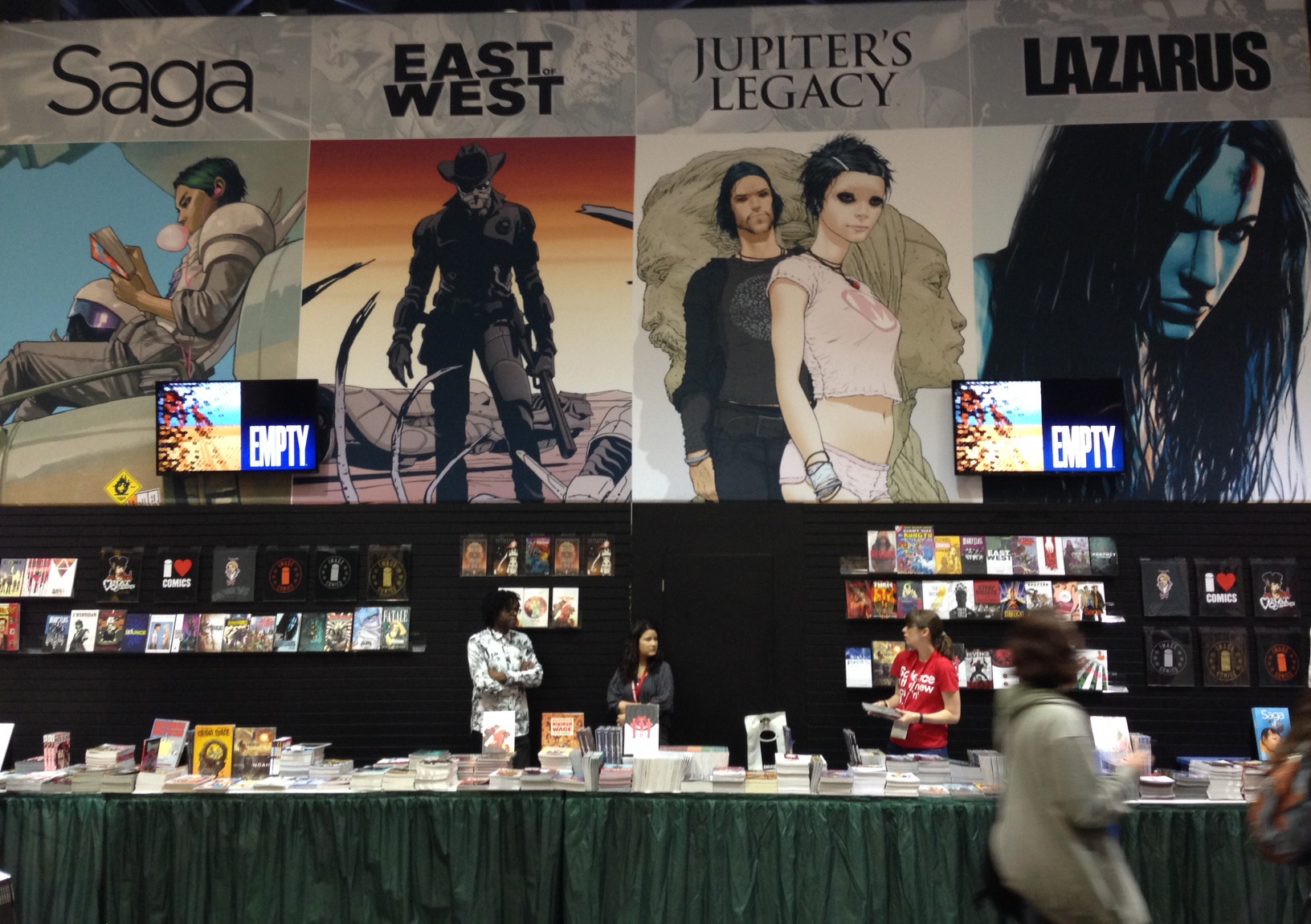 Though not on the Sky Bridge, Image Comics had one of the largest and most visually impressive booths.
***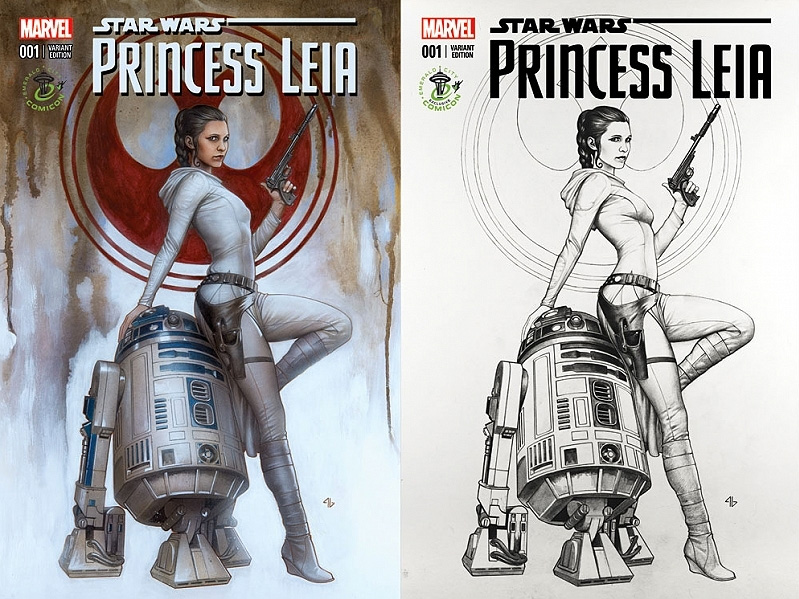 Exclusive variant covers were more popular that ever this year. It's a bit gimmicky, but I suppose it gives people the chance to buy something they can't get anywhere else (unless they're checking eBay after the show and willing to pay a huge mark-up). ECCC had its own exclusives at the merchandise booth, including two Star Wars: Princess Leia #1 variants, in color and black & white.
***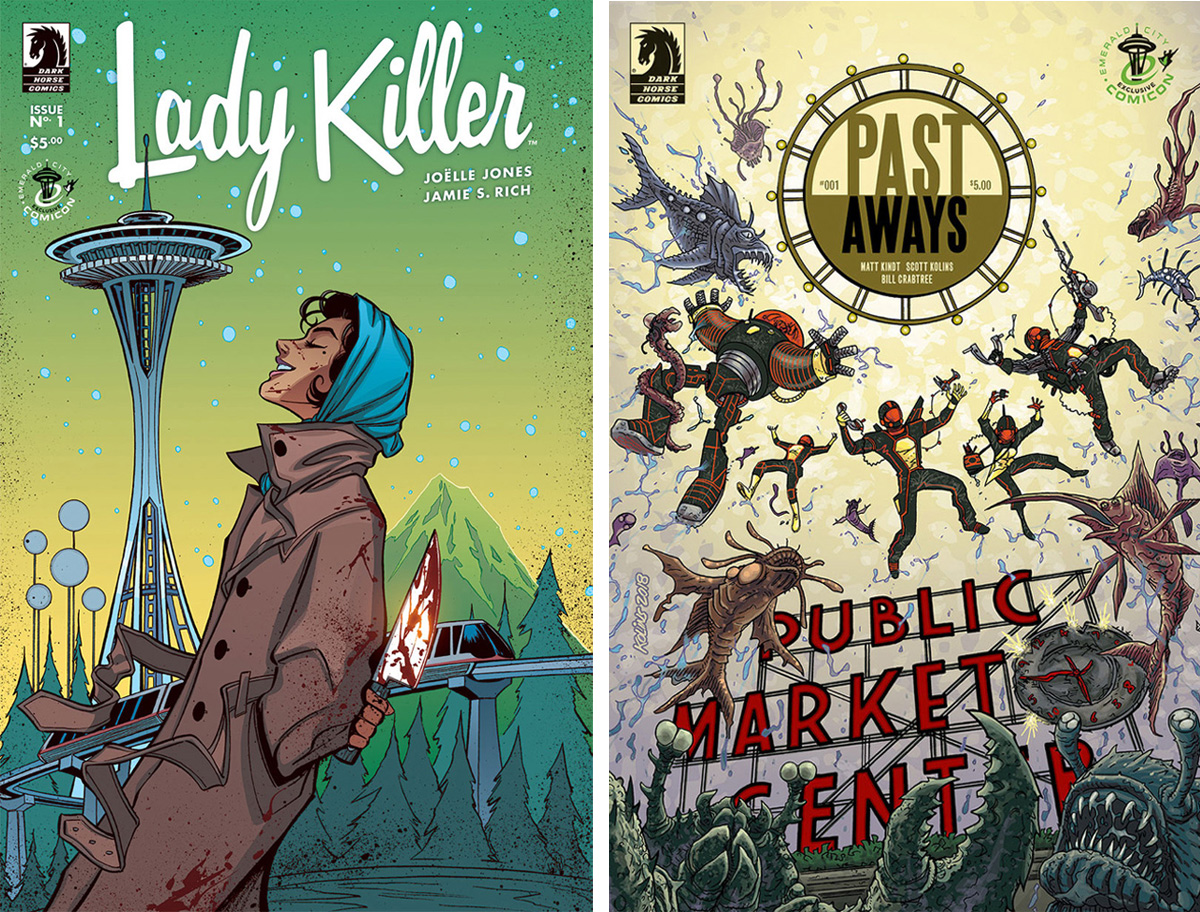 Dark Horse Comics had their own line of exclusive covers. Lady Killer and Past Aways actually used Seattle imagery as part of their covers, while Frankenstein Underground and Prometheus Omega simply had a variant cover with the ECCC logo in the corner.
***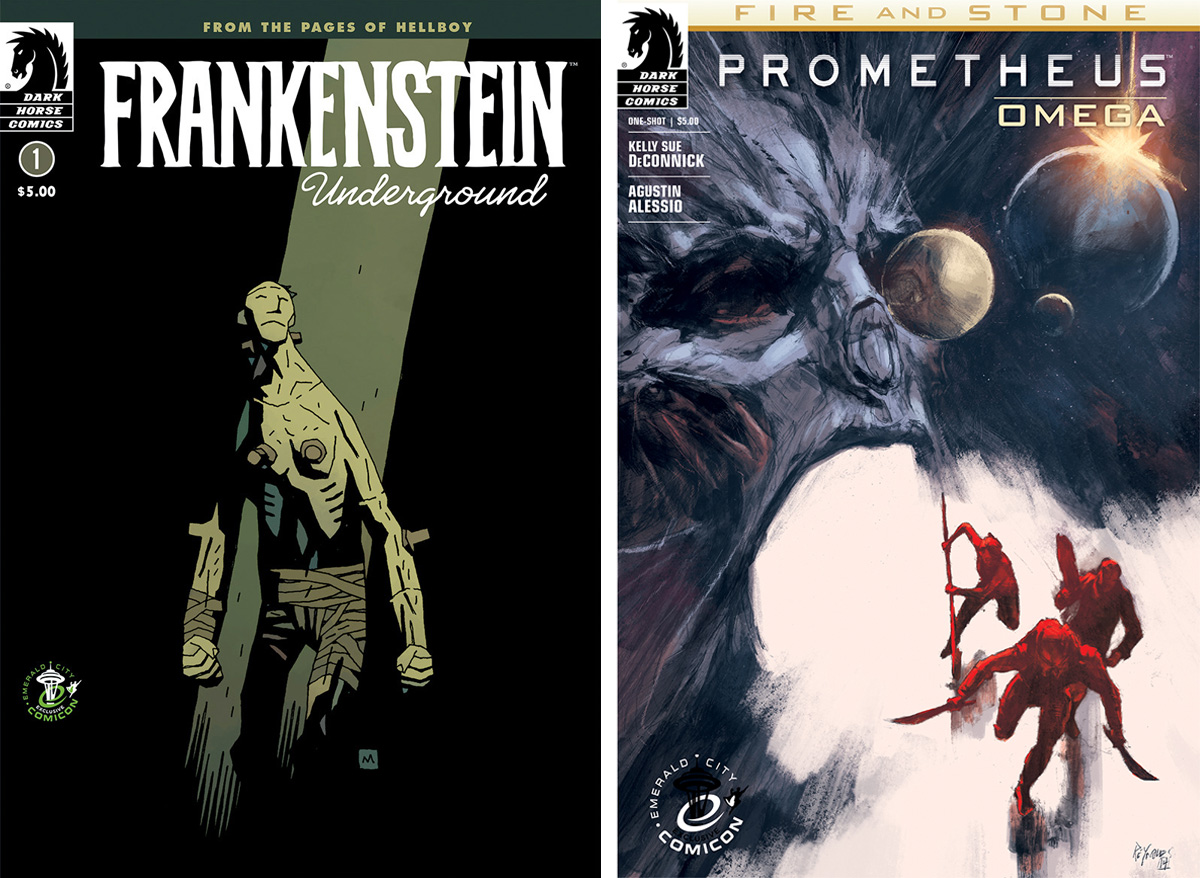 The funny thing about the Dark Horse exclusives is that in order to get any of them you would have to line up at their booth before regular attendees. Dark Horse did try to reserve a certain amount of copies for each day of the show, but still, enough people with exhibitor badges lined up before the show even started that anyone that that there wouldn't be any left for anyone who came in afterwards. And I noticed some of the comic retailers had these exclusives at their booths at a steep mark-up.
***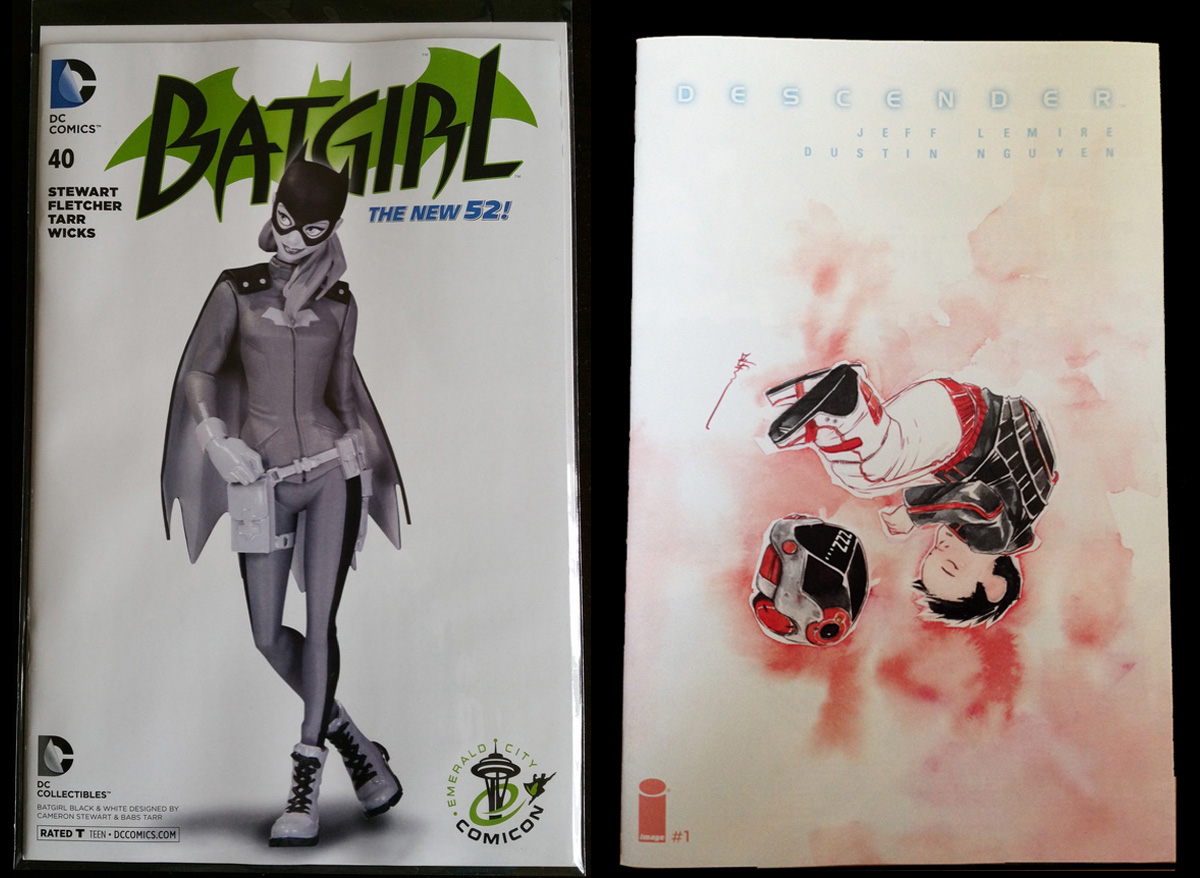 I did manage to get my hands on these two exclusives, though: a Batgirl #40 at the Graffiti Design booth and a Descender #1 variant from the Comic Dungeon booth.
***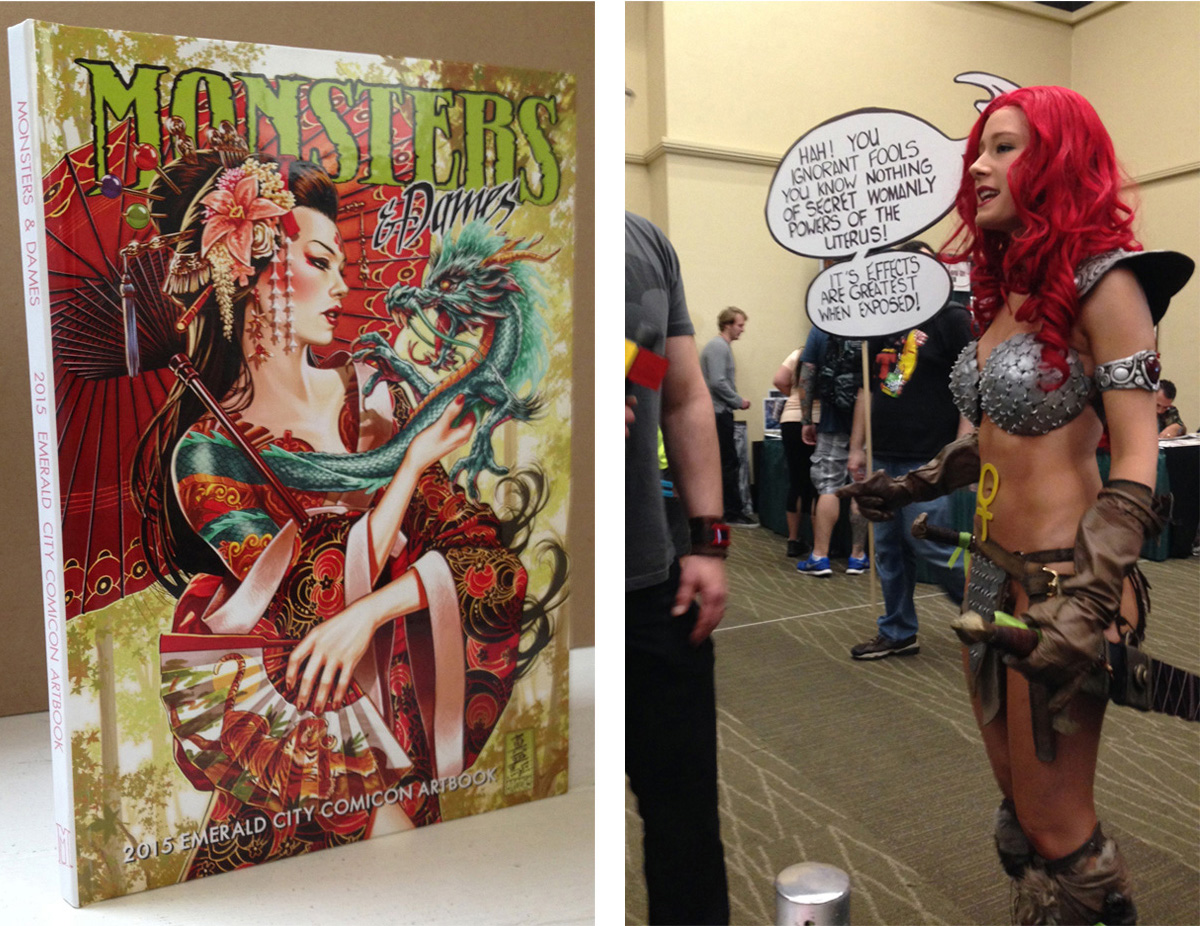 The other big exclusive to the show is the Monsters & Dames book. Attending artists contribute an illustration to the book fitting with the theme "Monsters & Dames", and the profits go to help out the Seattle Children's Hospital. And yes, I took one picture of a cosplayer. I thought that was an interesting message.
***
One of the biggest lines at the show was to see the creators of The Wicked & The Divine. Writer Kieron Gillen, artist Jamie McKelvie and colorist Matt Wilson were all on hand.
***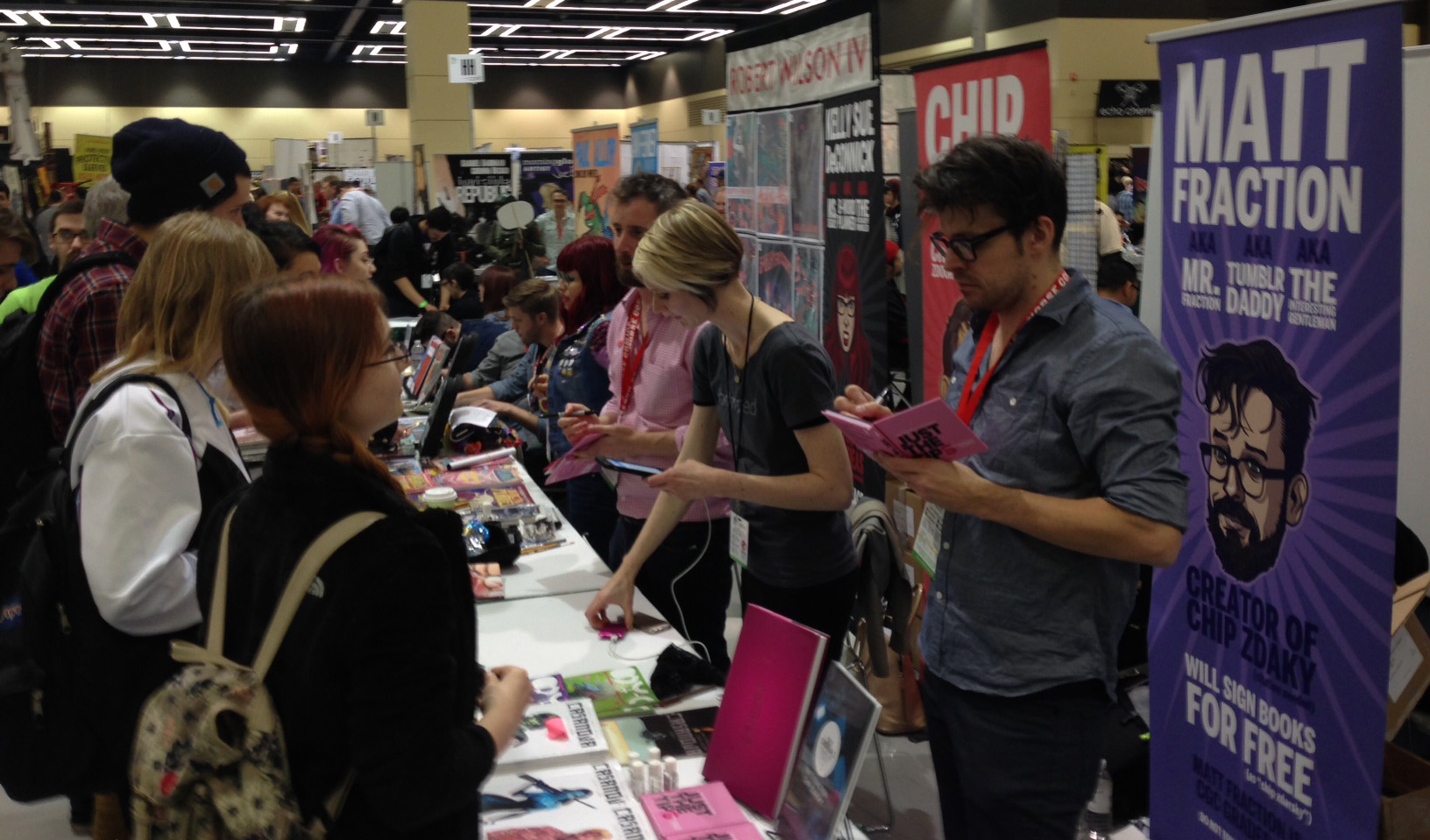 Matt Fraction, Chip Zdarsky and Kelly Sue DeConnick attracted a pretty big crowd.
***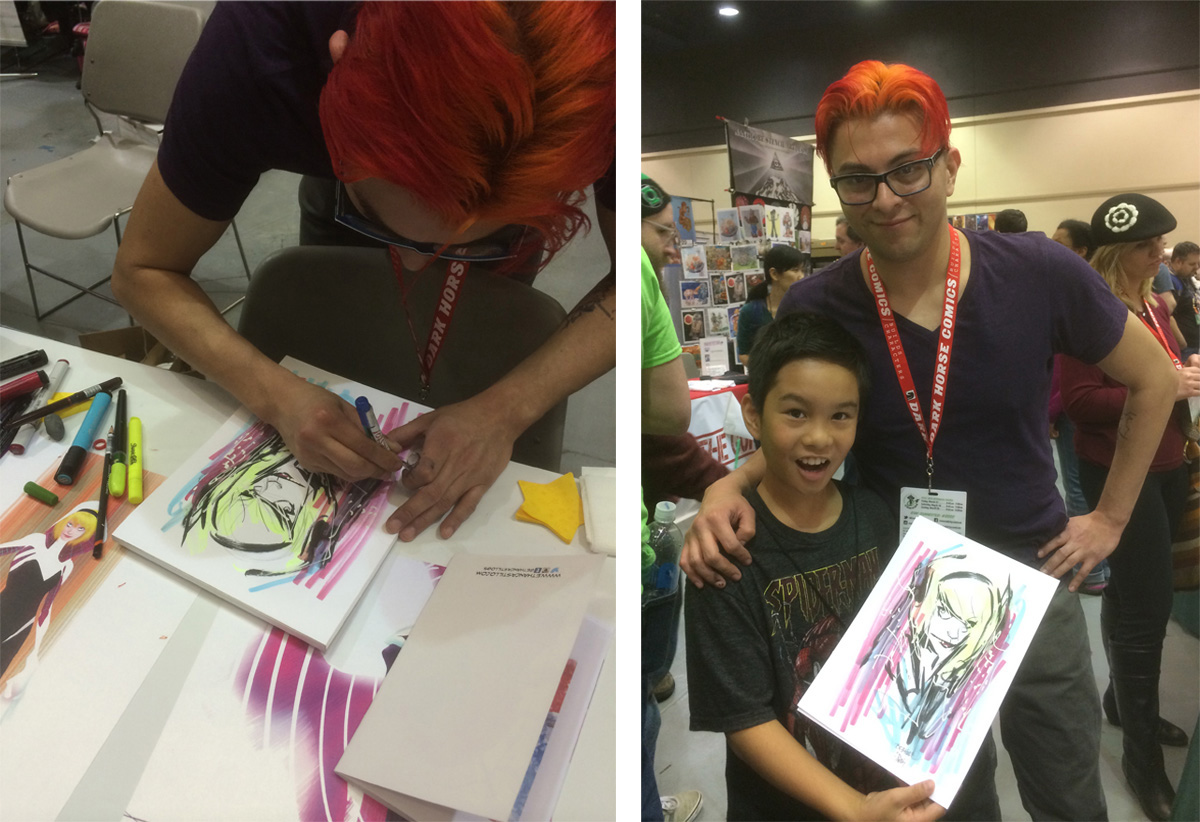 Spider-Gwen co-creator Robbi Rodriguez was busy at work sketching for fans. This piece was for Ethan Castillo, who's quite a good artist himself. You can see his work at his website.
***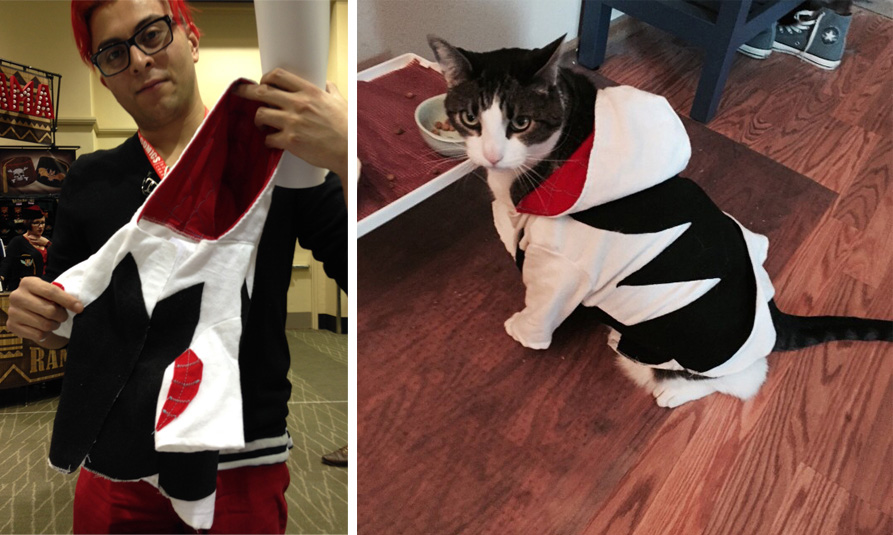 Someone made Robbi a Spider-Gwen costume for his cat. And look, it fits!
***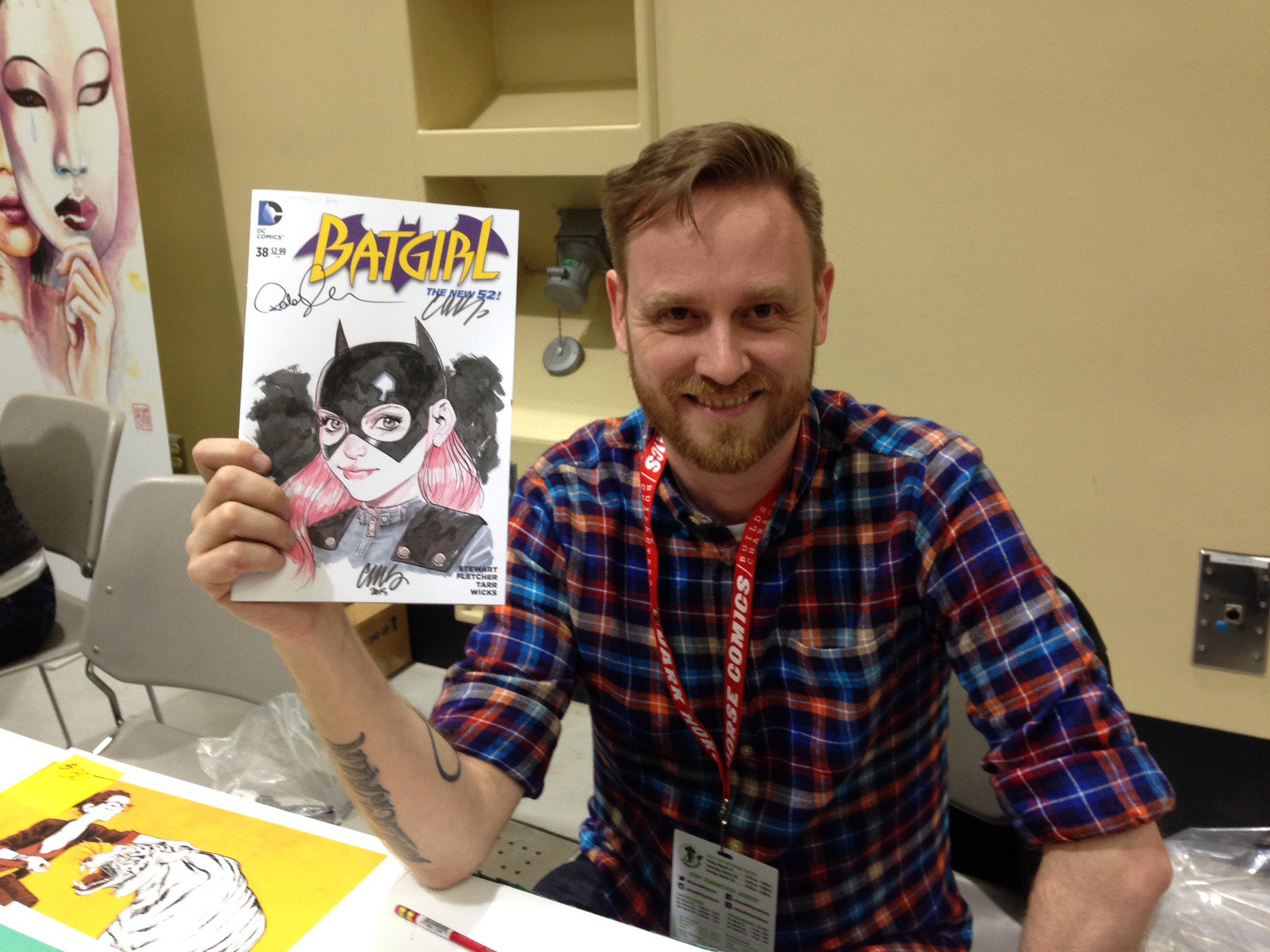 Cameron Stewart did some sketch covers for his Batgirl comic.
***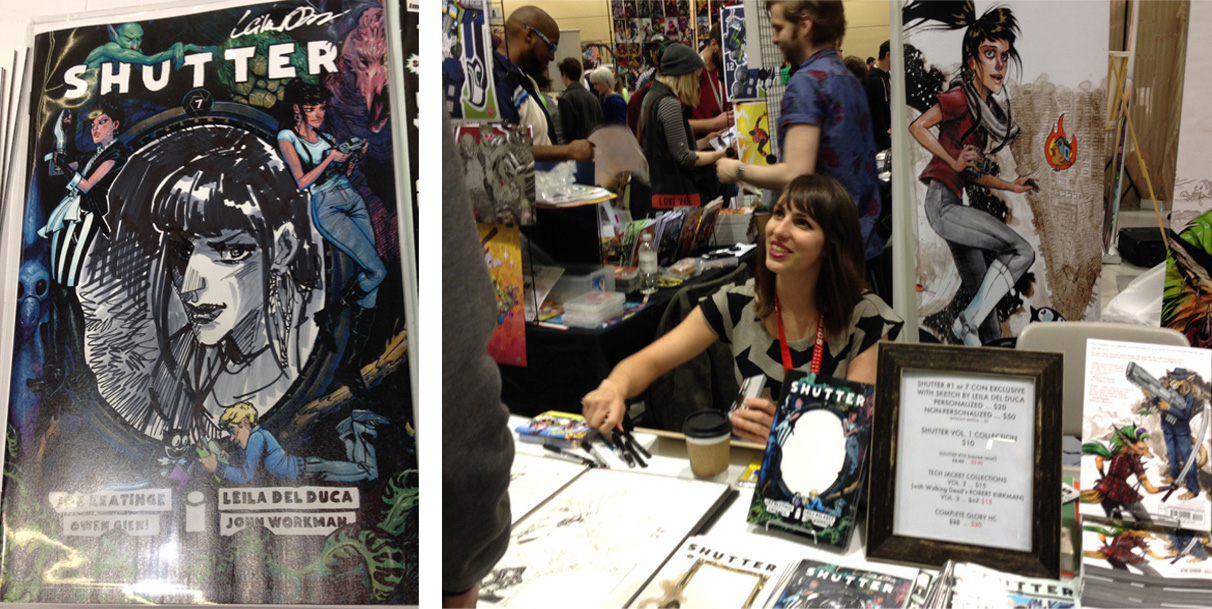 Speaking of sketch covers, Leila Del Duca was sketching on the new Shutter sketch cover. These covers are only available through the creators (not at the retail level). And I like the framed design on these. It's more than just a logo on a blank cover.
***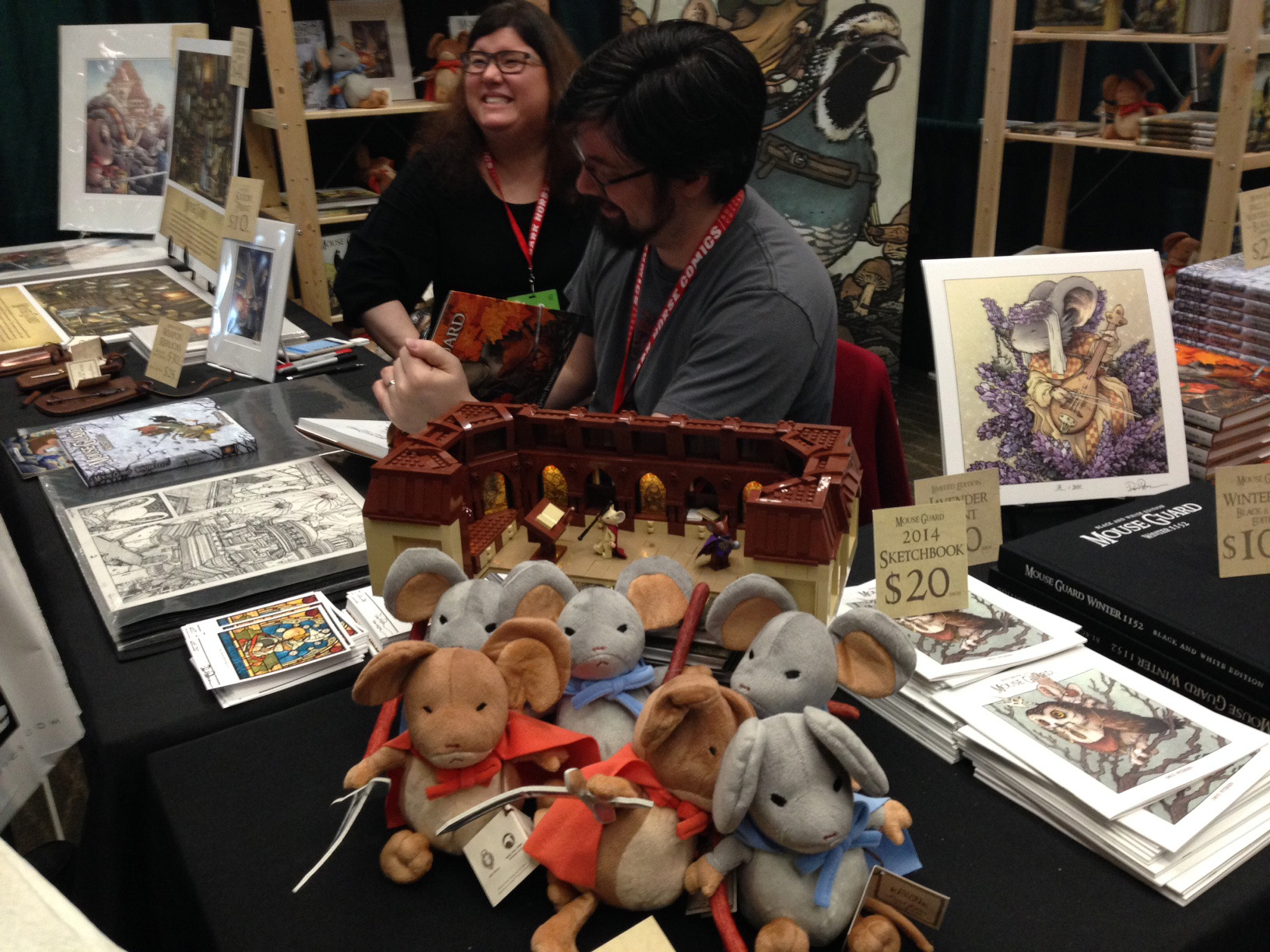 David Petersen and his wife Julia had new Mouse Guard plush toys, as well as a mini-Lego display. If you'd like to see the full Mouse Guard Lego display that was at this year's ECCC, check out David's blog.
***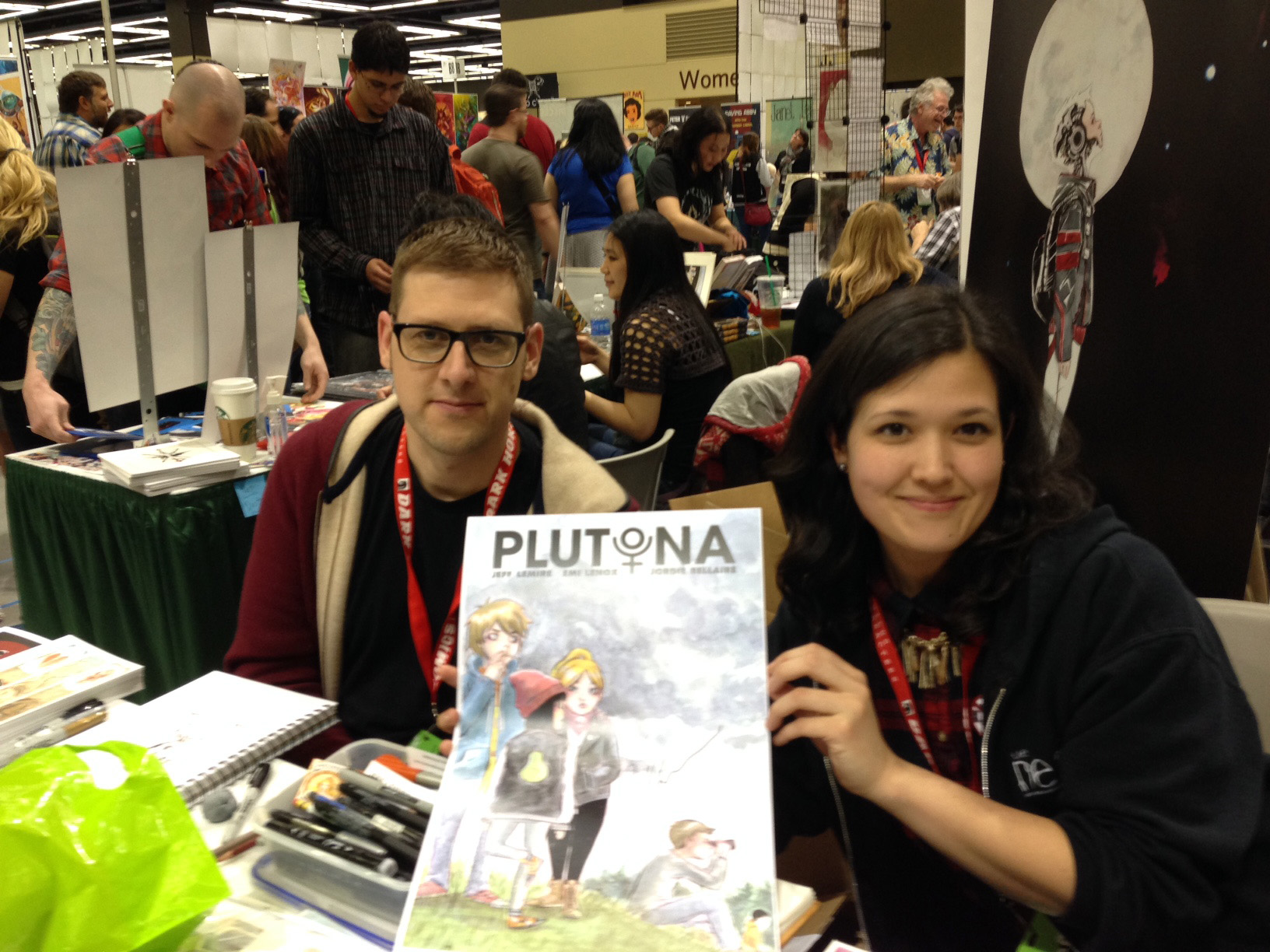 Jeff Lemire and Emi Lenox had some new Plutona prints. Jeff was also there with Dustin Nguyen to promote their new Descender series.
***
Greg Rucka had a couple of new Lazarus shirts.
***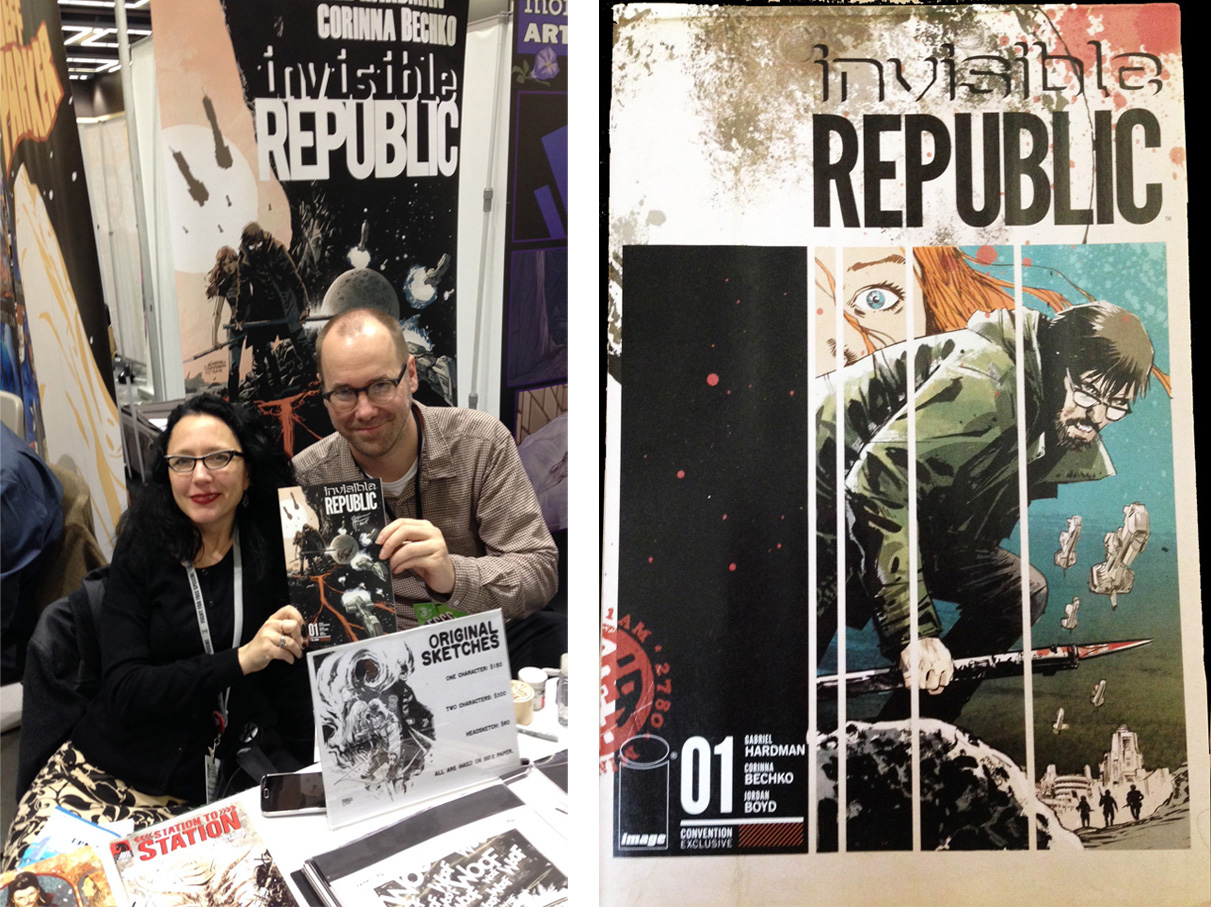 I'm a big fan of this new series, Invisible Republic by Gabriel Hardman and Corinna Bechko. They had a convention exclusive cover for the first issue as well. It didn't say it was specifically an ECCC exclusive, but an exclusive non-the-less.
***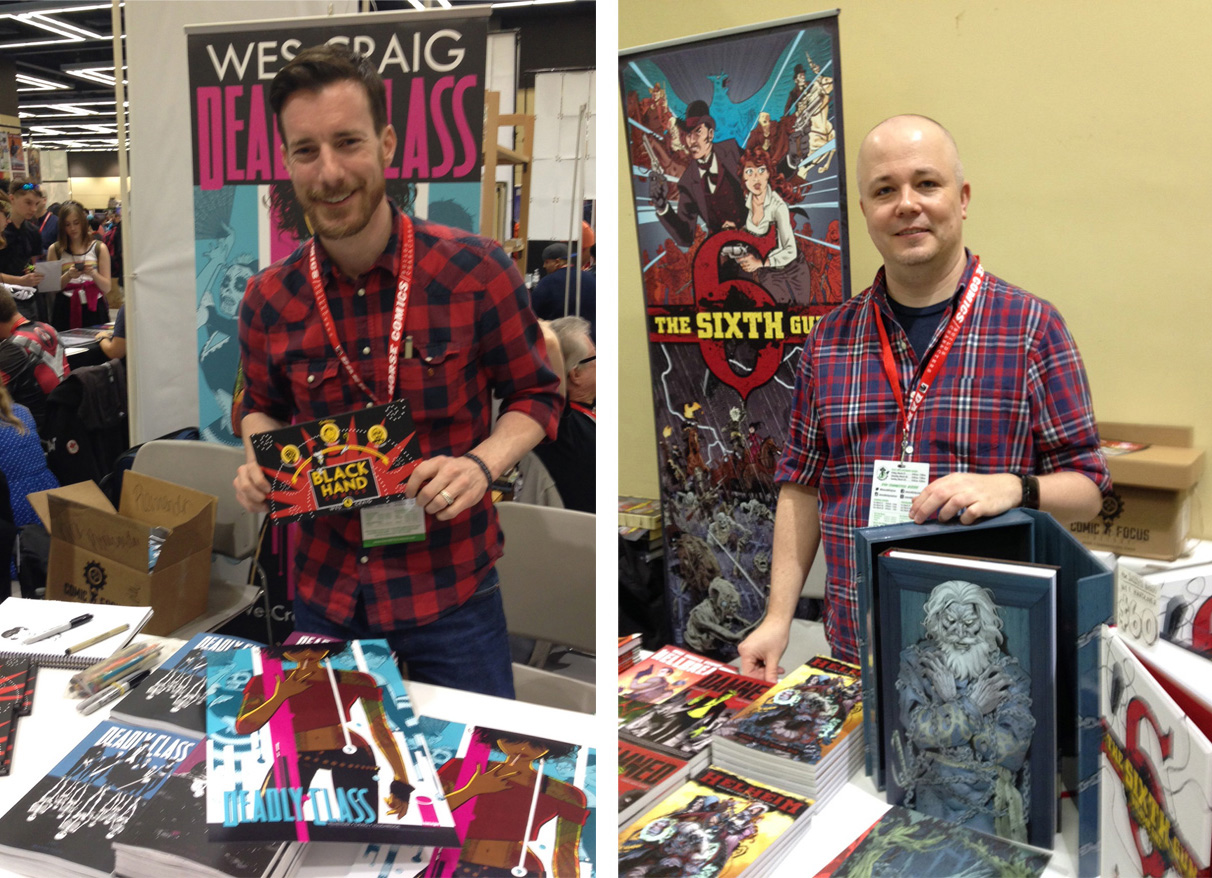 Wes Craig had copies of the Deadly Class TPBs, as well as a hardcover for his independent book, Black Hand Comics.
Cullen Bunn had an amazing boxed hardcover for The Sixth Gun as well as some Helheim tpbs. Cullen has 2 new titles coming out soon; Hellbreak with artist Brian Churilla from Oni Press, and Harrow County with artist Tyler Crook coming out from Dark Horse Comics.
***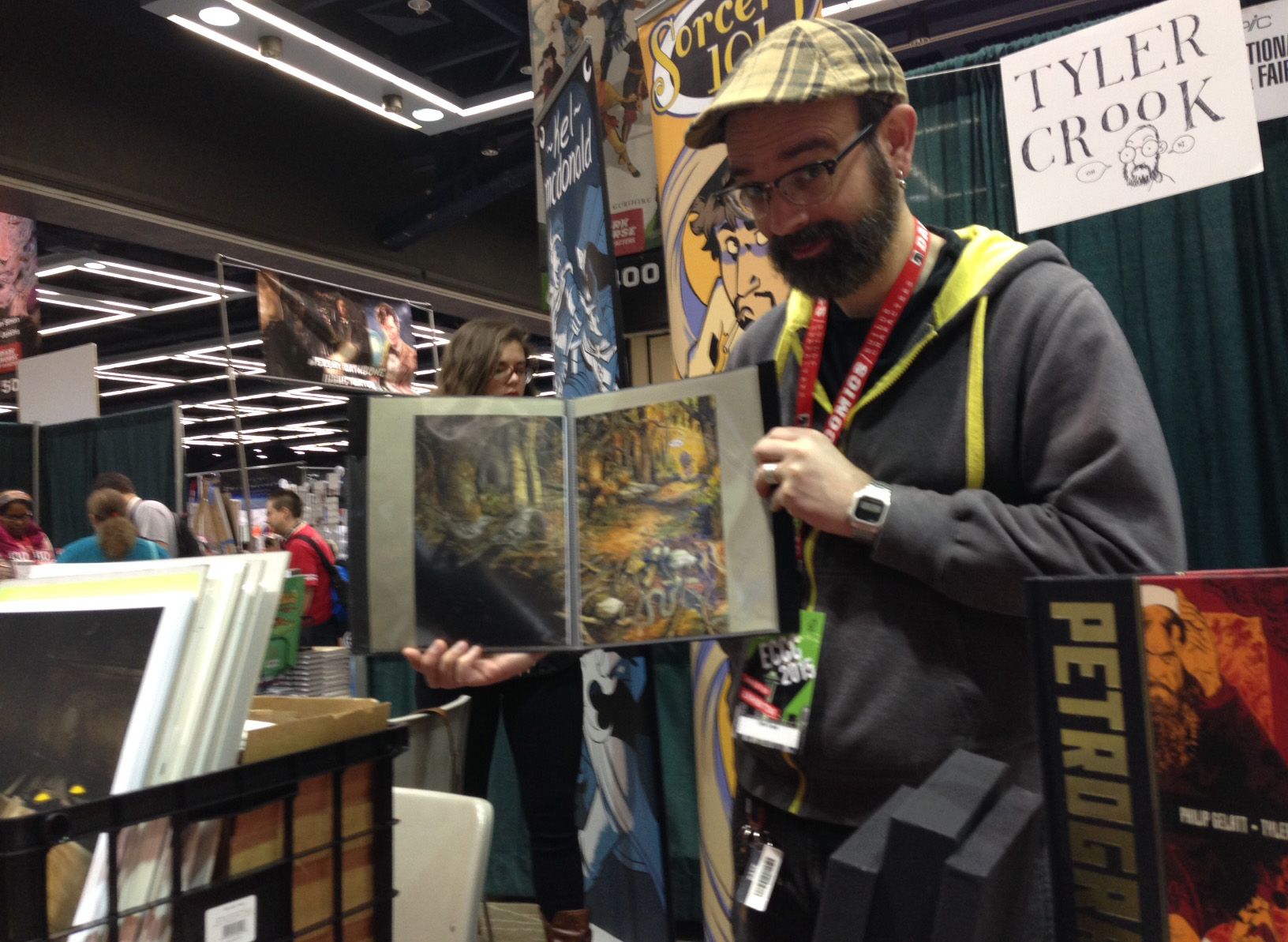 Speaking of Tyler Crook and Harrow County, Tyler was at his own booth with a handmade slipcase for this hardcover Petrograd and he was showing off some watercolor pages of the upcoming Harrow County, which is available now for pre-oder. Just use Diamond order code: MAR150088
***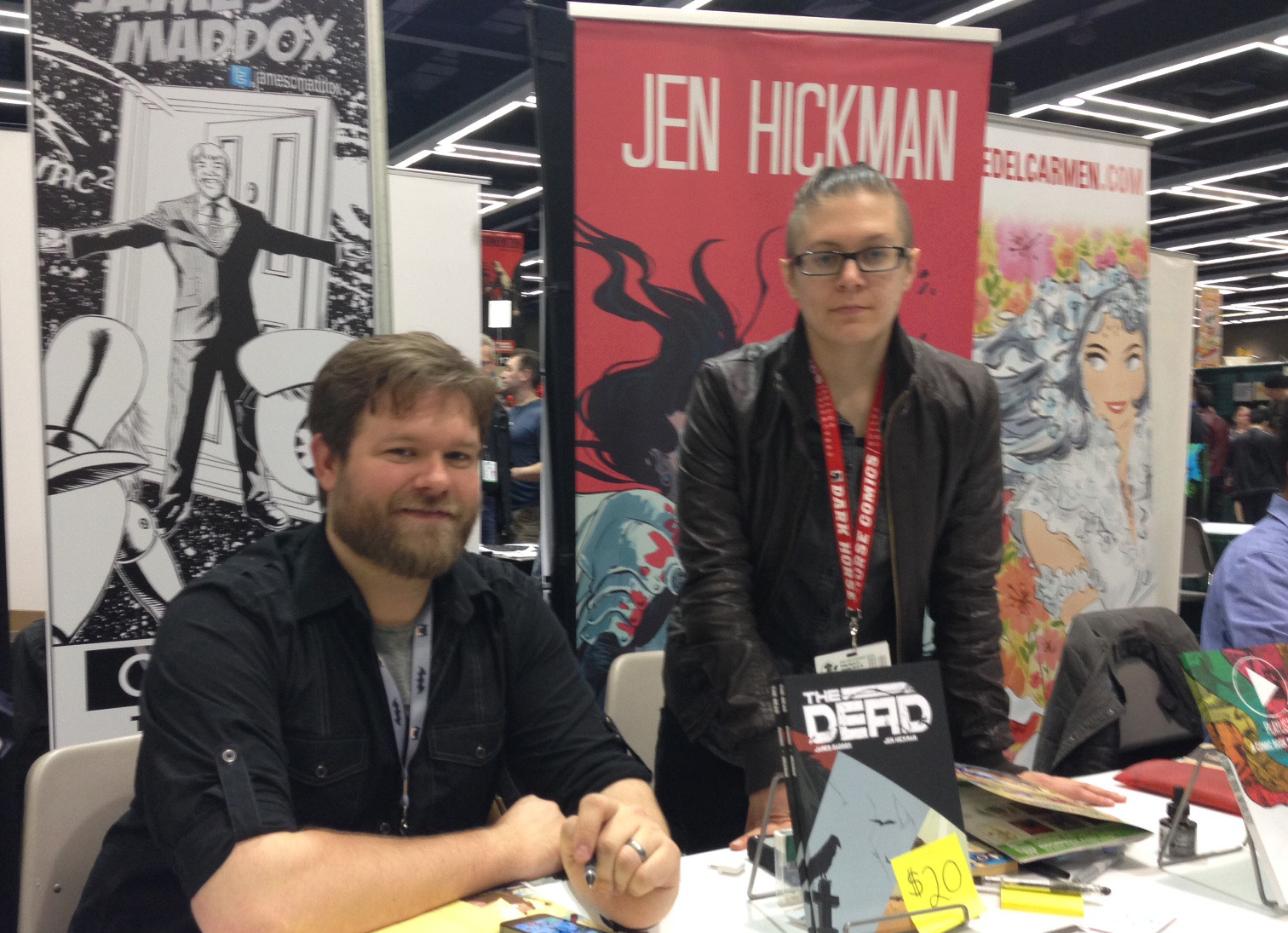 James Maddox and Jen Hickman debuted their new graphic novel, The Dead, at ECCC.
***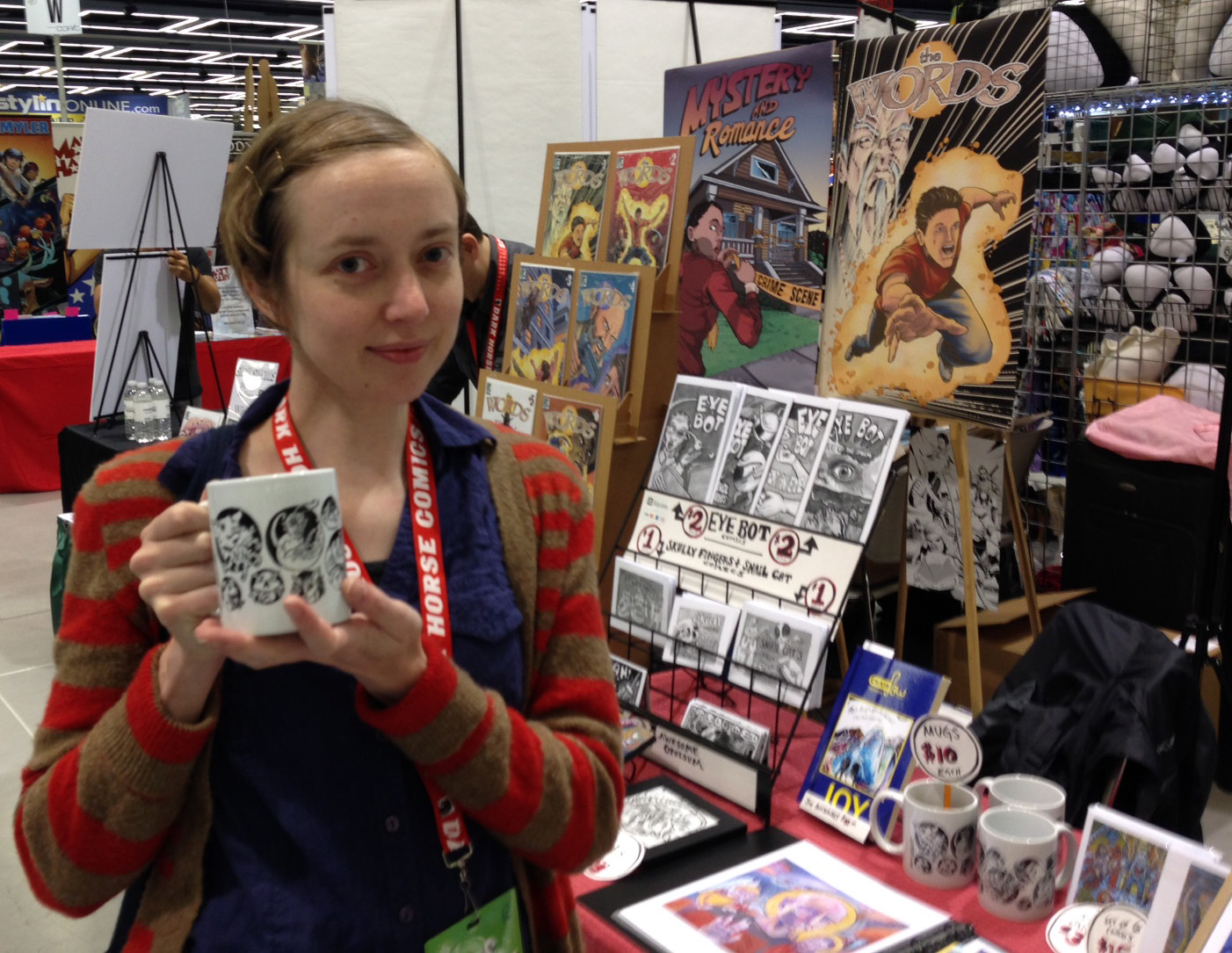 Eye Bot and Snail Cat creator Sylvia Mann had a new mug with her creatures on it.
***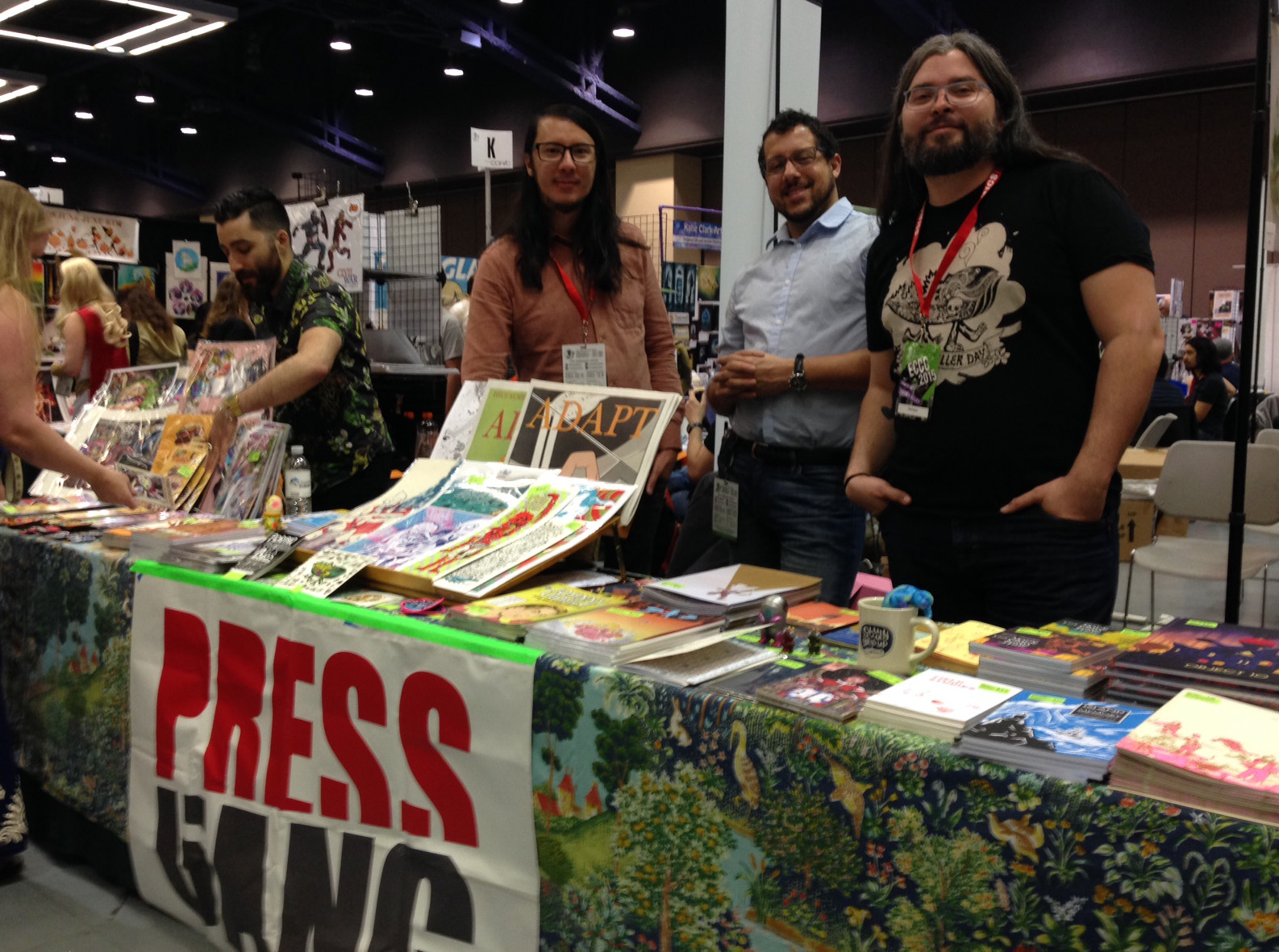 And finally, (in order of appearance) Jason Fischer, Jason Leivian, François Vigneault and Zack Soto were at the Press Gang booth with their assortment of fine comics. Jason runs the Portland comic shop, Floating World Comics, and if you're looking for another great comic show to attend in the Pacific Northwest, look no further than Linework NW hosted by François and Zack coming to Portland on April 18 & 19.
I'll be back at Emerald City Comic Con next year. The dates are a little later and they're adding a fourth day (April 7-10, 2016). We'll see if there are any noticeable differences under the management of Reed Pop. I just hope, no matter how big it gets, it remains a friendly, "comics first" convention.