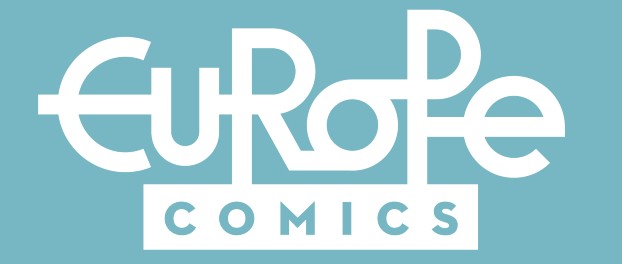 With a mission to bring European comics practice to far wider audiences, digital publisher Europe Comics has been making an incredibly diverse range of genres and approaches with a Eurocentric vibe available to the rest of the world for the last several years. With the financial support of the European Union they've launched over 1200 titles in that time ranging from sci-fi to slice-of-life, historical to comedy, biography to romance, and more. We chat with Europe Comics today about their aims and ethos, their catalogue to date, and their passion for introducing European creators to new readerships…
ANDY OLIVER: Europe Comics is a very different publishing venture in that it's both a partnership of 13 individual publishers and an initiative to champion European creators and take their work to wider audiences. What were the origins of Europe Comics and how has it evolved over the years since its inception?
EUROPE COMICS: Europe Comics started in 2014 as an idea of a licensing agency, Mediatoon Foreign Rights, which handles some of the biggest and oldest Franco-Belgian catalogues, those of publishers Dargaud (France), Dupuis (Belgium) and Le Lombard (Belgium). The agency and the publishers belong to the same mother company, so Mediatoon decided to work with them, and other European small and mid-sized publishers so as to create Europe Comics. Six other publishers joined, two from Italy (Tunué and BAO), one from Spain (Dibbuks), one from the UK (Cinebook, publishing exclusively Franco-Belgian comics), a Polish (Timof) and a Serbian (Darkwood) publisher. Another agency, from Turkey, Akan Ajans, joined as well, and an audio-visual production company, Elispanime.
Blacksad by Juan Díaz Canales and Juanjo Guarnido
This makes a very diverse group of actors, all united in the objective of popularizing European comics and their authors around the world. In 2015 the project received the financial support of the European Union and was launched. Other publishers have joined the partnership in the past few years: German publisher Reprodukt, French publisher Ankama and very recently Greek publisher Mikros Iros.
AO: How would you describe the philosophy and mission of Europe Comics? 
EUROPE COMICS: From its inception, Europe Comics has had three main goals: creating and distributing globally a digital imprint that includes award-winning graphic novels from across the continent; showcasing its authors via author tours and event participations mostly in North America; and creating a website that would give information on European comics to both readers and professionals.
AO: One thing that is immediately apparent about the Europe Comics digital catalogue is how eclectic and diverse it is in terms of approaches, genres and styles of presentation. Can you tell us about the range of countries that are included? Who are some of the bigger name creators that may be more recognisable to those less familiar with European work? 
EUROPE COMICS: Yes, our catalogue is very varied, we have comics from nine European countries. We try our best to create a balanced mix of classics of master creators such as Blutch, Christin, Mézières, Floc'h, Cestac and Goetzinger, but also more recent brand names such as Larcenet, Guarnido, Canales, Pedrosa, Meurisse and even more recent rising stars such as the Italian phenomenon Zerocalcare or Spaniard Gabriel Walta. We've recently started publishing webtoons as well, so if you put next to each other Floch's An English Trilogy and a webtoon, you get a clear idea of the vast spectrum of comics we publish.
Djinn by Jean Dufaux and Ana Miralles
AO: What are the bigger success stories in terms of the titles you've released in terms of critical acclaim and interest from English-speaking audiences? Are there titles which you've released digitally that you've been surprised that they didn't make more of an impact?
EUROPE COMICS: Our absolute bestseller is Djinn. We can't say it was a big surprise for us in terms of popularity but the high numbers were a very pleasant surprise.
Regarding the less pleasant surprises, one of them is the relatively low success of our Western series. The Western is a very popular genre in France and Belgium, but somehow, it doesn't work as well anywhere else. We have excellent Western series like Undertaker, Desert Star, Rain Wolf and Stern that haven't received the attention we believe they deserve.
AO: Knowing how many books are available for review every month I'm very aware that your publishing schedule is a prolific one in terms of releases. How many titles have you translated and published digitally to date?
EUROPE COMICS: We currently release about 10-15 titles per month, and so far we're at 1200+ titles in total.
Desert Star by Hugues Labiano, Stephen Desberg & Enrico Marini
AO: How many of those digital releases have been picked up by publishers for print editions? What are some of the projects that have been, and which publishers have taken them on?
EUROPE COMICS: This aspect of Europe Comics is one of our biggest successes. Around 150 titles have already been licenced in print (although not all of them have officially been announced yet). We call them 'Europe Comics graduates' and list them on our website. The list of publishers is long as well, including new and established ones, small to medium-large ones, from the US and UK. Some of the most recent releases include Karmen (Image), Man in Furs (Fantagraphics), Aster of Pan (Magnetic Press), The Shadows (Dark Horse), Jewish Brigade (Dead Reckoning), Django, Hand on Fire (NBM).
White All Around by Wilfrid Lupano and Stéphane Fert
AO: As mentioned, there are a number of publishers in the UK and US who either focus on European translated work or include a significant amount of it as part of their output. Cinebook, SelfMadeHero, NBM, Fantagraphics and Soaring Penguin Press all spring to mind. How would you assess the growth of interest in translated European comics over the last few years? Is it moving in a positive direction?
EUROPE COMICS: It is definitely moving in a positive direction, and there is concrete proof of that. Since there is a licensing company at the heart of Europe Comics, we follow this trend from up close. More and more English-language publishers are publishing European works, and it is enough to look at this years' Eisner Award Nominees and compare to, say, five years ago. The difference is impressive! The number of European nominations has been growing steadily, which is an indicator not only of the increase of the number of published works, but also of the growing appreciation of their quality.
AO: How challenging can the translation process be in balancing the needs of remaining true to the original narrative intent but also appealing to an English-speaking audience? What are some of the practicalities that your translators have to consider in their work?
EUROPE COMICS: We try to remain as true as possible to the original work, but sometimes some localization is required for the sake of understanding. Our translators start by deciding if they should translate in American or British English. The general rule is that we use American English unless the action takes place in the UK. The second important consideration is slang. If there is slang in the book, the translator has to decide as to what extent he or she has to use slang in English, and if that would make sense to the reader. Another important topic lately is the translation of books set in the past, which contain attitudes that we would today consider racist or discriminatory. It is a difficult choice to make – do we stay true to the time period (and thus indirectly condemn it) or do we soften the tone so we don't offend particularly sensitive readers.
Lost in the Future by Alex Fuentes & Damián
AO: Can you also give us some background on your wider work like the databases on European comics you've been building up and events to champion European creators?
EUROPE COMICS: We're doing our best to list all comics-related events in Europe and abroad as a reference for comics readers and professionals. It was very difficult in the beginning, but nowadays more and more event organisers contact us themselves asking to be added to our database.
Also, it is important for us to have our readers, especially those new to European comics, be able to put what they read into the right context. In order to do that we've published many articles on the history of comics in different countries (Belgium, Italy, Spain, UK…), on specific genres and characteristics of European comics, such as the French Western or the depiction of women or LGBTQI characters in Belgian comics.
And last but not least, the best advocates of European comics are their creators themselves, so in the past few years we've had more than 40 of them visit the largest and most important comics events in North America.
Alt-Life by Thomas Cadène and by Joseph Falzon
AO: And finally how has the pandemic affected your operations over the last year or so? What are your plans going forwards?
EUROPE COMICS: Since we are all digital by nature, the pandemic could not really affect our work, and our readers proved that they love reading comics and they did a lot more of that especially during the lockdown period.
What's next… We're really excited to be bringing back to the spotlight two of our most loved characters, Blacksad and Djinn. This September we'll be releasing the complete Djinn in the form of three luxury collected editions, including never before published author interviews and sketchbooks. Then in October, the much-awaited volume six of the bestselling adventures of detective John Blacksad. And then moving forward… just more great comics!
For more on Europe Comics check out their site and online store here
Interview by Andy Oliver