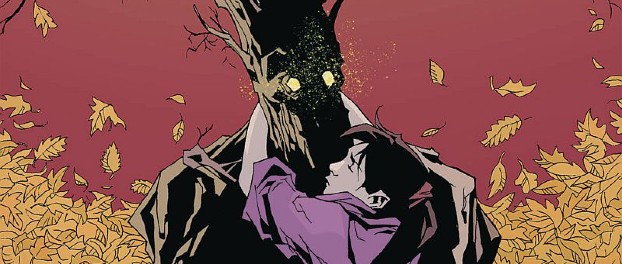 Family Tree Volume 1: 'Sapling' collects issues #1-4 of the Image series which writer Jeff Lemire describes as "a look at the many horrors that can threaten to tear a family apart, and the bonds that keep them together in the face of unspeakable events." The story opens in 1997, with single mother Loretta Hayes working at her job as a supermarket attendant in Lowell, Maine. She and her kids, Josh and Meg, are standing on the precipice of the end of the world; only nobody knows it just yet. "It didn't happen like anyone ever guessed it would," reads the narration, with hindsight. "The world didn't end all at once. It ended slowly… One family at a time." I dare say at this point that we're in for an especially topical read.
The pre-apocalyptic scenario of Family Tree finds its basis in body horror, as what appears to be a rash on the arm of 8-year-old Meg rapidly escalates and begins to transform her into a tree. It is soon revealed that Meg's unusual condition has familial roots, bonding her to the flawed patriarchs of her bloodline. The issues in this volume largely explore the motivations and redemptions of these absent fathers, and long-time readers of Lemire's will recognise such square-nosed, work-wear clad, stoic figures from his other works, such as Essex County and Roughneck. Penned by a writer who specialises in the male experience, it will be interesting to see how the narrative branches of mother and daughter Loretta and Meg develop in future issues of Family Tree, and whether the series will indeed deliver on the "epic story about the lengths a mother will go to keep her children safe" promised by its press release.
In any case, 'Sapling' lays plenty of intriguing foundations on which to build anticipation for future instalments. Lemire once again demonstrates his skill for fusing fantastical elements with more real-world surroundings (the human hybrid concept will be familiar to those acquainted with Sweet Tooth), making for an escapist piece that's nevertheless accessible to audiences beyond core fans of the fantasy genre. He finds a fitting partner in artist Phil Hester, whose angular compositions amplify the fraught nerves of each dramatic situation, most notably in the facial expressions of working mother Loretta, and the occasional moments of explosive violence. Meanwhile cool tones from colourist Ryan Cody, and pitch black inks from Eric Gapstur, create the unsettling mood of a looming storm that's creeping ever closer.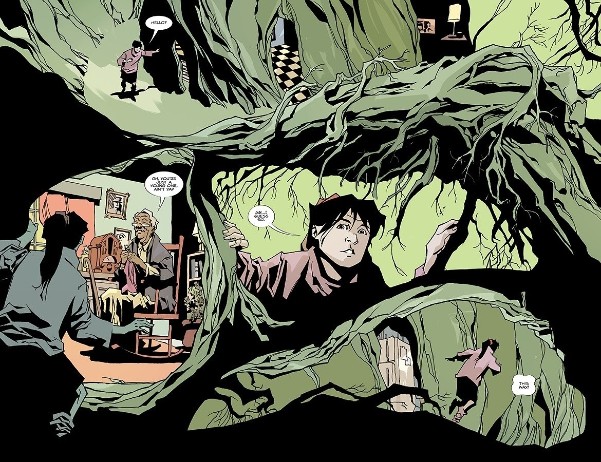 The seeds are planted for Family Tree to grow in a multitude of compelling directions, with sneak peeks of an arboreal liminal space; the suggestion that Meg's affliction may also come with powers yet unlocked; the question of who exactly is out to get her; and the introduction of a mysterious doctor. These component parts and more combine to make for an exciting new series which has all the right ingredients to go some distance.
Jeff Lemire (W), Phil Hester & Eric Gapstur (A), Ryan Cody (C), Steve Wands (L) • Image Comics, $3.99
Review by Ally Russell