John Reppion is a script writer, author, essayist, and writer of prose fiction.
Since 2003 he has co-written comics in partnership with his wife, Leah Moore, as Moore & Reppion. The duo have written for the likes of 2000 AD, Channel 4 Education, Dark Horse, DC Comics, Dynamite Entertainment, Electricomics, IDW, and SelfMadeHero.
John's articles have appeared online and in print, while his fiction has appeared in various anthologies from publishers such as Combustion Books, Ghostwoods Books, PS Publishing, Snowbooks, Swan River Press, and Vagrants Among Ruins.
PJ Holden meanwhile is a Belfast-based comic artist best known for his work for Judge Dredd for 2000 AD. His other comics work includes contributions to Warhammer Monthly and drawing the likes of Stringbags and Fearless.
He is also the co-host of the Sunnyside Comics podcast, an eclectic mix of stupid anecdotes, silly stories and its participants laughing at each other with the odd film or TV review thrown in.
For the last year or so, John and PJ have been collaborating on their Folklore Thursdays project, which is what they're here to talk about with Broken Frontier today…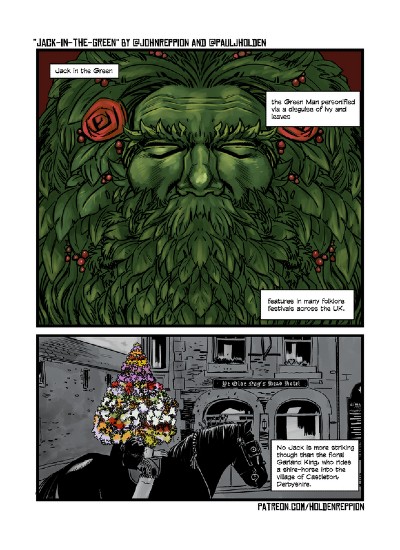 BROKEN FRONTIER: How did the project come about?
PJ HOLDEN: Well there's Folklore Thursday, which predates the comic strip and was never something I had any involvement with.  And then there's the folklore comic strip, which we do every Thursday.
The strip came about because I had just finished a long strip and wanted a change of pace before the next thing. I was casting around on Twitter looking for something I could turn into a comic strip (I know a lot of writers and sometimes they write tweets that I feel like I can adapt into one-page comics). John posted a tweet about a local church and I drew that up as a strip. For me, it has the feel of a little poetic comic piece. So, I put the call out asking if anyone had any other tweets that might work but it turns out tweeting something that can be adapted into a comic is harder than you think.
So, I went crawling back to John and asked him if he wanted to do something with this idea: one tweet once a week that I could adapt into a comic. I think we batted a few ideas around and then John, I think, suggested that since he was doing folklore tweets most Thursdays anyway what about that, and I thought, "Ok, that could work."
I think I expected to lose interest or not be able to find the time, but I really enjoy doing them.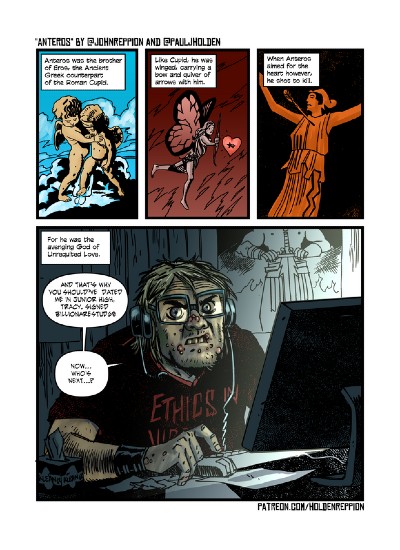 JOHN REPPION: The hashtag was already popular and the Folklore Thursday people do a fantastic job curating the whole thing. Really, we've just piggybacked on that, but we're providing something a little bit different. It's something brand new every week – a different spin on something people might or might not already know about.
BF: Please can you guys flag up those strips that are your personal favourites and/or you think have worked particularly well?
On that note, have there been any that haven't worked as well as you'd hoped?
I noticed that at least one strip has a trigger warning. Please tell me about that.
HOLDEN: My favourites are usually the ones I've either been able to hook a whole additional narrative on to or have grafted some extra meaning on to. 'Anteros', for example (where I took the whole avenging god of unrequited love and turned him into a basement dwelling incel) or 'Yedua', which I turned this fun little Wikipedia-like entry into a short story starring er… someone we'll call Blon Blonstantine and a giant muck monster or 'Threshold'.
But I also have a soft spot for some of them where time wasn't on my side and the results turned out to be surprisingly poetic – largely in part because of John's words and all I've done is drawn an accompanying illustration, like 'Cephalophore' or 'Henbane'.
I think sometimes my ambitions are way ahead of my capabilities, and there's a few I'd like to redraw, particularly a couple of the early strips, like 'Mushroom' (where I decided I'd go for a proper painting), and whether it's a  bad painting (possibly) or a bad scan (definitely), the fidelity isn't what I wanted at all. The strip 'Labyrinth' worked far better in my head than it did in the drawing of it. (I'd either rethink/redraw that completely or just excise it from any possible collection).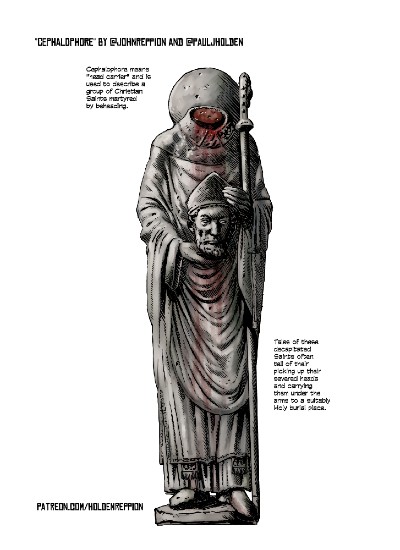 As the strips have gone on, I've definitely gotten less adventurous – I wanted to approach each as a new experiment in form or media or tone, but the problem with experiments is you may need to do hundreds before you get it exactly right, and so, over time, I've stuck much closer to my natural storytelling style. It's made later strips better but just a little safer (and to be honest, the time factor also came into play – far quicker to do what I'm good at than play in an area I'm unsure of!)
On the trigger warning, I think one of the best strips we've done was the 'Boudicca' strip, but it got far wider exposure on Twitter than I was used to, and ignoring some of the loonier right-wing voices that felt I hadn't made Boudicca sexy enough (!) there were people who genuinely felt the wording of the strip where Boudicca's daughters were described as 'dishonoured' somehow lessened what was horrific raping and torture. Now John and I would probably argue that dishonoured in this context was an artistic choice, designed to show how truth becomes legend and real horror is softened, and it's one of the reasons I leant so hard into the image of Boudicca as a real warrior with blood and dirt in her finger nails. Juxtaposing the soft words with the hard image.
But one thing it left me with is the idea that some of these stories will be seen by people without knowing anything about me or John or our intent. It's the nature of an image on Twitter, you'll often find things in your stream that you've no idea where it's come from.
John had written a great piece on Medusa that really upturned how I saw the myth of Medusa, moving her from the 'clearly a monster' to someone who was had far more wrong done to her than she has done wrong. And so I illustrated it from that place, but on reflection some of the imagery, especially the first two panels which showed a human Medusa just following a brutal sexual assault, I felt were very likely to trigger a strong emotional response in someone who might see it in their Twitter feed. So I self-censored. I possibly over-compensated, I think it's one of the better strips I've drawn (both for the content, the quality of the work and because it feels powerful, in a way few things can) and deserved a wide audience, but I know how memories of trauma can be surfaced quickly and painfully, and it just didn't feel like it was worth the human cost.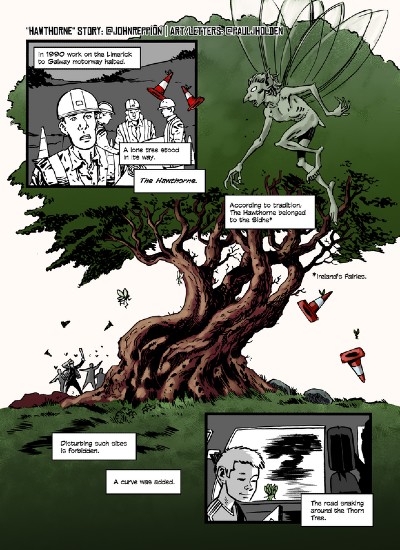 REPPION: I think the Boudicca one springs to mind, because we got such strong reactions, both positive and negative. Sadly, there is quite a bit of nationalism, academic prejudice, and good old-fashioned sexism bound up with some people's idea of what Folklore is (or what they think it should be), so strips like that one have rubbed some people up the wrong way. I'm glad they have, and continue to do, because it just makes these people out themselves.
BF: PJ, you said you thought you might lose interest in the project.
PJ: Well, maybe "lose interest" was the wrong phrase, I thought my butterfly-like attention span would alight on something new and this would just become another project abandoned. At the time I started this I also wanted to do a Kickstarter, and, here we are a year later and not a damn thing has happened on that front.
I think John has written wonderful tweets that have always allowed me to come at them and add something to them, and I suspect that challenge has really kept my interest fired up. And, importantly, it's just one page – I typically spend 3-4 hours on one strip, which means I can usually find the time to do it. If I can't then I can usually think of a way to speed the process up, and get it done in 20-30 minutes…
If it's bad I think "well, there's always next week" and if it's good I think "yeah, that's pretty good! maybe I can do that again".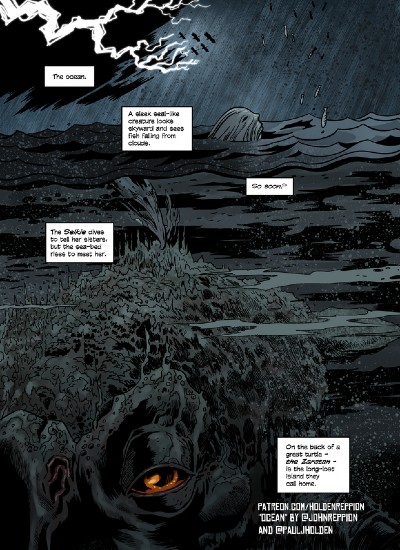 BF: You've done approximately one year's worth of strips as we conduct this interview. What are your hopes and plans for it going forward? And how can our readers support the strips if they like what they see?
REPPION: The plan is to move on to something a bit different for the second year. We were winging it a bit, making this up as we went along, so we're hoping to go into year two with a bit more of a solid plan. It's going to be something which will appeal to everyone who's enjoyed our first "season", but with more of an end goal in terms of what we'll produce by the end.
People can support us via www.patreon.com/holdenreppion and you can read everything we've done so far there.
BF: And, while I've got you, it's been a rough year for all sorts of reasons so let's have some optimism: what's good about working in comics and the scene generally?
HOLDEN: Well, it's nice to have work! I had hoped to do a few cons this year, but lack of cons, and publishers drawing their horns in a bit has meant everyone has had to start thinking outside the box a little. I was surprised, for example, at how popular the live sketching I did was. I think a lot of creators are starting to sniff around and see what they can do that uses their skillset more fully and comic creators have a massive skillset. We often forget because we end up basically doing the same thing over and over again, as part of a vast comic-making machine – but we're all brilliant communicators, improvisers, and team players who can work to tight deadlines, under pressure and without instruction – honestly the wider world would envy those skills…
REPPION: Comics are magic, aren't they? Someone asks you "what do you do for a living?", you tell them you work in comics, and so often they look at you as if you've said with "actually, I'm a cat". It's like in one of those books about that young wizard… the name escapes me… where there's the normal world and the magical world sitting side by side, but the normal people don't realise. They can't see it, even though it's right there. That's what comics feels like to me. We're part of this massive community filled with incredibly talented people who make something out of nothing. Turn blank pages into stories which you can hear and feel, which make you laugh and cry.  Magic.
For more on John Reppion's and PJ Holden's collaborative comics work, please visit their Patreon here.
Interview by Matt Badham.