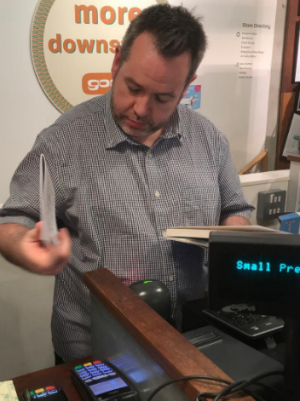 It was just a couple of short weeks back that we were bidding farewell on Twitter to Gosh! Comics' Steve Walsh (right) as he rang up his final BF-bound sale after several memorable years at the London-based store.
Steve was responsible for a number of themed "after hours" discussion groups at the shop that emphasised Gosh's place as a comics community hub and, indeed, for a stint of a few months four years ago wrote monthly 'Process' reports here at Broken Frontier. We're still waiting for the December 2013 one but we're reliably informed it will be released in the same week as Frank Miller's All-Star Batman & Robin #11…
So exciting developments all round today as Avery Hill Publishing announce that Steve has now joined the South London publisher's team as Head of Sales. The AHP press release with full details of this titanic team-up is below.
Over the last six years Steve has played a vital role in the London comics scene. He was a hugely popular part of the team at Gosh! Comics, organising and leading regular reading group events as well as Process, a practice-focused discussion group. He also regularly made appearances on radio and television commenting on comics-related topics. Earlier this year Steve's dedication to fostering comics culture at Gosh! was recognised when he was nominated for The Bookseller's Bookseller of the Year Award.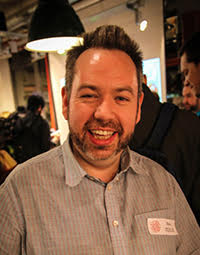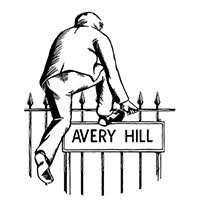 In addition to his work at Gosh! Steve has hosted various podcasts including the much-loved South London Hardcore, and as a fellow South Londoner he makes a perfect addition to the Avery Hill team! As Head of Sales Steve will use his vast experience of book sales and the publishing industry to help bring our books to a wider audience.
"I'm delighted to be joining the gang at Avery Hill Publishing, an outfit whose progress I've followed avidly since first encountering them at a Small Press Fair in New Cross back in 2012. Since then AHP has grown massively, with book after book presenting some of the most exciting new voices in comics and it's a tremendous thrill to now be part of the team."
 – Steve Walsh