Let's start this week's 'A View from the Frontier' with an unlikely confession…
I have never been to Free Comic Book Day before.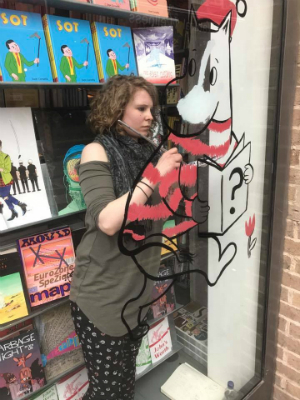 That's perhaps not as odd a statement as it may initially sound. I'm in the incredibly fortunate position of living Free Comic Book Life, after all, and I'm regularly sent more comics and graphic novels in a month than I could read in an entire year.
On Saturday, though, I made the trip into London specifically to see our 2016 Broken Frontier 'Six to Watch' artist Rebecca Bagley doing her bit as one of Gosh Comics's window-painting guests and was completely sucked into the sheer excitement and spirit of the day.
I'm not going to talk about the freebies on offer here simply because I didn't pick any up. Saturday was for those who don't get free comics on a regular basis. What I do want to focus on here, though, is how Gosh used their early FCBD slots to reach out to that all-important and – so we are often led to believe – ever elusive audience of younger comics readers.
Gosh gave over their morning and early afternoon programme to a kids workshop event that allowed children to meet creators from Gary Northfield's Bog Eyed Books, the esteemed Brit weekly The Phoenix and Nobrow's Flying Eye Books – all as part of a special 'Draw with the Artists' table. The shop was buzzing throughout, with that next generation of fans enthusiastically interacting with the talents behind some of the best all-ages work out there at the moment.
Simultaneously, some top indie talents (including a number of BF faves) were keeping those queuing outside entertained by displaying their painting skills on the windows of Gosh! with their own interpretations of some favourite children's characters. The aforementioned Rebecca Bagley (also a star of our upcoming second Broken Frontier Small Press Yearbook) is seen in the top image above right in a moment of intense concentration as she brought Tove Jansson's Moomins to life.
Dan White (Cindy and Biscuit) gave us his version of the Teenage Mutant Ninja Turtles, Lizzy Stewart (It's Not What You Thought it Would Be) channelled Maurice Sendak, Lando (Decadence Comics) recreated Long John Silver from Treasure Island in lizard form, and Eleni Kalorkoti (Reads) brought us an engrossed Matilda. Perhaps my favourite moment of the morning, though, was when a small lad pointed at Rachael Stott (Doctor Who) working on her rendition of Mr. Toad and exclaimed "Dad! Look! Ghost Rider!". Well, Thor did it in the '80s didn't he…?
Utilising Free Comic Book Day as an opportunity to reach out to kids and encourage an interest in a whole new audience of readers seems to me to be far more in the spirit and ethos of the day than exploiting it as a sales platform for your next corporate comics crossover event. A great day at Gosh! all round and a story that I am certain was being repeated around the world on Saturday. And just think, in a couple of months we get to celebrate that sense of comics community all over again in the UK as Small Press Day approaches…
– Andy Oliver, Broken Frontier Editor-in-Chief, May 8th, 2017
For regular updates on all things small press and Broken Frontier follow Andy Oliver on Twitter here.