In another dimension, Brian Moore's Goodbye Little Pointy Teeth would be enjoyed at bedtimes around the world, its subversive morals expanding the minds of an eager generation. Here on Earth Prime, Moore's charming work operates on a smaller scale, albeit one that's just as important: offering a refreshing reminder to stop taking life so danged seriously.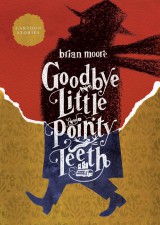 Moore's debut collection is deliberately lightweight, although there's a range of genres in its 48 pages that rivals multiple-author anthologies. He's not afraid to build his short stories on concepts that could power an entire series on their own: a meta-fictional after-hours meeting between comic strip characters, or (as in the title story) the intergalactic adventures of a trio of classic monsters.
Given these disparate genres, Moore has a warm visual style that's surprisingly versatile. Using watercolor and gouache paints, he echoes the broad strokes and geometric feel of Art Spiegelman's New Yorker covers and Ezra Jack Keats's children's books. The rigid composition of the pages (often a variation on 2×2 or 3×3 grids) reinforces the idea that these stories have supposedly been designed for easy consumption.
The connective tissue between these tales isn't any overarching continuity, but rather the strength of Moore's sympathetic characterization. The stories of Goodbye Little Pointy Teeth show a singular affection for apparently competent individuals who nonetheless find themselves searching for fulfillment.
The cover marks this as a collection of "Cartoon Stories" which is an apt description of their broadly drawn backdrops and playful relationship with genre. But these stories also showcase Moore's fascination with the psychology of modern living – the seemingly inane justifications and thrown-off remarks that can send a carefully planned existence into upheaval.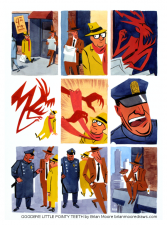 The combination of caricature and microscopic insights gives these stories the feel of modern fables, although their lessons aren't always obvious. In 'A Crooked Line', the diminutive protagonist gives up his steady role performing in New Yorker cartoon analogues and tries out something a little seedier.
The comedy here is tied to Moore's grasp of various comic "languages", from those of noir thrillers to one-liner gags. However, the story is more than just a playful visual experiment, ending up somewhere very different than where it first starts.
'Company Man Clocks Out', the collection's longest story and an effective centerpiece, follows a demonic businessman as he grapples with his colleagues' ambition and his own complacency. This story is also notable for the playful flourishes of visual poetry throughout, from the carefully dotted trajectory of a falling projectile to the bombastic typeface of a loudspeaker announcement.
The most winning quality of Goodbye Little Pointy Teeth is Moore's obvious affection for his unique characters, even when they stumble. The satire is sharp, but delivered with a smile. It's a reading experience that's unlike many in recent memory, and in that regard is well worth checking out.
Brian Moore (W/A) • Brian Moore Draws, $12 (standard)/$21 (special edition)