There has certainly been something of a noticeable uptick in children's books being offered for review to us at Broken Frontier of late that combine narrated illustration and traditional comics. Whether that's representative of a wider trend in publishing or simply an indication of BF coming to the attention of more publishers is, of course, another matter. But it's pleasing to see books like Gory Rory Fangface Needs a Kiss, published by Cicada, using sequential art to teach valuable lessons to kids.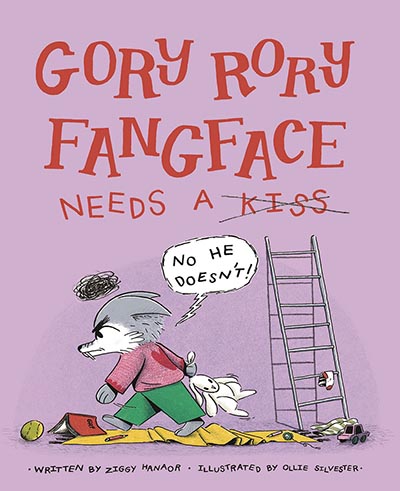 Written by Ziggy Hanaor and illustrated by Ollie Silvester, this is the story of a young boy who is having a particularly bad day. You would imagine having a name like Gory Rory Fangface was already something of a social impediment but Rory also has to deal with a school day where absolutely nothing is going right. He's forgotten his homework for class, he has to miss an epic football match in the playground, his lunch is gross egg salad sandwiches, and his mum is late picking him up. For Gory Rory Fangface this is a day where one catastrophe just runs into another and he's adamant a kiss from his mother won't solve anything…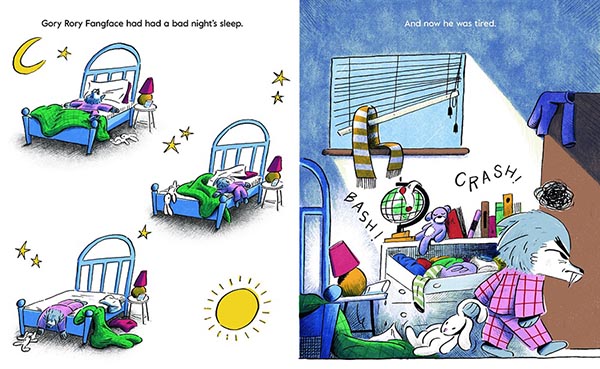 Hanaor writes a simple but heartwarming tale with an important message about family and not letting things get the better of you. It's one that kids will enjoy whether reading it alone or absorbing its lessons with an older person. Ollie Silvester's art, though, really brings this to life by ensuring Rory's grumpiness is visually at the forefront throughout but still ensuring he remains a sympathetic character regardless. Sequential storytelling breaks into double-page spreads that capture the drama of key moments with Gory Rory's anger seeming almost monstrous at points but subsiding into something altogether more subdued by story's end, emphasising his vulnerability and innocence.
Sometimes we all need a big hug to put things into perspective. Gory Rory Fangface Needs a Kiss is a reminder of that reality, appealingly told with kindness and understanding.
Ziggy Hanaor (W) Ollie Silvester (A) • Cicada Books, £12.99
Review by Andy Oliver