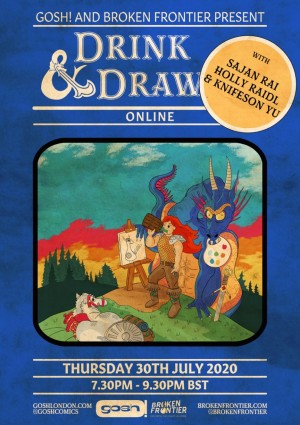 This Thursday July 30th sees the return of our fortnightly online Gosh! Comics and Broken Frontier Drink and Draw. We're back again at 7.30pm BST on Twitter. Not only do our digital D&Ds keep all those who meet at The King's Arms in Soho every month in regular contact while we're unable to meet in the physical world, they also allow us to expand our reach for the event to a more global audience. (Poster art, right, by Will Humberstone).
So, once again, here's the "rules"…
We're using our regular pub format, adapted for a digital platform so if you've never attended one of our monthly sessions this is how it will work. Our guest artists will each choose a drawing theme for three sessions across the evening. We'll post each of these prompts with the hashtag #GoshBFDD in three batches at 7.30pm (GMT), 8.15pm and 9.00pm from both the Gosh! Comics Twitter account and the Broken Frontier Twitter account. You have 30 minutes to draw something fitting that theme, after which we'll spend 15 minutes picking a winner before the next round begins. Don't forget to post your drawings with the #GoshBFDD hashtag so everyone can see and join in. And also so we can easily retweet!
And we have three ace guest artists joining us again this time round! So here's a quick intro to them.
First up is Sajan Rai who has featured at BF a number of times overs the years either for his solo project or his work as part of the Backwards Burd micropublishing collective. Most recently at BF we reviewed Sajan's excellent collection Illustrated Haiku – comics poetry set in its own bizarre and brilliantly imaginative fantasy world.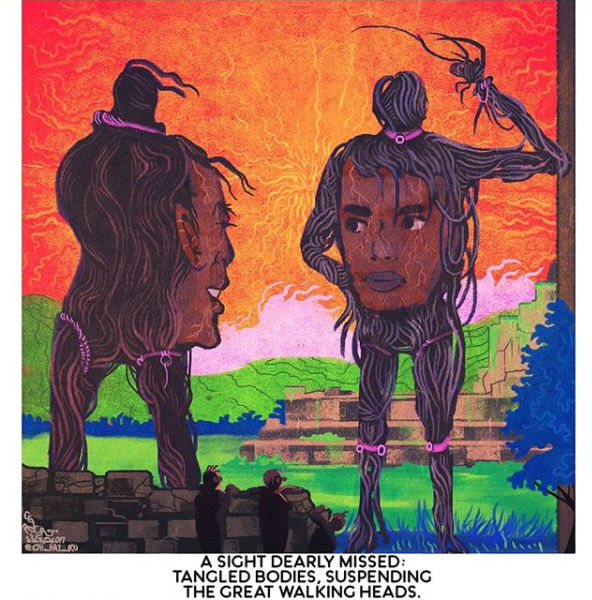 Holly Raidl is one of our Broken Frontier team and has been reviewing for us for a few years now. If you've visited the Broken Frontier table at London events over the last year you may well have seen Holly there selling her zines and helping us promote the work of Broken Frontier 'Six to Watch' artists. Holly is also a cartoonist whose work can be seen over on Instagram.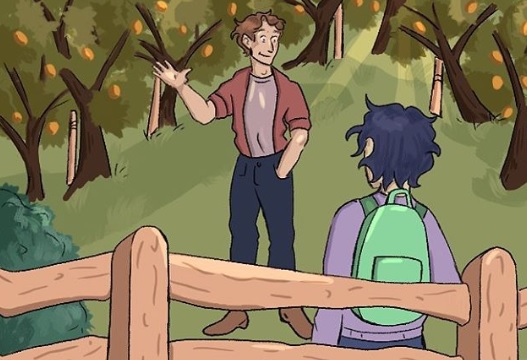 Knifeson Yu is an animator and comic artist whose comics include Addiction and The Edge. Originally from Hong Kong, Knifeson now resides in London. You can check out more of Knifeson's work here.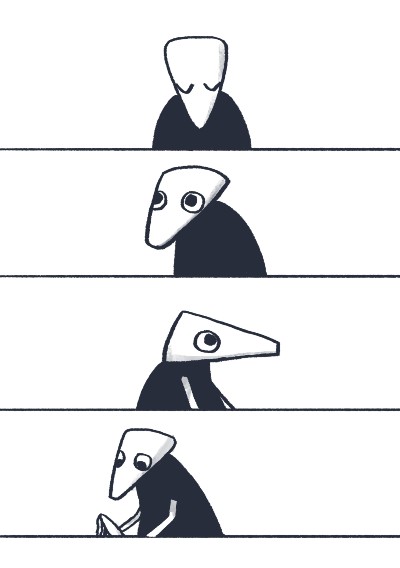 We'll see you all again on Thursday! Whether you're a regular or a newbie all are welcome so please do join in and be part of our international Drink and Drew fun! And if you enjoy this event why not check out the Gosh! Comics webstore here?