If you were in Leeds for Thought Bubble this weekend then you may well have caught the first leg of the Avery Hill Follow Me In and Retrograde Orbit Launch Party Tour! Creators Katriona Chapman and Kristyna Baczynski signed copies of their books at Travelling Man on the Friday night before the TB festival got well and truly underway.
This Friday September 28th sees the duo signing once again with our friends at Gosh! Comics who will be hosting the London launch between 7pm and 9pm. If you didn't get to Thought Bubble this year but want to pick up two of the top launches of #TBF18 then this is your chance to meet the artists in person at the same time.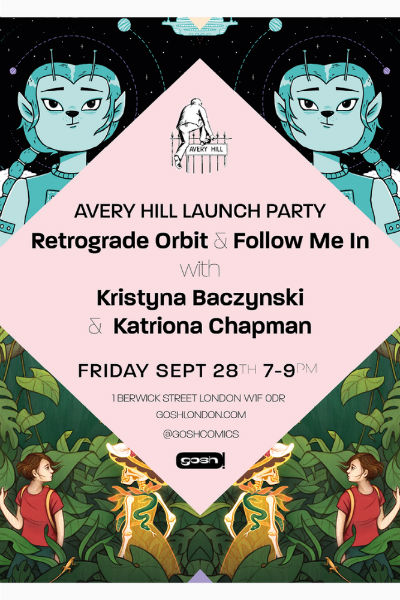 These are two top releases that showcase the diversity of AHP's output. Follow Me In is a very personal graphic memoir and a Mexican travelogue in one package while Retrograde Orbit is ostensibly a sci-fi story but speaks to us on a more immediate level about universal themes of home and belonging.
A quick reminder of what we had to say about both books when we reviewed them this month at BF:
Follow Me In by Katriona Chapman: "It's beautiful, devastating and hauntingly fragile in equal measure. And it's going to be on every annual awards and "best of" lists at the end of 2018."
Retrograde Orbit by Kristyna Baczynski: "Poignant, touching and unforgettable, it's arguably Kristyna Baczynski's greatest achievement in the medium to date."
More details on the Gosh site here.