Revisit the farm filled with countless haints and twice told tales in the Library Edition of Cullen Bunn and Tyler Crook's Harrow County.
Once in a blood moon, a story comes along that's so horrific, so terrifying, that it warrants a single read and then must be set aside, else the horrors your eyes have witnessed come back to haunt your dreams. (And perhaps your waking life, too.) Cullen Bunn and Tyler Crook's Harrow County is just such a story. And the first volume of this tale is available in an oversized Library Edition, which opens more doors left ajar for readers to enter and explore even more dark nooks and soul-rending crannies in the county that previously went unopened.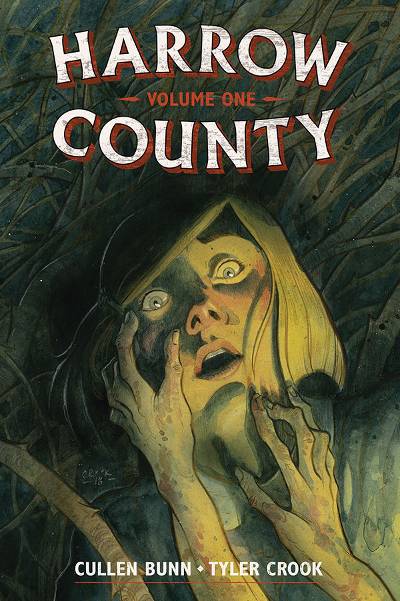 Now, for those of you out there who may not have picked up a copy of Harrow County, the tale that unfolds revolves around a young farm girl named Emmy who learns she may be descended from a witch that was put to death many years earlier by the townsfolk of Harrow County. Surrounding her (and the town) are a terrifying menagerie of spirits, ghosts, and other undead creatures which Emmy has always known existed, but only now is she discovering that she's not only aware of their existence, but she is an integral part of that existence, and they, in turn, are a part of hers.
If one must experience Harrow County a second time by choice or sheer determination to show that they are simply not afraid, well, doing so in an oversized edition is certainly the way to do so. Granted, I reviewed from the digital review copy, but if there's one thing you can count on with Dark Horse Comics, it's that they put a great deal of care into their hardcover, omnibus and especially their library editions, so it's a safe bet to get your hands on a copy and immerse yourself in a strange, yet familiar world of witches, skinless boys, and cursed haints.
Aside from the oversized aspect of the library edition, there are many additional components included in the library edition, such as character sketches, sample artwork from Bunn and Crook's original pitch to Dark Horse, the original chapters of the serialized novel 'Countless Haints', cover sketches, and even essays from the creators. All in all, the book is packed with enough bonus material to further color not only the world and characters of Harrow County, but also give us a momentary glimpse into the minds of the book's creators and their process of making a masterpiece of graphic horror.
All in all, this book is a must-have for any fan of Cullen Bunn's storytelling, Tyler Crook's artistry, and/or Harrow County, and even though Halloween has already passed, it's always Halloween in Harrow County, and its scarecrows are always happy to welcome us home. Again.
Cullen Bunn (W), Tyler Crook (A) • Dark Horse Comics, $39.99
Review by John T. Trigonis