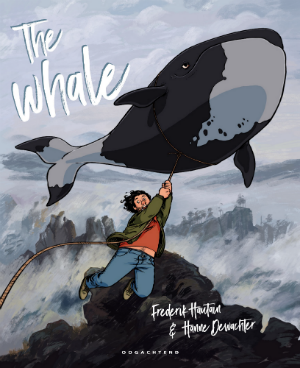 Two years to the day that he left the site to pursue his own storytelling dreams it seems very fitting today to be talking to Broken Frontier founder Frederik Hautain about his first graphic novel The Whale, to be published in his native Belgium in February by Oogachtend. Illustrated by Hanne Dewachter, The Whale combines slice-of-life themes with magic realism.
I caught up with my old boss this week to chat about his creative journey since 2017, navigating the publishing world and what it feels like when your first graphic novel is about to hit the shelves…
ANDY OLIVER: Let's begin with a little scene-setting. You left Broken Frontier two years ago today to fulfil your creative dreams. Can you tell us about the reasons behind that decision and the events that led to it?
FREDERIK HAUTAIN: Deep down, I always wanted to create stories. That's the main reason, really. But it's been a long journey, filled with self-realisation and battles against self-confidence.
When I look back on the time when I discovered US comics 25 years ago, it was the aura of awesomeness and the vibrancy of the artwork that drew me in. I was always positively jealous of people like Jim Lee, Michael Turner, Adam and Andy Kubert, Joe Madureira and the like. The now defunct Wizard magazine had a monthly Top 10 Artists list, and I remember going through it and wanting to be on it. But I can't draw a lifeboat even if my life depended on it.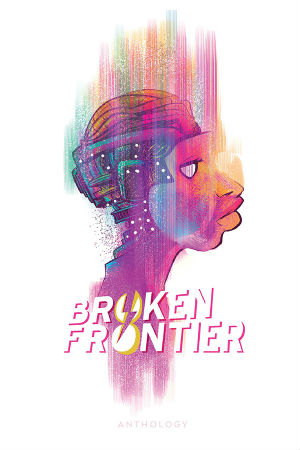 I did experiment a lot with early graphic design tools as a kid and words came much more naturally to me than putting lines on a page did, so I started self-publishing a comics magazine that I sold to my classmates and any other 13 and 14-year-olds in high school that wanted it. Then I fell out of reading comics for a bit, but picked it up again in college… and founded Broken Frontier when I was 19. All this time though, the fire to create stories, and comics specifically, never went away. I simply never felt good enough, thinking I lacked the talent to do so. Editing and reporting and picking people's brains through interviews… that I knew I was good at… but deep down that positive envy remained. Jumping forward to 2014, I decided to put together the Broken Frontier Anthology (left, cover by Robbi Rodriguez) and I felt that I owed it to myself to try and come up with a short story to put in it. I thought that hidden between the stories by Greg Pak, Cullen Bunn, Phil Hester and so on, the quality of the book would still hold up if my story was only so-so. [Laughs]
I wrote the story and got such a kick out of creating it and seeing it in print that suddenly all I could think of was doing more. I had invested so much time in running a platform that allowed other people's creative work to shine for so long and I knew it was time to move on and to try and build that creative career of my own.
I still lacked the creative confidence, though, because I always thought real writers just had to shake tales out of their pens. Greg Pak assured me they didn't. Still, I thought real writers saw the ins and outs and the broader framework of a story clearly in their heads. I didn't. But then I heard a famous Belgian novelist say on television he simply started with an idea and went from there. Along the way, I stumbled on George R.R. Martin's theory that there are two types of writer: the gardeners and the architects. I'm very much the former and I now know that that's ok.
AO: In the next month your debut graphic novel debuts in your native Belgium. What's the premise of De Walvis/The Whale and what are the themes it explores?
HAUTAIN: Let's go with calling it The Whale to keep things easy. [Laughs] It's a story about a guy who's turning 40 but has never experienced love. Well, he has experienced the feeling, it's just that he's never found a partner or even been in a relationship. At the midpoint of his life, he's still single and he hates it. He doesn't necessarily hate his life, but then again, a loveless life isn't really one worth living, is it?
Following his birthday bash, a girlfriend he still knows from college urges him to go see a fortune teller. He does, but during the ensuing tarot session, he draws the card of death and loses it. That same night, a throbbing noise wakes him up… he realises it's coming from outside his apartment window, pulls back the curtain and finds a whale floating there.
That's as much as I can give away. But at the heart, The Whale is a story about finding your place in the world and the leaps of faith it quite often takes to get there.
AO: How did artist Hanne Dewachter become involved with the project and what has she brought to the book's world?
HAUTAIN: Oh, Hanne's just the perfect artist for this story. I had started writing the story without there being an artist involved and during my search, a Belgian cartoonist suggested I look at her portfolio. I immediately fell in love, because she's someone capable of capturing emotion in such a way that even beneath the bleakest string of events, there's room for silver linings, humor and hope.
I had already finished the first draft of the script when I discovered Hanne's work, so I sent it over and we went for a cup of coffee shortly after and things just clicked from there.
Hanne's been doing a funny slice-of-her-own-life webcomic called Dork Toes for several years, which deals with the good and the bad that comes with nerding out, intimacy, relationships, perfectionism and getting a grip on who you are in this mad world that surrounds us. As I already said, that last bit is a big part of what The Whale is about. And I know it sounds awfully cliché, but I think that's really why Hanne was meant to draw this book.
Above and below – Process images from the first four pages from The Whale
How did you become involved with publisher Oogachtend?
Oogachtend is a publisher with a great eye for new talent. They've got famous Belgian cartoonists in their catalogue and they are also the publisher of Brecht Evens (longtime BF readers may remember him from Panther and other works translated by Drawn & Quarterly. Evens also won won the Jury Prize last week at the Angoulême festival with his latest graphic novel, Het Amusement – ed.). But they also reserve a big chunk of their publishing schedule for fresh voices. About a year and a half ago, I was talking to Ann Jossart, who runs Oogachtend, about my struggles finding a US company. I had two projects in the works that weren't taking off, and she suggested I try something in Dutch.
I'd never considered that, because the US comics format was the one I was most familiar with growing up. Ann convinced me to pitch something new anyway. During the summer of 2017 while on vacation in France, I put together a teaser paragraph for The Whale, and she was sold.
AO: Your journey to this point over the last couple of years has no doubt been a learning curve but what advice would you give to other creators about the best ways of getting their work to wider audiences and raising their profiles?
HAUTAIN: Wow. I don't know if I'm in any position yet to give such advice as I don't even have an audience yet, let alone a wide one… and I'm still paving my own way forward too. The truest answer I can give though is to tell the stories you want to tell. If you're emotionally true to yourself while creating those stories, you'll find an emotional connection with other people on this planet, be it creative collaborators to bring those stories to life or an audience. It's a struggle at times, but if you persist, you will find it. That audience may just be a handful of people – at first and maybe forever – but that connection and making those people see the world a bit differently through your stories, that's what the real joy of creating is all about.
And I'd also suggest they knock on Broken Frontier's door, because it's a joy to me that it's continuing to be a great place for new voices to get honest and real critique without the hufflepuffs and the clickbaiting.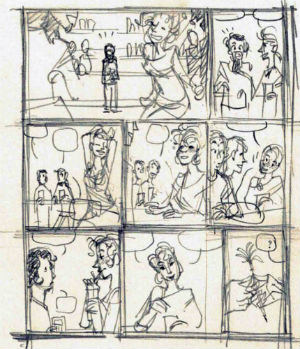 AO: The Whale will be published in Dutch in February. Are there any plans to bring it to the English-speaking market in the future?
HAUTAIN: I'd very much welcome that! I know the proofs of the full story as well as an English primer have circulated around Angoulême over the weekend, but I don't yet know what the outcome is. I'm keeping my fingers crossed though, because in a society where so many things around us are in flux, the old ways don't really work anymore and people are struggling to find their footing in all sorts of areas, I really believe The Whale is a book that captures the undercurrents of our time while striking at the heart of what it means to be human: loving and being loved.
AO: What's planned in the way of promotional events for the book?
HAUTAIN: Well, we've got a launch party here in Belgium on February 18 where Hanne and I will be signing and where we'll be putting some process art on display, from the thumbs all the way to the finished colors. And then we'll go on a signing tour across the country through March and April.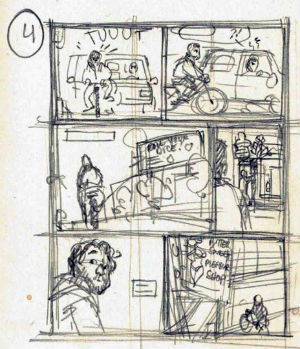 AO: And finally while it may seem a premature question given the achievement of getting your first graphic novel out there but what are your plans going forwards? Are you already thinking about your next projects?
HAUTAIN: You bet! [Laughs] I still have those two aforementioned US comics projects that I'm continuing to shape and thinker with, and I'm working on a new graphic novel in Dutch with another local up-and-coming talent that should see publication in 2020. It's an existential fantasy, a little bit Charles Burns meets Moebius meets Tolkien where someone goes on a quest in a wonderful world terrorised by god-like creatures after the real gods have fled.
Follow Frederik on Twitter to keep up with his all his comics projects. The Whale is published in February by Oogachtend.