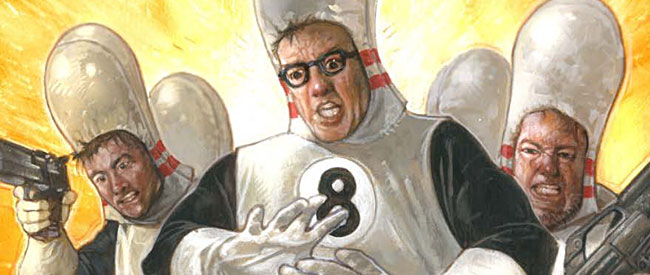 Henchmen, from writer Jamison Raymond and artist Ryan Howe, has plenty of pop and polish, but fizzles when it comes to tone.
In the vein of books like J. Michael Straczynski's forthcoming Sidekick, Robot Paper's Henchmen takes a look at a too-often overlooked role within the superhero paradigm. As you may have guessed from the title, that occupation happens to be one with what is arguably the worst job description: the supervillain's henchman.
The closest thing we have to a protagonist here is Gary, an out-of-shape, down-on-his-luck office supply salesman who winds up out of work after a jobsite accident lands him in the hospital. Looking for easy money, Gary answers a seemingly innocuous newspaper ad. But the job isn't quite what he was expecting, and our main character winds up in the employ of the Head Pin of Crime, a bowling-themed criminal mastermind who, in true criminal mastermind fashion, is planning a heist. Along with eight others, Gary is given a papier-mâché bowling pin costume and brought on board as the villain's expendable accomplice.
Howe's art is a large part of this comic's appeal. With a solid sense of perspective and anatomy, the style is flexible enough that it carries both action sequences and "talking heads" scenes equally well.  Though filled with delightfully corny bowling-related pins, the dialogue is believable and well done at most points. The story follows a traditional formula, with Gary winding up in over his head during the heist with the arrival of the Striker, a bowling-themed superhero who, unsurprisingly, serves as the Head Pin's archnemesis.
But to a certain extent, Henchmen doesn't quite know what kind of comic it wants to be: a lighthearted, campy take on the traditional role of the henchmen, or a dark, emotional drama about a man with serious family issues. The tone seems almost to shift from scene to scene, as we are treated to a series of cuts between Gary's night job as the Head Pin's henchman, and his interactions with his 11-year-old daughter, Samantha, and his soon-to-be-ex-wife.
This indecision is evident even in the dialogue, where expletives are sometimes replaced with the traditional "#@!%$*", and other times left uncensored. While some books have managed a split like this while remaining thematically coherent, there's something about Henchmen that isn't quite completing the circuit, isn't reconciling Gary's two lives into a meaningful whole. More than anywhere else, this, and not in quality, is where the book falls flat.
Aside from a few technical issues with the lettering, Henchmen is a competent, professional effort all around. Even if the art or writing isn't your preferred style, no one will deny that Raymond and Howe know what they are doing and do it well. Unfortunately, Henchmen's tonal confusion seems to be holding back what is otherwise an engaging, original, and entertaining book.
Jamison Raymond (W), Ryan Howe (A) • Robot Paper, $4.99. Available at www.henchmencomic.com/shop