Ed Piskor's acclaimed series Hip Hop Family Tree gets a new collection from Fantagraphics. Details below.
Celebrate 50 Years of Hip Hop with Ed Piskor's HIP HOP FAMILY TREE: THE OMNIBUS
Fantagraphics Presents a Stunning New Hardcover Edition of the Eisner Award-Winning Classic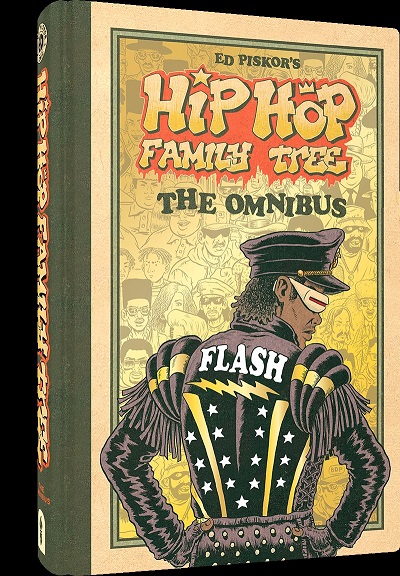 Featuring Over 140 pages of Extra Material, a Foreword by Filmmaker Charlie Ahearn, an Afterword by Journalist Bill Adler, New Annotations of the Entire Series by Piskor, and Much More
In celebration of fifty years of hip hop, Fantagraphics is publishing a stunning and definitive new hardcover edition of Ed Piskor's Eisner award-winning classic HIP HOP FAMILY TREE. HIP HOP FAMILY TREE: THE OMNIBUS features over 140 pages of extra material, a foreword by WILD STYLE director Charlie Ahearn, an afterword by esteemed hip hop journalist Bill Adler, new annotations of the entire series by Piskor, a comprehensive cover gallery, and much more. The book's publication this fall will mark the very first time that the influential series has been collected under one cover.
Ed Piskor's HIP HOP FAMILY TREE has been a global phenomenon and perennial bestseller since the first (of four) volumes was published in 2013, spawning multiple printings, fourteen comic books, and the author's wildly popular YouTube comics channel, Cartoonist Kayfabe (co-hosted with fellow cartoonist Jim Rugg). The award-winning comic provides an entertaining and encyclopedic history of hip hop culture, told in comic book form with verve, swagger and style. Piskor's cartooning crackles like Jack Kirby's illustrations and takes readers from the parks and rec rooms of the South Bronx to the night clubs, recording studios, and radio stations where the scene started to boom, capturing the flavor of late 1970s New York City in panels bursting with obsessively authentic detail. The technical innovations, the triumphs and failures are all thoroughly researched and lovingly depicted, with a vigorous and engaging Ken Burns-meets-Stan Lee approach. Like the acclaimed hip hop documentaries Style Wars and Scratch, HIP HOP FAMILY TREE is an essential cultural chronicle and a must for hip hop fans, pop-culture addicts, and anyone who wants to know how it went down back in the day.
"Being a cartoonist means that my books are my babies and for one of them to have a life beyond 10 years is an absolute blessing," said Piskor. "Given the fact that it's also the 50th anniversary of Hip Hop culture it was essential for us to bring about the best presentation possible for the material. I couldn't be happier."
"Ed's passion for comics is matched only by his passion for hip hop, and his love and respect for both artforms resulted in not only a kick-ass comic book, but one of the most valuable resources to chronicle hip hop's glorious 50 year history, as this definitive Omnibus proves," said Fantagraphics Associate Publisher Eric Reynolds.
"We are making the ultimate version of HIP HOP FAMILY TREE with this edition," said Piskor. "Beyond the original 4 volumes I did years more of work on the series that was scattered about, and now we're able to include all of this material inside of one hardcover edition. This includes covers, illustrations, and commentary that I've built over a decade, plus I couldn't resist adding lots of fresh artwork specifically for this edition to make the whole package as balanced as possible."