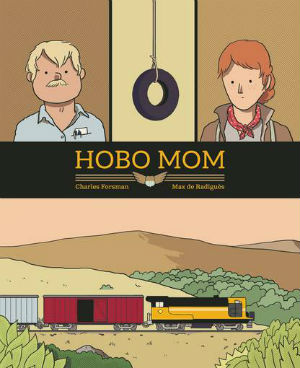 Hobo Mom is not the first comics link between The End of the Fucking World's Charles Forsman and Belgian creator Max de Radiguès (Weegee: Serial Photographer). If you were a subscriber to Forsman's much-missed minicomics micropublisher Oily Comics then you will remember an earlier incarnation of de Radiguès' acclaimed Bastard being distributed via the imprint. Likewise The End of the Fucking World was introduced in a French language form via de Radiguès through Brussels-based publisher l'employé du Moi.
Hobo Mom, published by Fantagraphics, is a more direct collaboration between the two telling the story of a fractured family, the pivotal moment when their lives converge once more and the intricacies of the relationships that both divide and unite them. Since leaving her husband Tom and pre-teenage daughter Sissy some years before, Natasha has been living as a vagrant. Indeed when we first meet her in the book's early pages she's riding empty freight trains. In her absence Tom has been bringing up Sissy alone and working diligently as a locksmith.
When Natasha returns unexpectedly to the family home the comfortable dynamics of Tom and Sissy's lives shift as daughter begins to build up a relationship with the mother she has never known and Tom's pain and vulnerability come to the fore. Will this small group of individuals be able to integrate into a family unit or will Natasha's craving for independence prove too strong?
Perhaps the bravest storytelling choice of Forsman and de Radiguès here is to cast the audience in the role of pure observers, giving us no real back story on why Natasha mades the choices she did. At just 60 pages Hobo Mom is more one-shot than graphic novel and yet its seemingly slight narrative nevertheless encompasses thematic volumes. Commitment and responsibility are contrasted with a yearning for independence and freedom, but those comparisons are devoid of authorial judgment; a consideration of superficial societal moral constructs rejected for a more nuanced and existential study of the realities of the human condition.
In terms of visual storytelling there's a quite remarkable sense of symbiosis to this co-production. The marked subtlety and sophistication of their panel-to-panel pacing allows the reader to experience the rhythm of the characters' daily routines and the quiet complexities of their interactions. But equally important are the moments where we pull back to larger, lingering images that invite us to contemplate alongside the cast the profound truths of their situation, often with a juxtaposed smaller image adding an extra level of fragile intensity to the scene. And throughout there's the anchoring symbolism of Sissy's tyre swing that can represent stability and commitment as easily as it can become both a barrier and a source of conflict.
Hobo Mom is defined by its fundamental contradictions; its minimalism and clarity embedded in its complexities and multiple layers. It moves inexorably to the only end it can do, reminding us along the way that personal fulfillment and contentment can come at an unavoidable cost to others. A book brimming with poignant inevitability Hobo Mom is all the more eloquent for its studied but potent understatement.
Charles Forsman and Max de Radiguès (W/A) • Fantagraphics Books, $14.99
Review by Andy Oliver