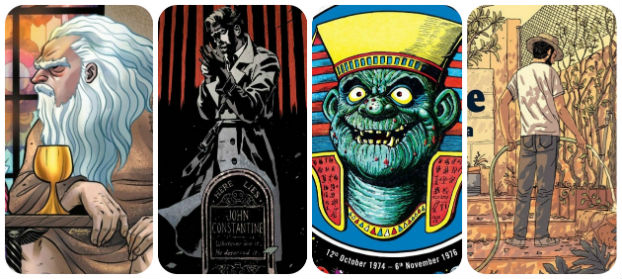 It's nearly Wednesday, and you know what that means: a fresh load of comics and graphic novels! With so many publications hitting your local comics store, comics event or digital storefront, the BF team are here to lead you through the woods with our weekly staff picks. Satisfaction guaranteed!
Comic of the Week
The House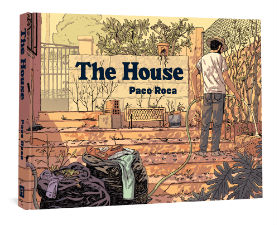 It's the official UK publication date for Paco Roca's The House later this week so that's a good enough starting reason for us to include it in this edition of our Staff Picks. Roca's Wrinkles a few years back (published in the UK by Knockabout) was understandably acclaimed for its bittersweet portrayal of later life so any new work from the Spanish creator is to be eagerly anticipated.
This latest offering explores the relationships between three siblings who are reunited a year after the death of their father to clear out his house in preparation for selling it. Expect a study of the complex relationships of family and the ties that bind from a storyteller whose powerful depiction of human frailties is both haunting and ever recognisable.
Paco Roca (W/A) • Fantagraphics Books, $19.99
– Andy Oliver
Ken Reid's World Wide Weirdies Vol. 1
After last year's collection of Creepy Creations from the brilliantly bizarre imagination of classic British comics artist Ken Reid (Faceache) comes this second volume of his "pin-up"-style features.
Running through the 1970s in the pages of humaour anthology weekly comic Whoopee! these illustrations of geographical horror (The Petrifying Pyramid, The Vampire State Building, The Blackghoul Tower and so on) are a testament to the artist's wickedly weird sense of humour. The late Reid's recent renaissance in terms of recognition of his genius has been long overdue. Another book to consider as a perfect Christmas gift this year!
Ken Reid (W/A) • Rebellion/Treasury of British Comics, £19.99
– Andy Oliver
Witchfinder: Reign of Darkness #1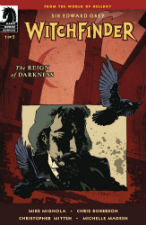 For those familiar with Hellboy and the notion of Queen Victoria turning to an occult advisor, Sir Edward Grey's presence and methods won't come as a surprise. What will is the task set for him in this return to the franchise.
His target is the still elusive Jack the Ripper. Will he succeed where detectives have failed in over a century? Is there an occult angle no one has thought of before? We don't know. What we do know is that this will be a promising start.
Mike Mignola & Chris Roberson (W), Christopher Mitten (A), Michelle Madsen (C) • Dark Horse Comics, $3.99
– Lindsay Pereira
John Constantine: Hellbazer #1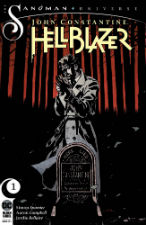 I think there will be little argument that of all the many characters to be adversely affected by DC's New 52 reboot in 2011 John Constantine probably got the rawest deal. The one-time Swamp Thing supporting character, and Vertigo Comics mainstay, went from the gritty, realistic, uncompromising horror of Hellblazer to a bland shadow of his former self in the New 52, not to mention membership of the Justice League! Travesty probably isn't too strong a word in the circumstances…
Last month saw the character's return to a Mature Readers audience in the Sandman Universe Presents: Hellblazer special and a definite step in the right direction with writer Simon Spurrier's playful meta reflections on continuity providing a neat nod and a wink in the audience's direction.
More importantly, though, it was a welcome re-emergence of a far more recognisable incarnation of both character and premise. Constantine is once more the urban chancer of old and John Constantine: Hellblazer looks set to take its protagonist back in the direction of horror-infused social commentary. Spurrier's knowing scripting, Aaron Campbell's moody art and Jordie Bellaire's usual atmospheric colouring ensure that this first issue is a must-grab for lapsed JC fans wanting an easy "stepping on" point into the character's world once again.
Simon Spurrier (W), Aaron Campbell (A), Jordie Bellaire (C), Aditya Bidikar (L) • DC Comics/Black Label, $3.99
– Andy Oliver
The Lonesome Era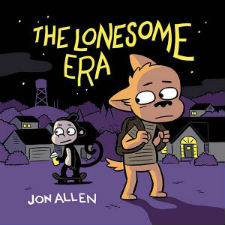 From Robin Enrico's recent review at Broken Frontier:
The Lonesome Era serves as a coming-of-age story for metal-head skateboarder Camden as he grapples with both his closeted homosexuality and his secret crush on his best friend Jeremiah. Though the story is told through Allen's sparse funny animal comics style, it is his masterful choices in pacing and detail that fully drives home the prevailing loneliness and aimless alienation of growing up different in a small town during the middle part of the '90s.
By being so non-nostalgically anchored in that time and that place, The Lonesome Era allows the younger reader to bridge the decades and recognize the eternal human need to be loved and accepted, while collapsing time for the older reader to let them recall their own teenage isolation.
Read the full review here.
Now available to order online from Iron Circus here.
Jon Allen (W/A) • Iron Circus Comics, $30.00
– Robin Enrico
Second Coming #5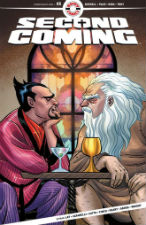 DC's loss has been very much Ahoy's gain as this comic, originally announced to come out under the Vertigo banner, has proven to be one of the critical hits of the year. A satirical exploration of Jesus's return to Earth and subsequent flatshare with the Superman-esque super-hero Sunstar, it's a series that has underlined Mark Russell's place as this generation's Steve Gerber.
In this issue God and Satan go for coffee while Sunstar gets a tempting offer from a dubious source. Meanwhile Jesus gets confessional with his followers. If this book isn't on multiple 'Best of 2019' lists in the next month or so then there's no justice in the world.
Mark Russell (W), Richard Pace (A), Leonard Kirk (F), Andy Troy (C), Rob Steen (L) • Ahoy Comics, $3.99
– Andy Oliver
The Forbidden Harbor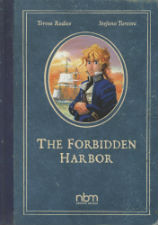 If you find it tough to resist adventure tales that look like they could be contemporaries of Treasure Island, you're going to love The Forbidden Harbor. Teresa Radice's uplifting tale of escape is complemented perfectly by Stefano Turconi's captivating art, which isn't a surprise since the pair have been collaborating on comics since 2003.
Off the coast of Siam in the summer of 1807, the Explorer, a ship from Her Majesty's navy, recovered a young shipwreck victim. Unfortunately, Abel can only remember his name. The ship's captain, having absconded with the ship's treasure, is no longer aboard, and the first mate guides the ship back to England. Abel's adventures are just beginning as he takes up residence in an inn run by the fugitive captain's three daughters. These meetings are not coincidence, however, and young Abel will discover his disturbing past and come to understand the tangled roles played by those who helped him along the way.
The publisher describes the story as, "A haunting and intense book that digs into the soul of the protagonists as well as the reader, with a generous helping of good ol' fashioned salty adventure along with many a shanty sung and a sprinkling of magic dust." Who could resist that?!
Teresa Radice (W), Stefano Turconi (A) • NBM Publishing, $29.99
– Karen O'Brien