"I am a leader of my house" — PositiveNegatives' new webcomic with The New Humanitarian and Fahmida Azim — tells the stories of two Rohingya women in their fight for equality, the challenges they face as women in refugee camps, their longing for home – and their aspirations for the future. 
This Inside Look explores the newest PositiveNegatives release, in collaboration The New Humanitarian and Fahmida Azim – which can be found here. If you haven't already, check out the webcomic first before digging into this behind the scenes look at how we made it…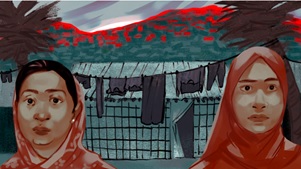 We started this project like we start most all of our projects, with the people whose stories we are amplifying– in this case, Hafsa and Romida, two Rohingya women currently residing in Bangladesh after having to flee their homes in Myanmar. Since 2017 alone, hundreds of thousands of Rohingya people have fled Myanmar due to the Myanmar military's genocidal campaign, many to find themselves in Cox's Bazar, the world's largest refugee camp. Rohingya people that have fled Myanmar (as well as those that have remained in the country), have been through unspeakable horror. Many also see themselves as agentic survivors that are enacting tangible change in their communities. Yet, all too often, their stories are flattened in the international media landscape. They're often reduced to their trauma, solely depicted under the gaze of victimization. Our webcomic aimed to redress this without romanticising their tribulations; we wanted to show the lives of these women — their struggles, their aspirations, their relationships with their family. We also wanted to call attention to the particular gendered dynamics of living in Cox's Bazar and the compounding challenges that being a woman in this context poses.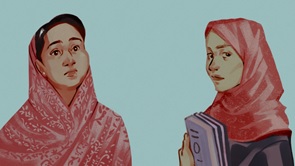 We centred on the voices and lives of Hafsa and Romida by working with direct quotations from our interviews with them to lead the story. We wove their stories together with The New Humanitarian's reporting and multimedia content to give context to readers — and we worked with illustrator and comic maker Fahmida Azim to illustrate their narratives. In doing so, we were reminded once again of the power of graphic narratives and the space they create for participatory storytelling. We wanted to highlight some of our favourite panels in the webcomic, what went into their creation, key themes in this collaboration and a few reflections from Fahmida in working on this project with us. 
Access and Safety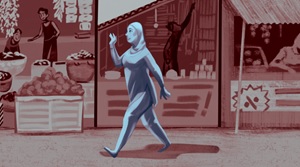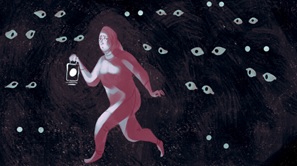 One of the aims in telling Hafsa and Romida's stories was to visually shed light on the lack of access and safety within the camps, particularly for women. Something that both women highlighted was women's safety at night in the camps, due to a lack of electricity infrastructure. Romida talked about the feeling of having to leave one's tent home at night to use the toilet, and the felt sense of being watched by groups of men while walking alone:
"It's difficult for unmarried women to go far from their homes to use the toilet. They need to pass groups of men on the way, which is pretty uncomfortable. We fear being attacked when it's dark."
We also found that the graphic medium was an impactful way to visualise the differences within the camp between households around access to resources. Romida explained that the darkness of nightfall laid bare those that had access to batteries, solar chargers and other devices that allowed certain families to have electricity at night — and those that did not.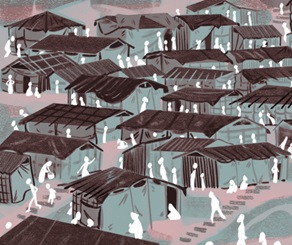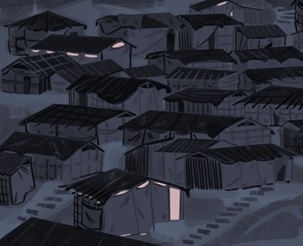 Fahmida: With these panels I wanted to convey just how starkly the environment changes from day to night and what new fears and challenges come with it. I found it heartbreaking how relatable and overlooked Hafsa and Romida's concerns are, because what woman hasn't been warned about walking alone at night? It's a familiar fear, which for them is amplified manyfold just by the lack of electrical infrastructure alone. I tried my best to convey that by invoking the inky atmosphere of a horror story – one where you have to guard yourself against malevolent forces every time you have to use the toilet after sundown.
Subtle personal details
Visual storytelling also gives space to include small and subtle details, some that might be largely unknown to readers. We knew from our conversations with Romida that on top of her camp leadership role, she is also a skilled artist, making intricate and beautiful paper crafts which adorned her office.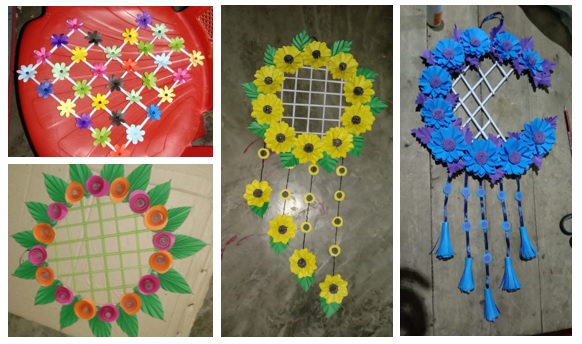 While this detail of her life didn't make it into the final text of the story, it was important to us that we included it visually. You can see her paper artwork illustrated into this panel of the comic, a subtle nod to Romida's craft: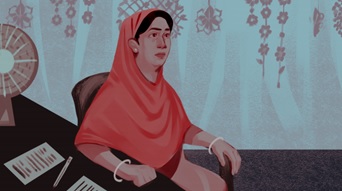 Fahmida: This turned into a great example of the old saying "a picture is worth a thousand words". To me, when you marry images and words together they make each other stronger. We can have more succinct sentences while the images can take care of the details – the thousands of words – that didn't initially fit in the limits of the page. I was delighted to see Romida's crafts and am happy to be able to give them a place in this story. I hope she likes it when she sees it.
Visualising metaphor
Some of the scenes were directed by the women's specific experiences and stories — and it was important to illustrate the reality of that event or setting. However, there were other quotes and anecdotes from the women that were beautifully told to us in metaphor. That's where illustration can lend a different approach to (graphic) journalism, by bringing these allegories to life. 
Hafsa said this about female leadership:
"Because of my education, I see myself as a leader in my community. I believe a woman is a born leader. I see my mother managing a house, which is similar to governmental work: It's like managing a country. I am a leader of my house, even if society doesn't accept me as a leader."
While we knew we wanted to showcase this powerful quote from Hafsa, we didn't know exactly how best to complement it visually. Fahmida suggested Lady Justice and this striking image was born: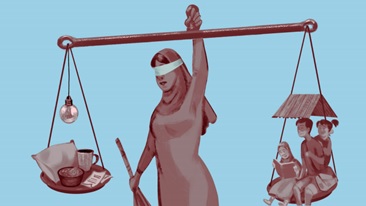 Fahmida: Visual metaphors are my jam. Finding a way to turn complex ideas into easily understood images is my favorite kind of puzzle. I appreciated the team inviting me to contribute ideas to the script early on, so I could utilize this skill more. 
Emotive communication
Journalism's tendency towards words and photographs sometimes means there can be limitations to communicating the emotional and affective aspects of stories. Certainly the written word and the photograph have the power to elicit emotions, but so too do illustrations and graphic narratives in ways that are largely under-utilised in the media. Outside of the niche sphere that is graphic journalism, often a reported story will have an accompanying commissioned illustration; one that is featured at the top of the page and is intended to hook audiences into the story that follows with words, and sometimes photographs. Far less are graphic and drawn mediums used throughout the story to communicate key aspects of the narrative. Yet, to inform and connect is arguably the core premise of the media. 
One way that we aimed to rectify this in our webcomic, was to give space in the panels to illustrate Hafsa's emotional connection to her father, who still lives in Myanmar. Through these three panels we aimed to communicate the longing for home and deeply felt dislocation from her father that Hafsa told us about in our interviews with her. In working in the illustrated form, we were able to do so in a way that no words or photographs could have. 

Fahmida: I love how combining all these different media – comics, field reporting, video, infographics – has allowed us to create a more comprehensive understanding of such complicated realities. I think there's an incorrect perception out there that graphic mediums take away from the seriousness of journalism. In reality, art and design are powerful tools of communication which can only enhance how much of the story we're able to tell.
Find the interactive webcomic I Am a Leader of My House on The New Humanitarian and check out Fahmida Azim's full portfolio. 
All of PositiveNegatives' portfolio of comics, animations and other narrative-based media can be found here.
More PositiveNegatives coverage at Broken Frontier can be found here.