In the introduction to Ken Reid's Football Funnies: The First Half – the latest collection of the genius cartoonist's classic work to come from the Treasury of British Comics – Ken's son Antony speaks of how his father had absolutely zero interest in football and so wondered whether he was the right person for the job when he was asked to contribute humour strips to the 1970s soccer-themed weekly comic Scorcher!. While that detachment from some of the traditions of the sport occasionally shows through (a very strange conception of how the European Cup worked in one extended storyline for example) it really makes no odds. Reid's parade of comically grotesque characters in these pages may exist in a sports-oriented world but, as so often in his work, their stories are as much about their own human frailties as they are about football.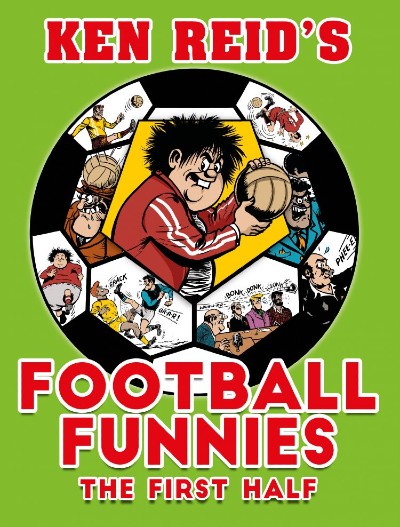 Take Duggie Dribble, for example, the star of Sub, the first of the four strips collected in this volume. Duggie is the perpetual also-ran, forever stuck on the substitute's bench at Biggleswick Wanderers, but determined by whatever malicious means he can think of to finally get a game in the first eleven. His ever more elaborate schemes include attempting to nobble his team-mates (pretending to be a ghost to terrify mild-mannered defender Marmaduke Meek out of playing, or tricking goalie Bill Grim into getting trapped in a crate on a ship to Shanghai); taking on a super-villainous identity as the pitch-destroying fiend The Mole in a blackmail bid; and even volunteering to play for the opposition if it will get him a game. Every strip, naturally, ends with Duggie getting his poetic comeuppance.

Similarly, incompetent coach Manager Matt is constantly undone in his attempts to get Mudchester United on a winning run. His various strategies to improve the team's fortunes usually finish in some kind of extreme slapstick fashion involving vehicles going off cliffs, Matt being electrocuted on power lines, or him coming a cropper via unexploded World War II missiles.

Hugh Fowler, The Man Who HATES Football! follows the same kind of formula with its protagonist doing everything he can in each weekly instalment to ruin the enjoyment of others. Reid's imagination works overtime here as Fowler uses everything from anti-football robots, invisible paint, giant extractor fans and a bizarre anti-soccer detecting vehicle to cause trouble for his targets. Unusually for the era this particular strip comes to a defined finale, with Hugh essentially getting a completed character arc.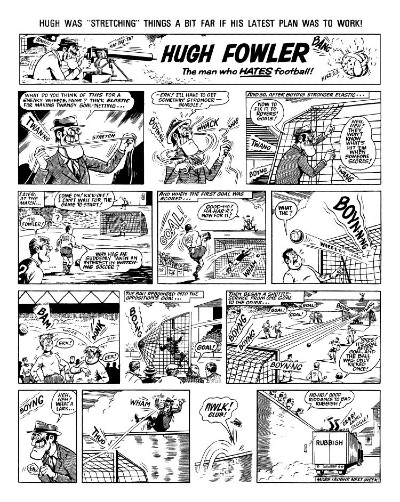 Unlike the other strips in Ken Reid's Football Funnies, Football Forum is more a collection of soccer gags using the framework of a TV sports panel show where footballer Charlie Cannon, referee Percival Pheeps and a rotating guest answer a reader's question each week. The questions range from how to take the best penalty to now rather dated queries about the suitability of long-hair on footballers. Here Reid has the chance to flex different comedic muscles with each one-pager bursting to the seams with quickfire humour and multiple bizarre scenarios.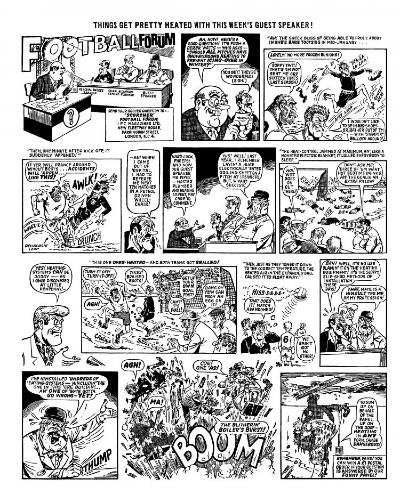 The work in Ken Reid's Football Funnies: The First Half may be less familiar even to Reid aficionados but it's by no means inferior to his more well known features like Faceache and Creepy Creations. Every page is an intricate piece of tight-panelled and detailed cartooning, perfectly building up to its inevitable punchline, and full of those gurning, ghastly but ever entertaining characters that were Reid's trademark. Bringing this master artist's work back to print has been one of the finest achievements of the Treasury of British Comics to date. Let's hope they thoroughly exhaust the available back catalogue of Ken Reid content in the next few years.
Ken Reid (W/A) • Rebellion/Treasury of British Comics, £19.99
Review by Andy Oliver